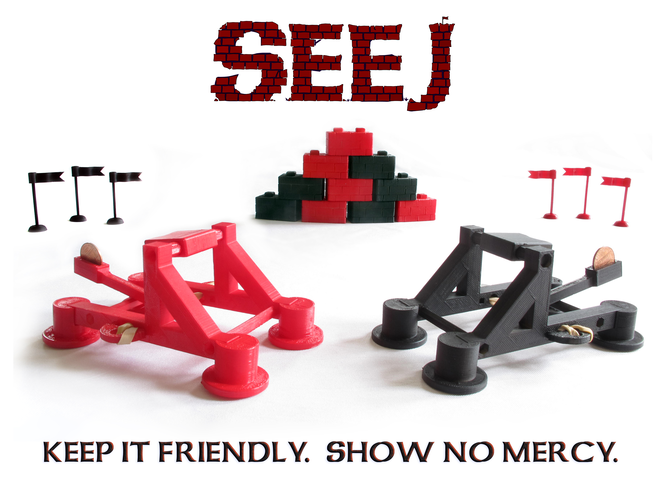 No Prints Yet

Be the first to upload a Print for this Design!
The original Seej Starter Set gets an upgrade to take advantage of the advances made in 3D printing over the last twelve months. 
The proliferation of inexpensive filament printers with smaller build platforms requires the advent of a smaller Seej engine, so I've added the Marshmallow Mangonel to the kit.
The classic catapult gets improvements inspired by community feedback, too. It's all compatible with older prints, and is much, much more accurate. Seej is an Open Source tabletop wargame designed to advance the state of 3d printing through competition and player-directed evolution.
 Rules for Seej are at http://www.s33j.net
seej_starter_set.zip/battle_flag/flag_banner.stl
47.4 KB
seej_starter_set.zip/battle_flag/flag_base.stl
107 KB
seej_starter_set.zip/battle_flag/flag_mast.stl
684 Bytes
seej_starter_set.zip/bloxen/bloxen_basic.stl
45.3 KB
seej_starter_set.zip/bloxen/bloxen_masonry.stl
44.6 KB
seej_starter_set.zip/marshmallow_mangonel/mangnel_classic_arm.stl
65.1 KB
seej_starter_set.zip/marshmallow_mangonel/mangonel_arm.stl
142 KB
seej_starter_set.zip/marshmallow_mangonel/mangonel_atlas.stl
90.8 KB
seej_starter_set.zip/marshmallow_mangonel/mangonel_crossbar.stl
6.92 KB
seej_starter_set.zip/marshmallow_mangonel/mangonel_footing.stl
35 KB
seej_starter_set.zip/marshmallow_mangonel/mangonel_side_brace.stl
233 KB
seej_starter_set.zip/marshmallow_mangonel/mangonel_strut.stl
4.94 KB
seej_starter_set.zip/marshmallow_mangonel/mangonel_winding_key.stl
11.4 KB
seej_starter_set.zip/penny_catapult/catapult_arm.stl
65.1 KB
seej_starter_set.zip/penny_catapult/catapult_atlas.stl
90.8 KB
seej_starter_set.zip/penny_catapult/catapult_crossbar.stl
6.92 KB
seej_starter_set.zip/penny_catapult/catapult_footing.stl
41.6 KB
seej_starter_set.zip/penny_catapult/catapult_side_brace.stl
319 KB
seej_starter_set.zip/penny_catapult/catapult_strut.stl
4.94 KB
seej_starter_set.zip/penny_catapult/catapult_winding_key.stl
11.4 KB