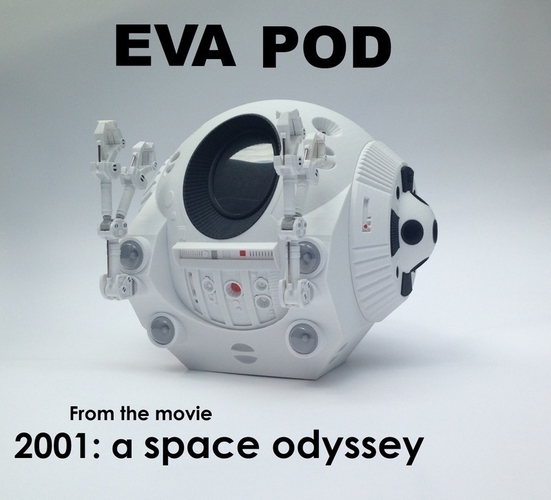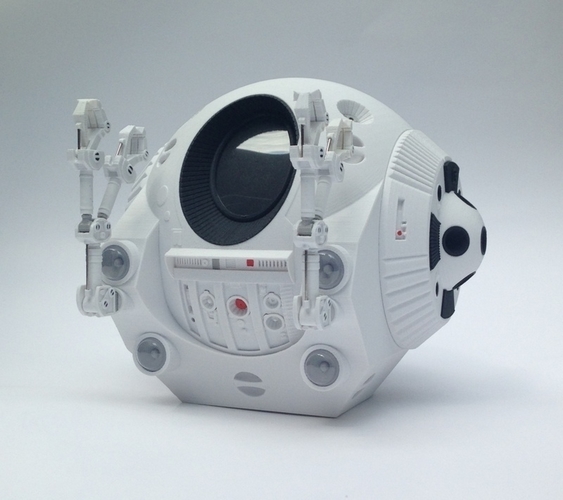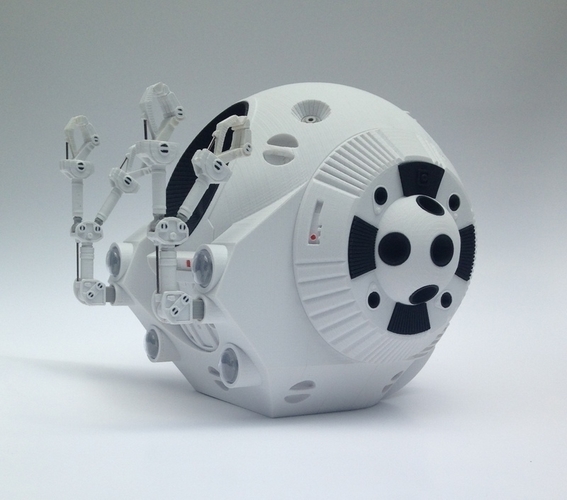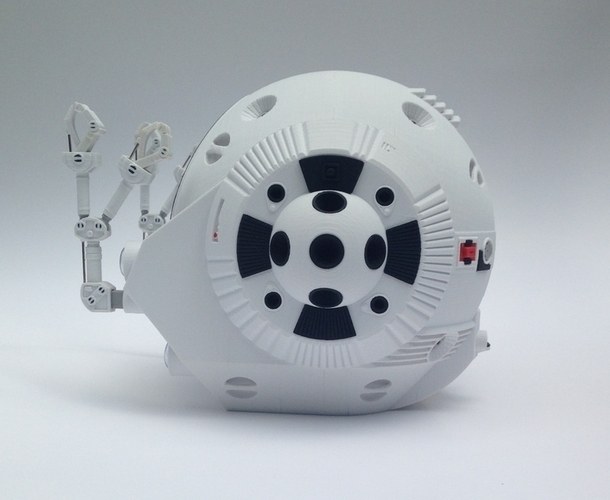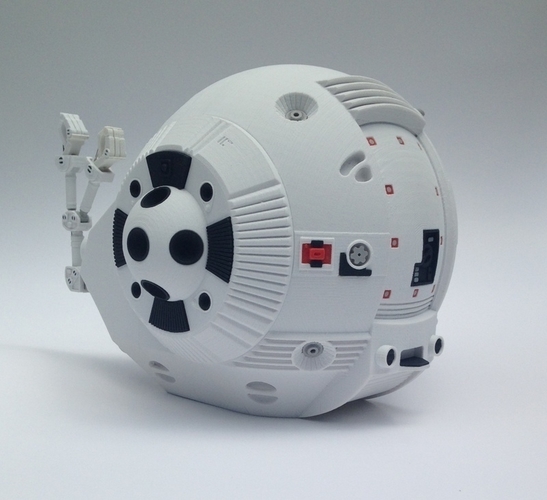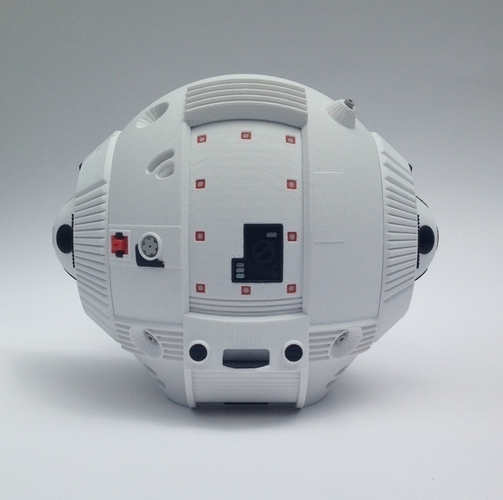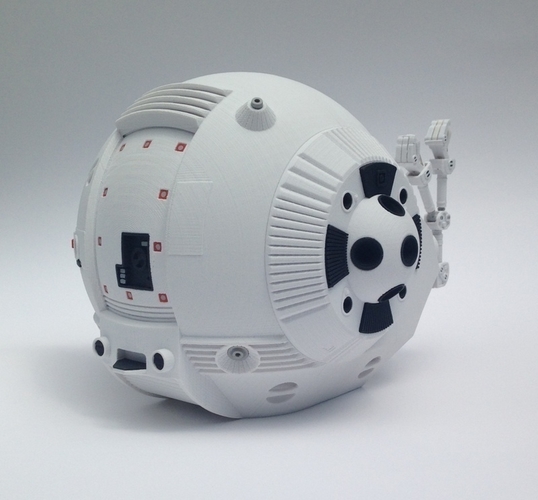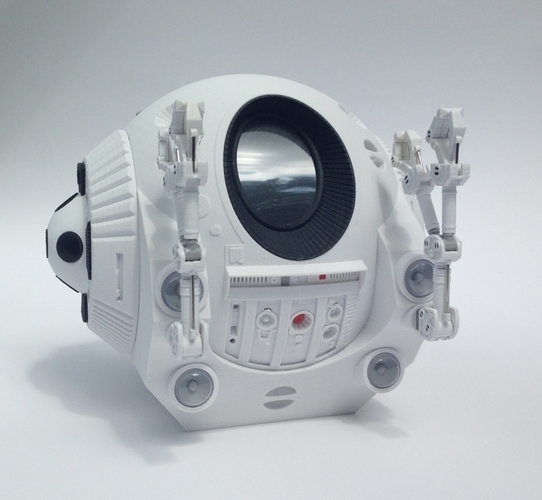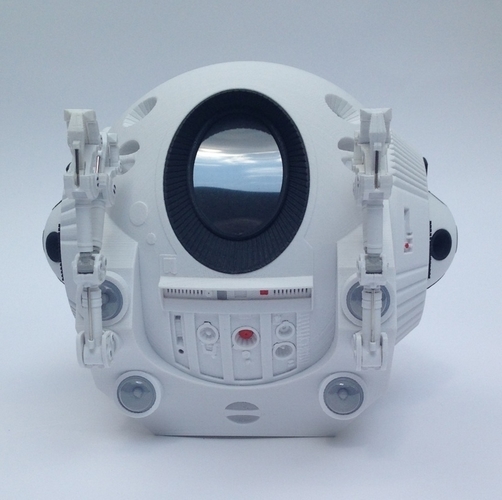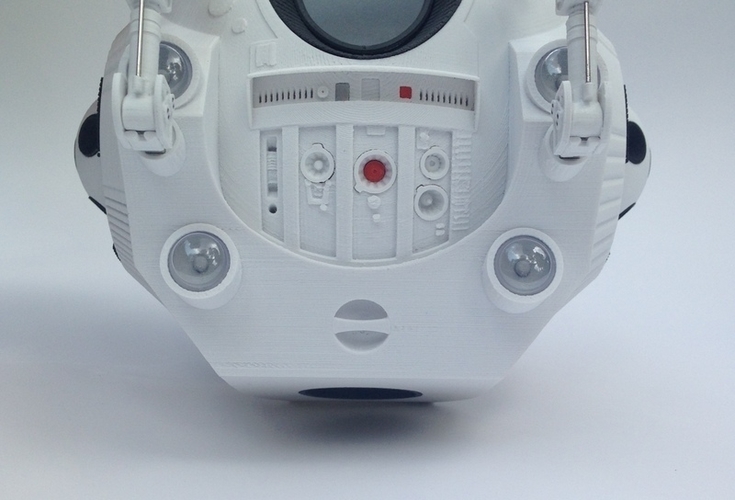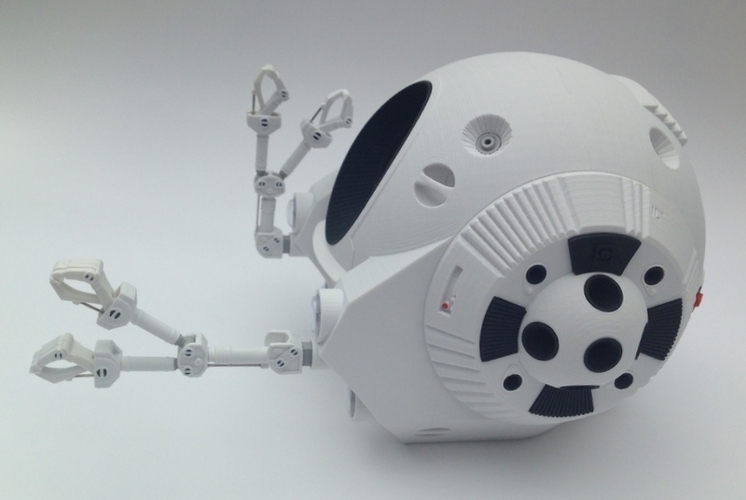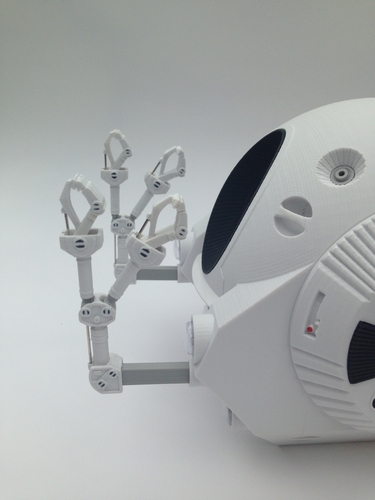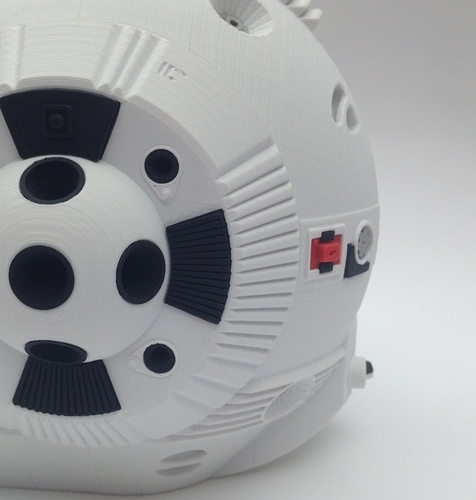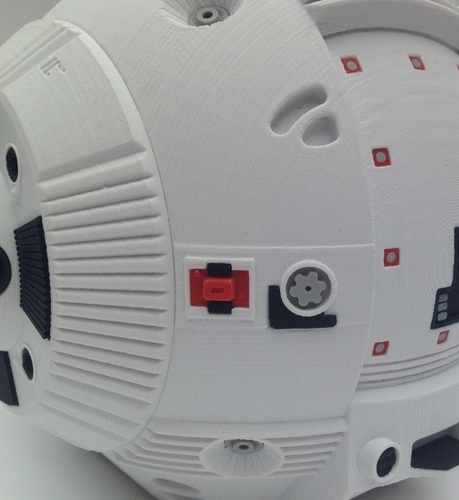 No Prints Yet

Be the first to upload a Print for this Design!
EVA POD from the movie 2001 A Space Odyssey
This is a detailed accurate scale model of the EVA POD from the move 2001 A Space Odyssey.  The model is 4.87" (123.7 mm) high and 5.78" (146.8 mm) wide. 
I printed the parts for this model on a Printrbot simple metal with a 6 inch square bed and Simplify3D software (which I highly recommend).  I used ABS but it can be printed (probably easier) in PLA.
The manipulator arms can be rotated up and down and slide in and out of the body
This model was designed to be printed in four colors, white, black, light gray or silver, and red.  No paint is necessary for a great looking model but can be added for additional detail.  The only paint used on the model in the attached pictures is: black dots on the arms, grey on the rear hatch control buttons, and a red dot on the left thruster ring.  The rest of the color is individual plastic parts.
 To attain a high degree of detail individual pieces are printed in positions most advantageous to producing the highest quality parts possible rather than accepting lesser quality detail with fewer parts.
 All but six parts are printed without the need for supports.
This download includes:
1.  All required STL files.
2.  12-page written assembly instructions.
3. 10-page graphic assembly instructions.
4.  Part identification sheets by color.
5.  Graphics indicating how to position the individual parts for printing.
6.  Master parts list by part number
7.  Painting information sheet
POD PART INFORMATION BY PART NUMBER.pdf
196 KB
20 FRONT BODY.stl
6.07 MB
40 CENTER FINGER.stl
63.6 KB
32 VIEWPORT BEZEL.stl
947 KB
28 SENSOR HOUSING 3.stl
1.02 MB
25 HAL HOUSING.stl
397 KB
15 EXTERNAL CONNECTOR.stl
50.9 KB
8 EXT ANTENNA.stl
1.19 MB
4 SMALL THRUSTER.stl
222 KB
1 LH THRUSTER DISK.stl
1.89 MB
39 RIGHT FINGER.stl
146 KB
2 UPPER SHIELD.stl
157 KB
3 THRUSTER SHIELD.stl
221 KB
5 LARGE THRUSTER.stl
199 KB
6 RH THRUSTER DISK.stl
1.89 MB
9 EXPLOSIVE BOLT BLOCK.stl
95.3 KB
11 HATCH RELEASE.stl
338 KB
14 TRANSDUCER.stl
1.23 MB
19 LOWER VENT.stl
33.4 KB
23 HAL VISUAL SENSOR.stl
780 KB
24 FRONT TIE DOWN.stl
1.44 MB
26 SENSOR HOUSING 2.stl
469 KB
27 SENSOR HOUSING 1.stl
758 KB
29 VIEWPORT INSERT.stl
1.76 MB
30 VIEWPORT PLUG.stl
385 KB
33 SPOTLIGHT REFLECTOR.stl
1.27 MB
41 LEFT FINGER.stl
144 KB
42 ARM EXTENDER.stl
42.7 KB
43 LOWER JOINT A.stl
351 KB
44 LOWER JOINT B.stl
123 KB
45 LOWER JOINT C.stl
347 KB
46 LOWER CYLINDER.stl
565 KB
51 CYLINDER TAB.stl
64.3 KB
52 UPPER CYLINDER.stl
611 KB
54 UPPER CYLINDER ROD HALF.stl
163 KB
55 MAIN ENGINE.stl
519 KB
56 DRILL FIXTURE.stl
1.38 MB
ASSEMBLY SHEET 1.pdf
112 KB
ASSEMBLY SHEET 2.pdf
104 KB
ASSEMBLY SHEET 3.pdf
238 KB
ASSEMBLY SHEET 4.pdf
258 KB
ASSEMBLY SHEET 5.pdf
85 KB
ASSEMBLY SHEET 6.pdf
144 KB
ASSEMBLY SHEET 7.pdf
65.2 KB
ASSEMBLY SHEET 8.pdf
429 KB
ASSEMBLY SHEET 9.pdf
431 KB
ASSEMBLY SHEET 10.pdf
197 KB
PAINT NOTES SHEET 1 OF 2.pdf
328 KB
PAINT NOTES SHEET 2 OF 2.pdf
309 KB
POD PARTS - BLACK.pdf
419 KB
POD PARTS - GRAY.pdf
43.3 KB
POD PARTS - MISCELLANEOUS.pdf
456 KB
POD PARTS - RED.pdf
18.5 KB
POD PARTS - WHITE.pdf
644 KB
PRINT POSITION SHEET.pdf
606 KB
EVA Pod assembly notes.docx
967 KB