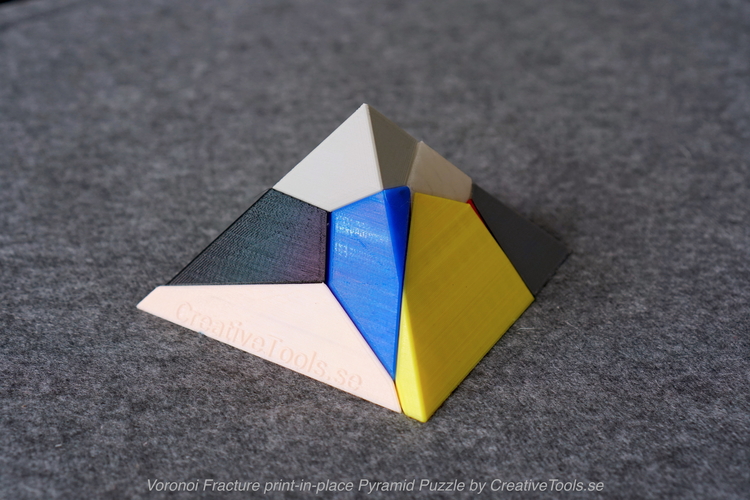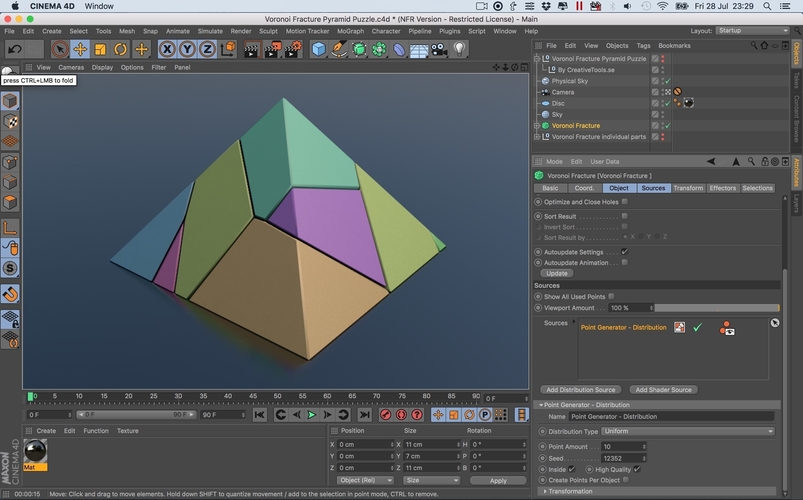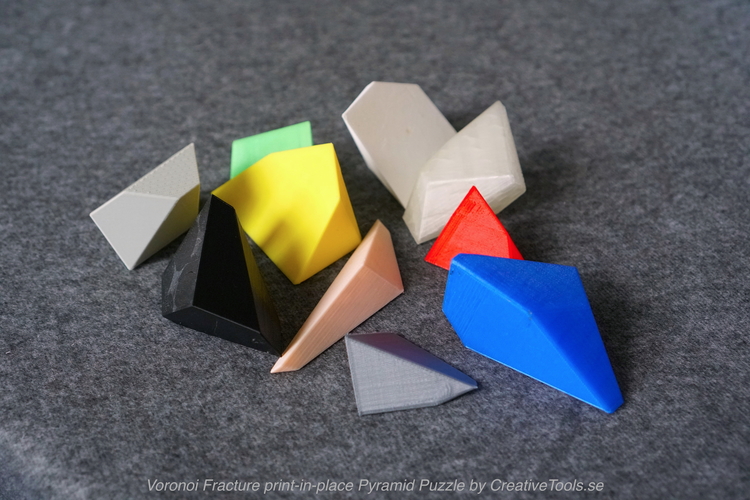 This 3D-printable pyramid puzzle was made in Cinema 4D using the MoGraph Voronoi Fracture feature. 
Settings were adjusted to create a 0.3 mm air gap between all individual elements, enabling the whole pyramid to be 3D-printed in place as one single STL file. The Bevel Deformer in Cinema 4D was then used to create a 0.5 mm chamfer to break all the sharp edges.
We provide STL files for a single print-in-place, a flat build plate, and all ten individual parts.
VIDEO
About the Voronoi algorithm
 - https://en.wikipedia.org/wiki/...
About MAXON Cinema 4D
Voronoi Fracture Print-in-Place Pyramid Puzzle (Part 01).stl
2.23 KB
Voronoi Fracture Pyramid Puzzle (assembled pyramid).stl
329 KB
Voronoi Fracture Pyramid Puzzle (complete build plate).stl
481 KB
Voronoi Fracture Print-in-Place Pyramid Puzzle (Part 02).stl
3.79 KB
Voronoi Fracture Print-in-Place Pyramid Puzzle (Part 03).stl
2.23 KB
Voronoi Fracture Print-in-Place Pyramid Puzzle (Part 04).stl
4.87 KB
Voronoi Fracture Print-in-Place Pyramid Puzzle (Part 05).stl
2.23 KB
Voronoi Fracture Print-in-Place Pyramid Puzzle (Part 06).stl
4.28 KB
Voronoi Fracture Print-in-Place Pyramid Puzzle (Part 07).stl
3.99 KB
Voronoi Fracture Print-in-Place Pyramid Puzzle (Part 08).stl
3.6 KB
Voronoi Fracture Print-in-Place Pyramid Puzzle (Part 09).stl
3.6 KB
Voronoi Fracture Print-in-Place Pyramid Puzzle (Part 10).stl
450 KB