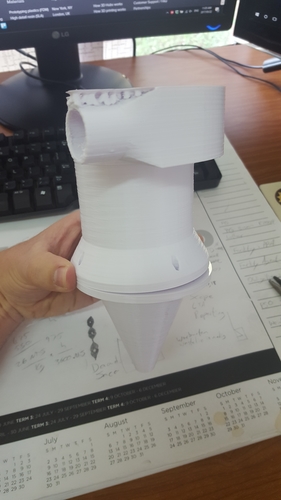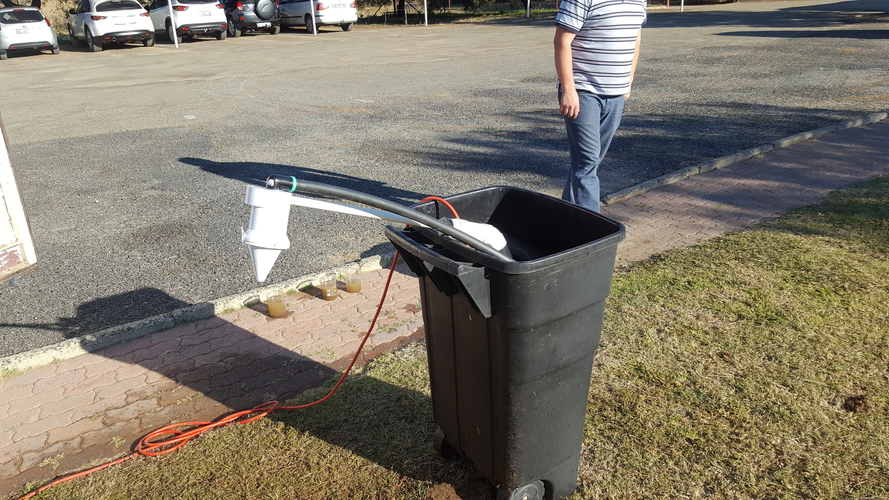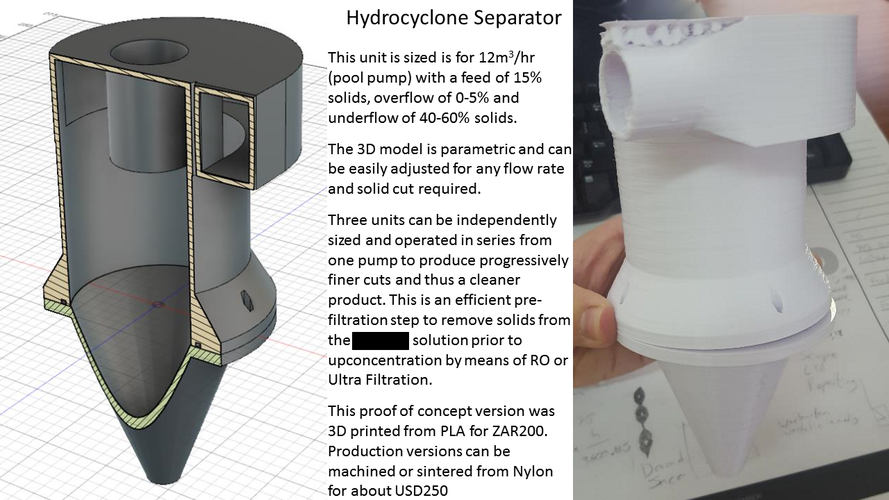 Hydrocyclones are used to separate solids from liquids by means of centrifugal forces and are used throughout various industries for this purposes. I have personally used them on oil rigs to remove sand from the drilling fluid and in fertilizer to clean a liquid fertilizer before further processing. Can also be used to remove silt from swimming pools after a mudslide.
This is a very effective design with no moving parts to separate particles larger than 50micron from fluid. Note that the feed is positioned involuted, not tangenial as many designs. This is done to improve separation of lighter solids. 
Additional hardware:
16mm PVC conduit was used as the feed. For optimal feed flow, the feed pipe should be straight for atleast 6 to 8x its diameter. 
The other connectors to 50mm PVC pipe seen in the photo's are just to connect to my submersible pump. 
Outflow was through a 22mm LDPE garden irrigation fitting hot glued in place. 
The design incorporates a space for a o-ring seal. 
Turned out M2 bolts are hard to find, so I just used wire to bind the two parts together. Printed in PLA.
This unit is sized is for a 12m3/hr (pool pump) with a feed of 15% solids, overflow of 0-5% and underflow of 40-60% solids.
Design was done in Autodesk Fusion 360. The 3D model is parametric and can be easily adjusted for any flow rate and solid cut required. Find the Fusion 360 models here (sorry, only learned about components after this design)
Three units can be independently sized and operated in series from one pump to produce progressively finer cuts and thus a cleaner product. Smart Dog Mining has a handy sizing sheet here www.smartdogmining.com/softwar...
This proof of concept version was 3D printed from PLA for ZAR200. Production versions can be machined or sintered from Nylon for about USD250