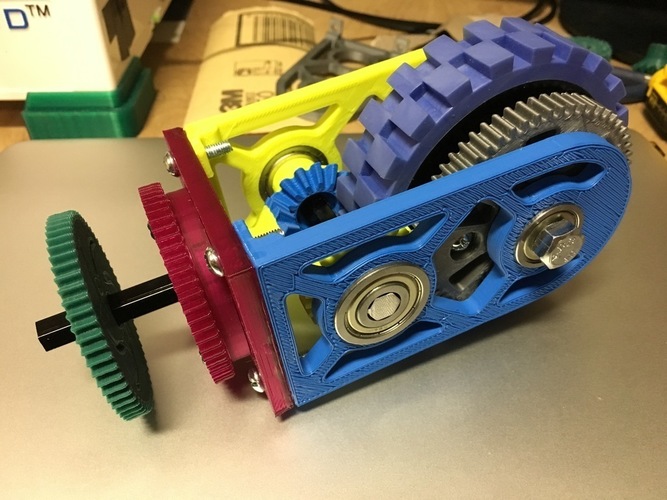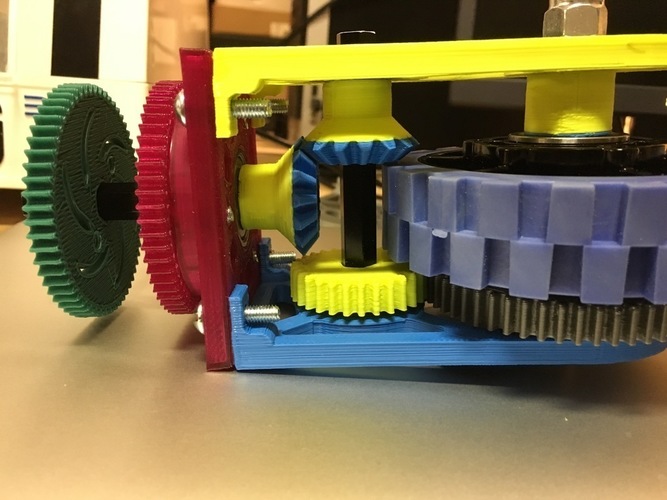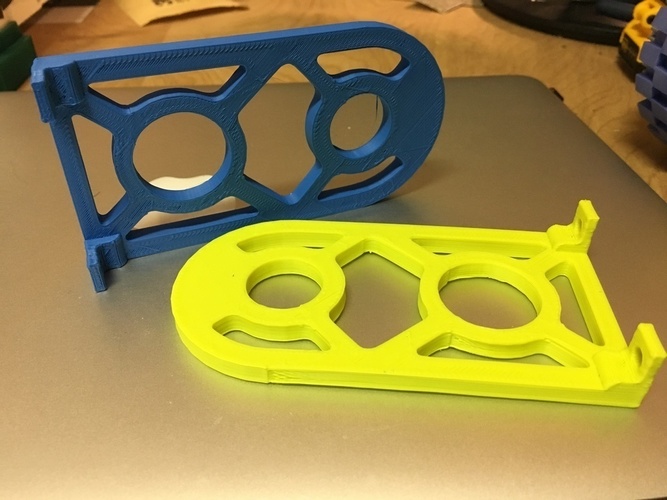 No Prints Yet

Be the first to upload a Print for this Design!
Summary A 3d printed swerve module. The drive axle is a 3/8" bolt. All hex shaft is 3/8" hex. 
This was designed to interface with Vex Robotics motors. This allows users to teach about swerve concepts at a fraction of the cost of a FRC sized robot and control system.
It utilizes 4" wheels. 
Bill of Materials (Per Module):  2 Side Panels 1 Top Plate 1 Top Spacer 1 Vex to Hex Gear 1 60T Vex Gear 2 Bevel Gears 1 30T Gear 1 54T Wheel Gear 1 Drive Shaft Spacer 1 Drive Axle (0.375" Hex, Minimum Length: 2.5") 1 Bevel Axle (0.375" Hex, Length: 3.125") 4 FR6ZZL-hex Bearing 4 3/8" id Flanged, Shielded Ball Bearing (FR6ZZ) 1 3/8" Bolt 1 3/8" Luck Nut 16 #10-24 screws (10 minimum, 16 if every mounting point is used) 4 #10-24 nuts 1 4" Wheel (I used the 4" HiGrip Wheel, available from AndyMark) 
The base plate is good for adding visual appeal to a robot, but currently lacks enough structural stability to function as a sole mounting point for the swerve modules if printed. The spacing however is correct for all motors and gears, so I can also be used as a template for working on other materials.
Rafts and supports are not required. I used 0.2mm layer height.  Infill: Varies depending on the part, generally, values above 20% are sufficient.
Drive_Shaft_Spacer.stl
14.5 KB
Vex_to_Hex_Gear.stl
267 KB
30T_Hex_Bore_Gear.stl
165 KB
Swerve_Side_Panel.stl
79.6 KB
54t_Wheel_Gear.stl
349 KB
60_T_Vex_Gear_with_Bearing_Bore.stl
255 KB
stylized_Vex_hybrid_base_plate.stl
253 KB