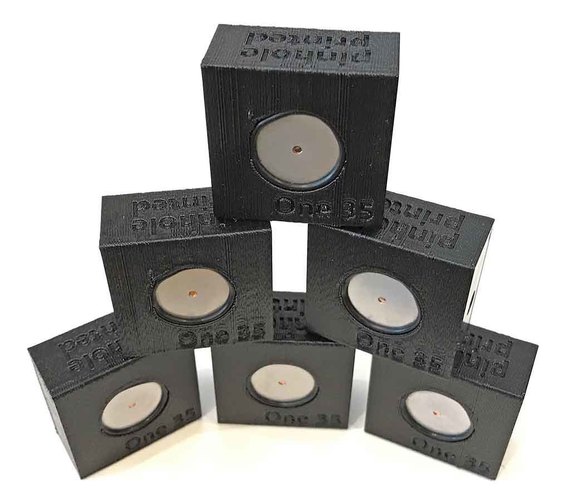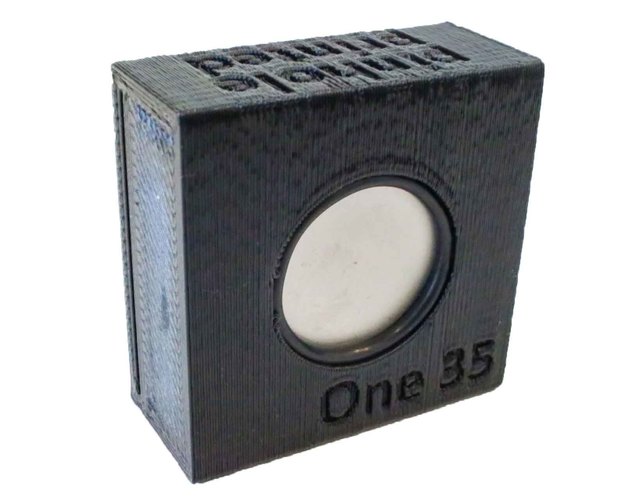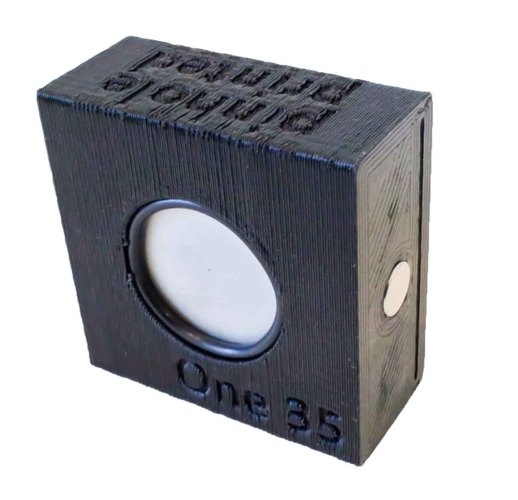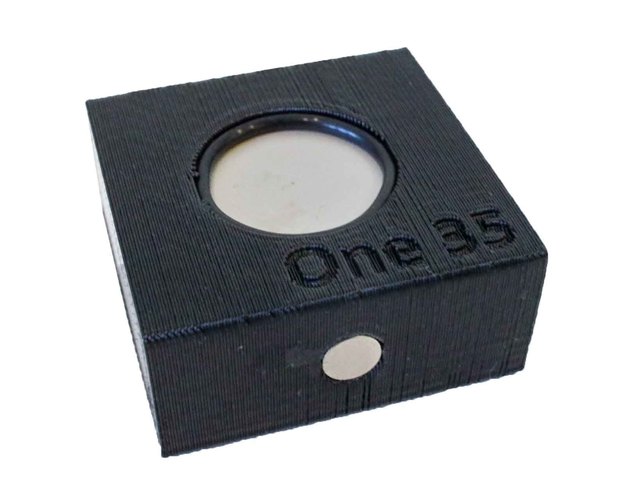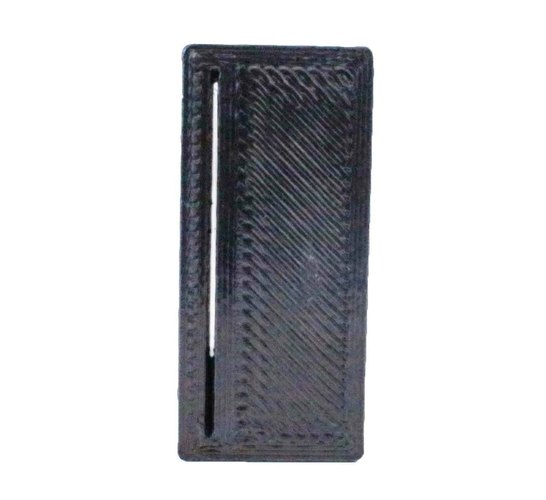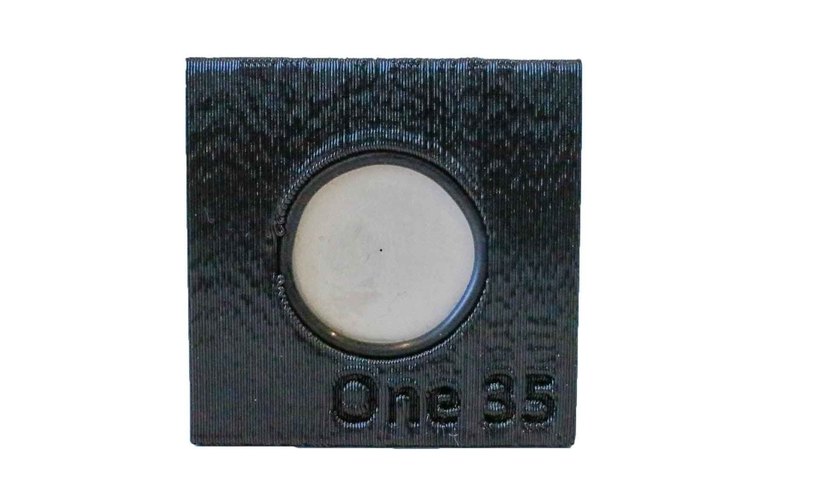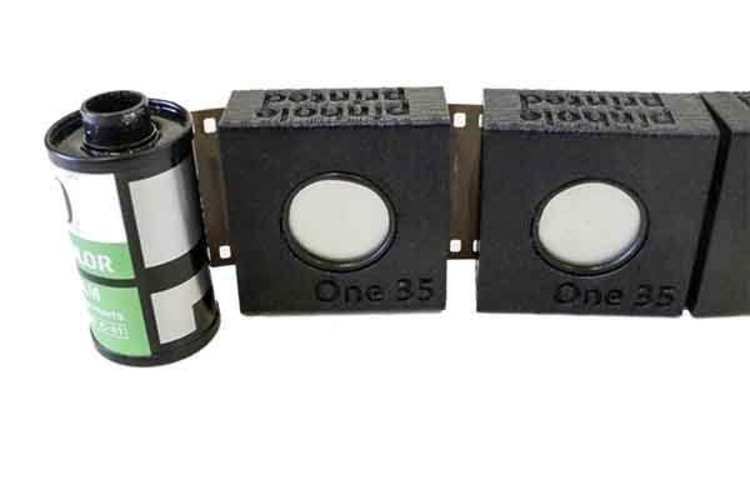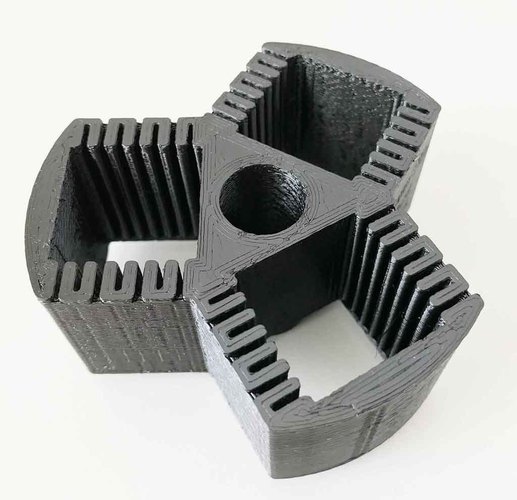 No Prints Yet

Be the first to upload a Print for this Design!
One 35
is the new 3D printed camera from Clint O'Connor that uses 35mm film.  Printed in one solid monolithic block, the One 35 is a complete one-shot camera for 35mm film. Add a pinhole and you're good to shoot.
SIMPLICITY, PRINTED
Designed to be quick and easy to print and load, the One 35 opens a world of creativity.  Leaving off the shutter not only makes the camera simpler, but expands the possibilities of sequential or simultaneous exposure.  At the least, you can use a piece of black tape as a shutter.  Think of new applications where you can use such a small camera or multiple cameras. For instance, past imaginative examples include:
The very low cost of these cameras also make them perfect educational tools for teaching basic pinhole photography.
CHALLENGE
What can you do with a basket of these cameras?
OPEN SOURCE
Best of all, the One 35 is open source under the CC by SA 4.0 license! In short, it's free to make, even commercially, as long as you attribute my work and share any changes. Click on CC - Attribution - Share Alike to understand the license terms.
CAMERA DETAILS 
3D printed – one piece body
35mm format film, 1 exposure
Image size – 24 x 35mm 
Field of view – 114 degrees
Focal length – 14mm
Pinhole diameter – 0.15mm
f/Stop – 93
Size – 40mm x 40mm x 20mm (WxHxD)
Easily printable even on smaller 150×150 mm bed 3D Printers
Print in PETG, PLA  (ABS should work but has not been tested)
Requires only a 0.15mm pinhole in 19-20mm disc (try eBay or make your own) to complete
Optional – Buna 018 o-ring (pinhole retainer) or use rubber cement, which is removable
FILM PHOTOGRAPHY
The One 35 is really meant for students and creative photography buffs who shoot and develop their own film.  Due to the cut nature of 35mm film in these cameras, most photo labs will be unable to process your film.  Standard 24 or 36 exposure rolls can be used, or you may use bulk film.
Developing your own film is not hard - you can even make your own developer using coffee (google caffenol).   If you load a string of cameras and shoot them that way, you can spool the film into a daylight 35mm processing tank, or if you use individual pieces, load the film in the provided rack and develop in a daylight stainless steel tank.  
One corner is cut off to identify the orientation by feel, since film must be loaded in total darkness.
PRINTING INSTRUCTIONS
I have verified the One 35 is printable in PETG and PLA.  The One 35 has not been tested yet with ABS - it may print fine,  it may need some tweaking.  There is a narrow film path through the body for 35mm film to pass through - making possible to bulk load multiple One 35 cameras in one sweep.
Stringing - download a stringing test from Thingiverse.  Make sure you can print any complex test object with no stringing.  Because this is a one-piece camera that cannot be taken apart for cleaning, you must make sure your printer is calibrated well and does not print strings.  In general, hot end temperature, retraction, and speed of non-print moves are three big factors in stopping oozing.  Strings will show up on your film as white lines or curls on the negatives.
Print at least 2 cameras at a time - printing just one camera may result in the plastic from the previous layer having insufficient cooling before the next layer.
Suggested settings:
*  color - opaque BLACK (if you want to use it as a camera)
*  layer height - use 0.3mm for quick printing
*  infill - use between 18 and 25% infill 
*  hot end - varies, use what works for you for your material - generally as high as you can get before you start getting strings 
* speed - varies, try 50mm/sec to start if you are not sure
* cooling - if you have a part fan, enable cooling for PLA
MORE INFORMATION
Check http://pinholeprinted.com/orde... for more information over time.  Please email me there with your experiences in printing and using this camera.
One 35 Dev Tank 82.stl
217 KB
One_35_Camera_BL.stl
5.29 MB