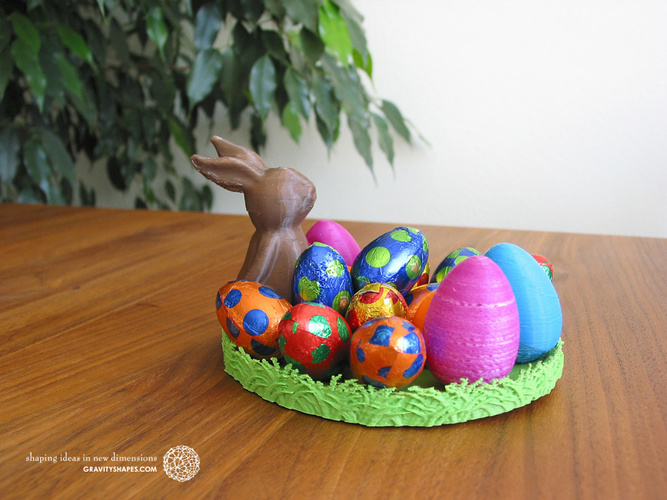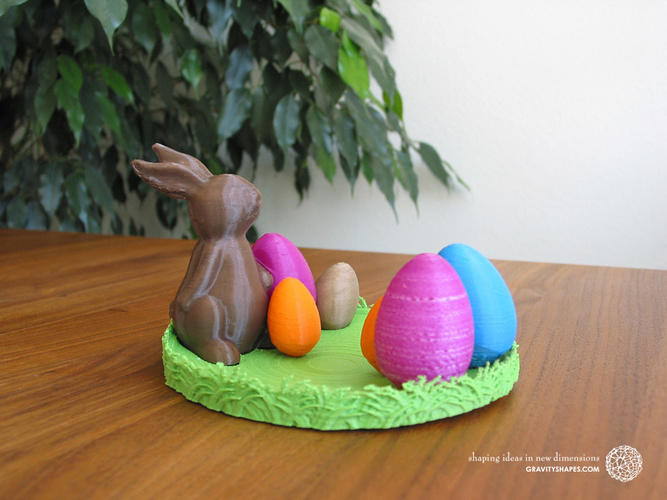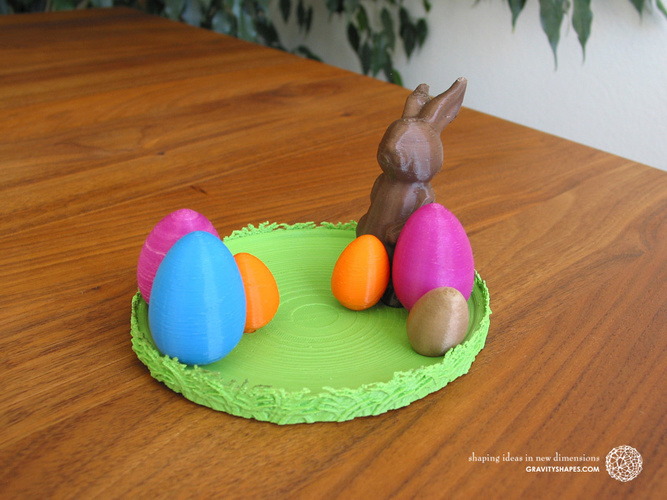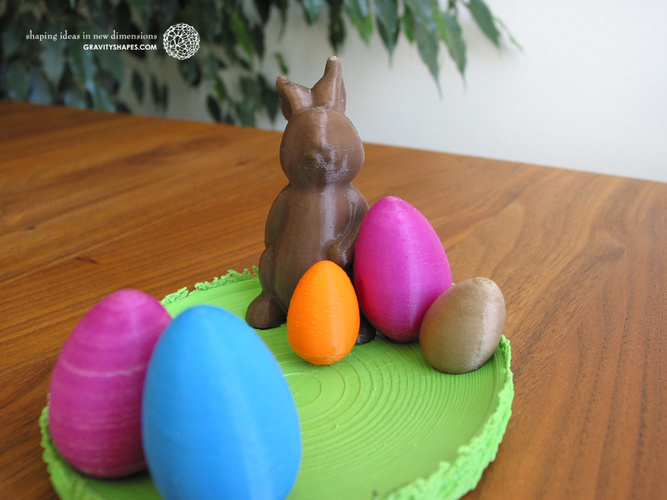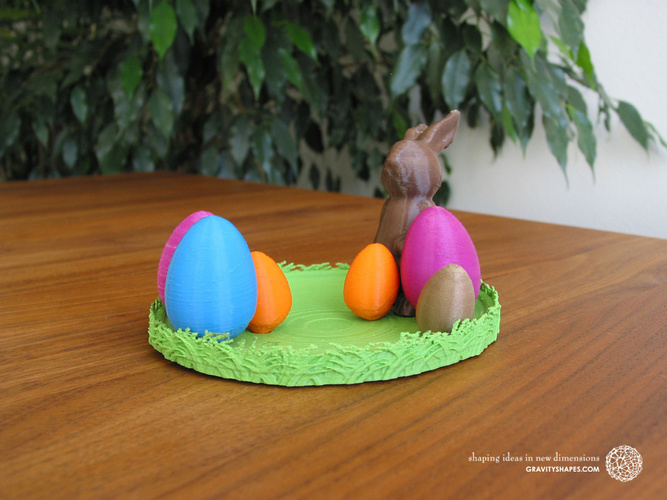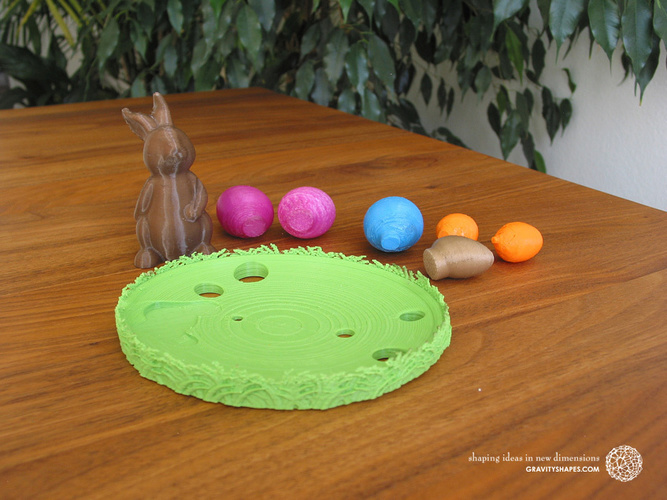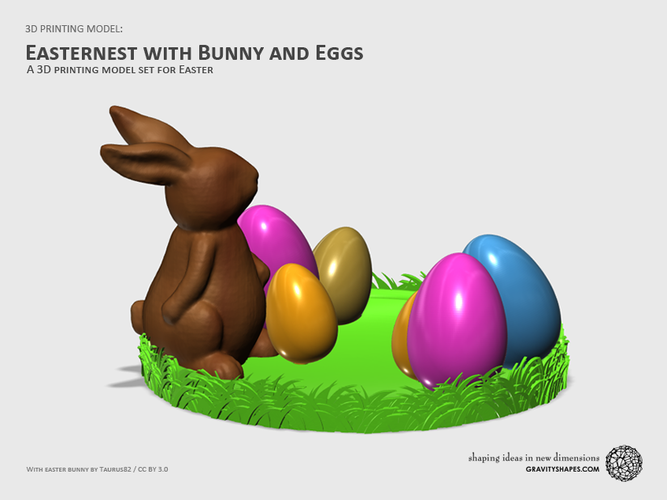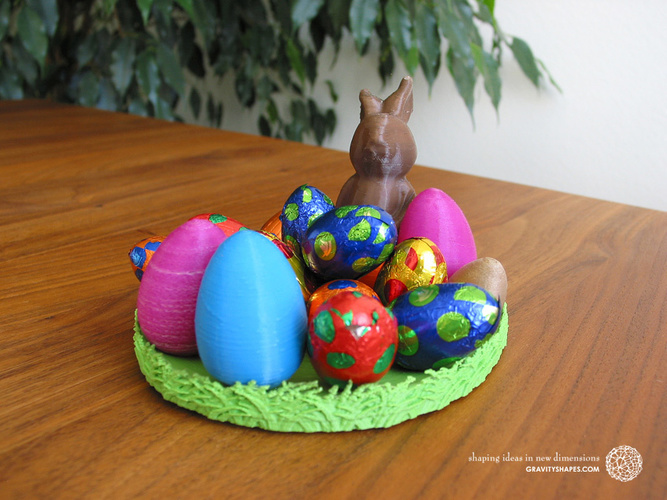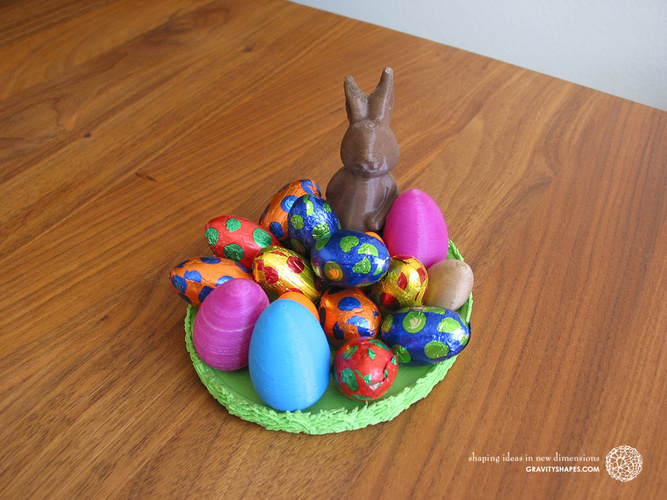 No Prints Yet

Be the first to upload a Print for this Design!
EASTERNEST WITH EASTER BUNNY AND EGGS
A free 3D print Easter set model for the whole family!
Version 1.0
Easy to print and assemble
Support required: No (optional)
Rafts: Yes (recommended for the eggs)
8 STL-Files
Sizes (assembled): Approx. 11 x 15 x 8 cm
The Easter nest consists of several printing parts and can therefore be printed in a variety of colors. The set of nest, Easter bunny and six Easter eggs is designed to be plugged together.
The flat nest with the printable eggs also provides space for own eggs, such as e.g. Chocolate eggs.
This free 3D model of GRAVITYSHAPES is based on the premium "Swing" Easter Eggs Crasher Set. Some parts like the nest are also compatible with the swing set.
Glue is optional, but is not required if the print results are good.
- The sweet easter bunny is from Taurus82  (CC BY 3.0). Thanks. -
For more printing tips and information (in English and German) about the EASTER EGGS CRASHER SWING visit: 
Printing-Tips for this EASTERNEST WITH EASTER BUNNY AND EGGS
Product-Info for this EASTERNEST WITH EASTER BUNNY AND EGGS
RackMultipart20170409-69-5sdn4w.zip/GS_Easternest_with_easter_bunny_and_eggs_9.JPG
171 KB
RackMultipart20170409-69-5sdn4w.zip/GS_Easternest_with_easter_bunny_and_eggs_10.JPG
192 KB
RackMultipart20170409-69-5sdn4w.zip/GS_Easternest_with_easter_bunny_and_eggs_15.JPG
231 KB
RackMultipart20170409-69-5sdn4w.zip/License.txt
2.18 KB
RackMultipart20170409-69-5sdn4w.zip/Osternest_mit-hase-und-eier_1.png
358 KB
RackMultipart20170409-69-5sdn4w.zip/Osternest_mit-hase-und-eier_2.png
294 KB
RackMultipart20170409-69-5sdn4w.zip/Osternest_Nest.stl
9.67 MB
RackMultipart20170409-69-5sdn4w.zip/Osternest-Ei-1.stl
1.99 MB
RackMultipart20170409-69-5sdn4w.zip/Osternest-Ei-2.stl
2.02 MB
RackMultipart20170409-69-5sdn4w.zip/Osternest-Ei-3.stl
2.04 MB
RackMultipart20170409-69-5sdn4w.zip/Osternest-Ei-4.stl
1.69 MB
RackMultipart20170409-69-5sdn4w.zip/Osternest-Ei-5.stl
2.11 MB
RackMultipart20170409-69-5sdn4w.zip/Osternest-Ei-6.stl
2.14 MB
RackMultipart20170409-69-5sdn4w.zip/Osternest-Hase.stl
3.91 MB
RackMultipart20170409-69-5sdn4w.zip/GS_Easternest_with_easter_bunny_and_eggs_2.JPG
246 KB
RackMultipart20170409-69-5sdn4w.zip/GS_Easternest_with_easter_bunny_and_eggs_5.JPG
202 KB