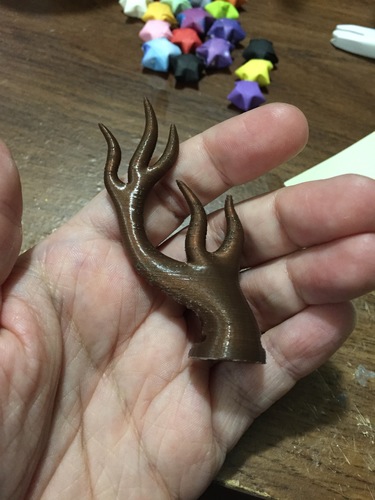 Need something for your Renaissance faire or Halloween costume? I am working on lightweight Horns! This pair of horns is to resemble antlers with a tree branch aesthetic thrown in as well. Simple, yet elegant. This particular version is small so great for even the little ones. The model is hollow with thick walls to make sure they are light bust sturdy. You can size up or I will be uploading another version that is sized up without making the walls thicker to keep the weight down. Best if some support on the outside and lower bend necessary, inside support and top support is not necessary. Some printers may be able to print without support but it will be a little goopy in spots.
This is part of my ren faire project. I got some horns at a ren faire and while I like them, they were cheaply modeled, and super heavy and the cost was a bit high for what they were. Shiny and horn shaped, that was about all they had going for them, and every booth with horns at the faire was the same! I get sinus pressure headaches and tender heads due to allergys and knew this would be a good start on making my head look fabulous but also not be in pain etc. Wraith horns are coming up next. Enjoy!
(don't worry about left and right just print two, they are the same when flipped!)
I used pla at 210 degrees celsius at .175 layer height, speed of 60mm/s on my monoprice mini select printer with the Bronze Metallic color from push plastics and it looks super nice.
drayd_horn_right_001.stl
13.6 MB