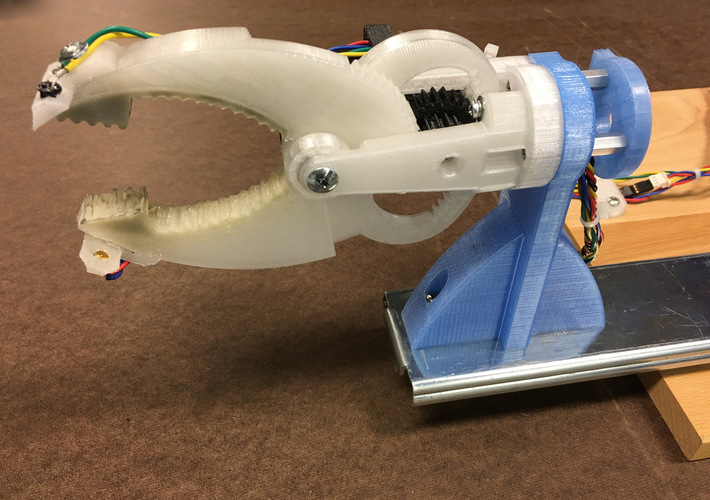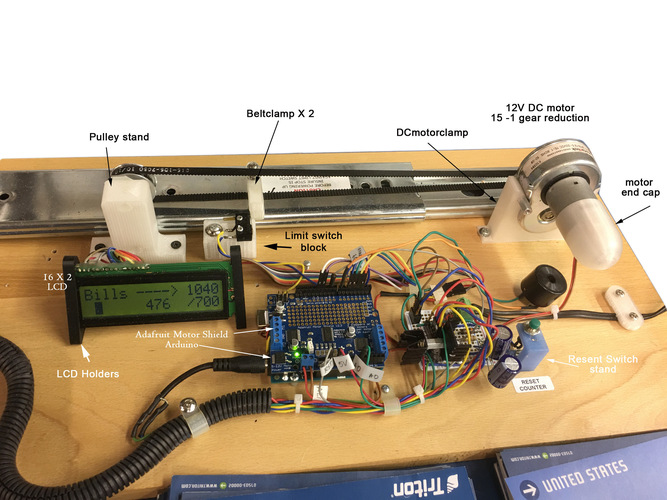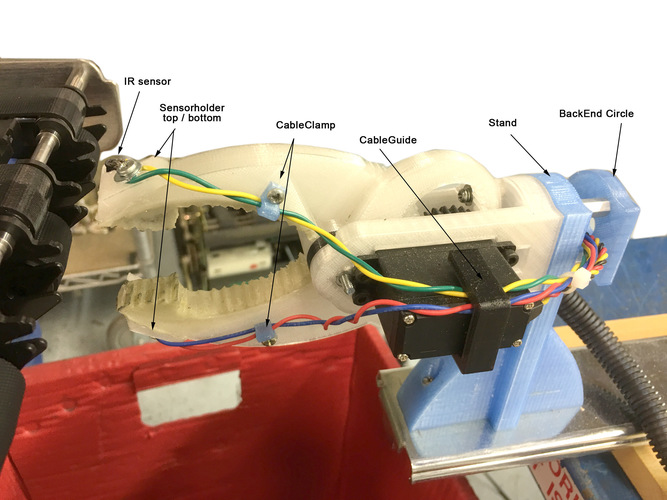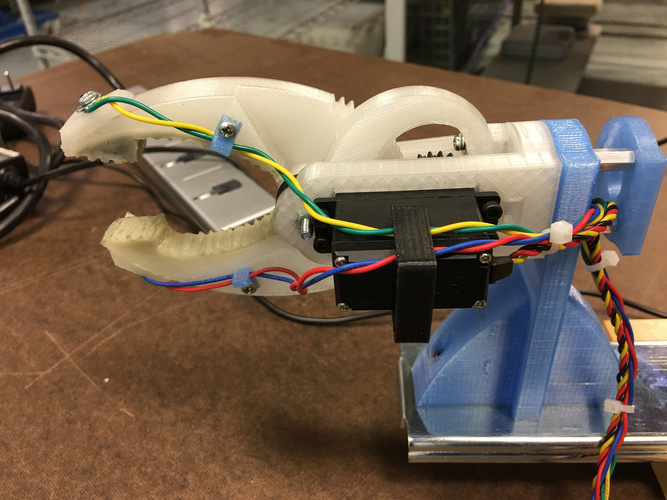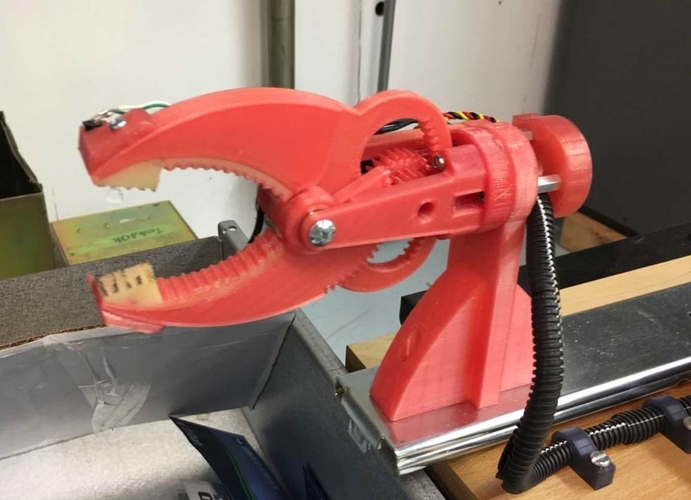 No Prints Yet

Be the first to upload a Print for this Design!
This is my remix of the excellent Mantis Gripper by 4ndreas located here - http://www.thingiverse.com/thi.... My goal was to automate the tedious task of testing cash dispensers at work using scrap and off the shelf parts. Video here: https://youtu.be/ED8kZkMuPWg. I needed a larger flat gripping area than the original Gripper, so I modified both the large and small grippers. I used everything else from the original Mantis. I added screw-on sensor brackets to the ends of the two grippers to house an infrared emitter/sensor combo. A stand was designed so I could attach the gripper to a motorized slide base. There are various motor mounts, sensor mounts, belt grips and the like that I designed. 
The gripper itself is controlled by an Arduino and the moving slide it's mounted on is run by an Adafruit Motor Shield. The function of the assembly is to sense when bills are presented into the open gripper. It closes the gripper, moves the gripper rearward on a track and then opens the gripper to drop the bills into a bin below. A running bill counter is incremented, and It then moves forward till it hits the limit switch to wait for more bills. Over and over again. This takes the place of a tech having to sit and do this for 30 minutes at a time. 
Update 8/10/17 -  The first grabber was so well received that the techs commissioned another one. I printed it entirely in "Watermelon" PETG from MakerGeeks. See pic. The rubber is holding up well; no sign of wear at all and we're using it daily.
Update 5/13/18 - Both grabbers have been used daily in a production environment for almost a year with zero downtime. No wear evident on the claw.  I expected that the servo or the plastic would fail and require replacement but 4ndreas' design is proving to be very robust. 
back end circle.stl
129 KB
DC_motor clamp3.stl
109 KB
LCD_Holder_left side.stl
39.8 KB
LCD_Holder_right side.stl
39.8 KB
limit switch block.stl
285 KB
motor end cap.stl
2.31 MB
pulley stand 1.stl
454 KB
reset switch stand_1.stl
63.3 KB
sensorholder4a-bott.stl
56.2 KB
sensorholder4a-top.stl
57 KB