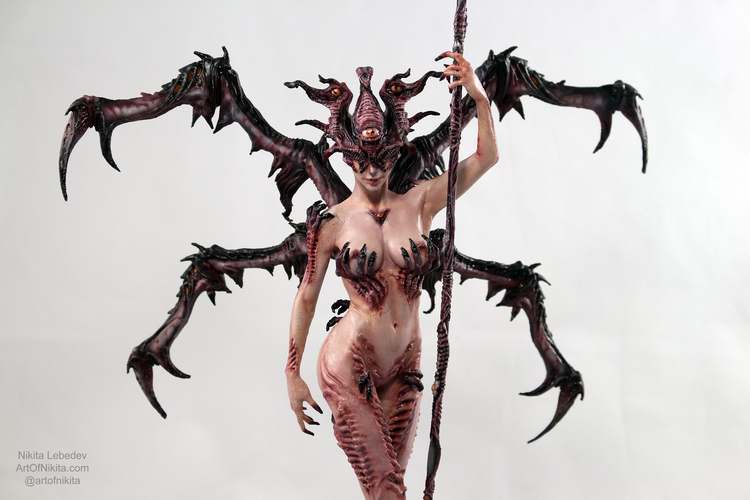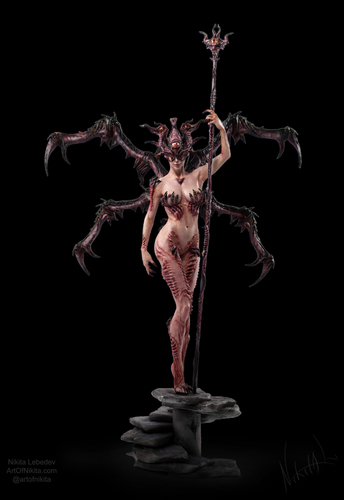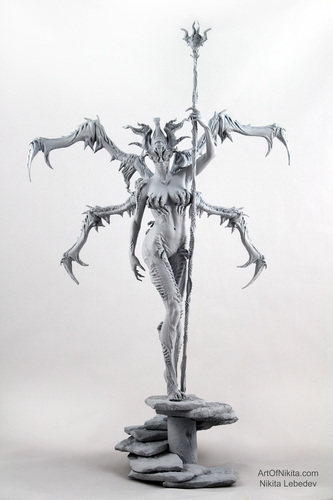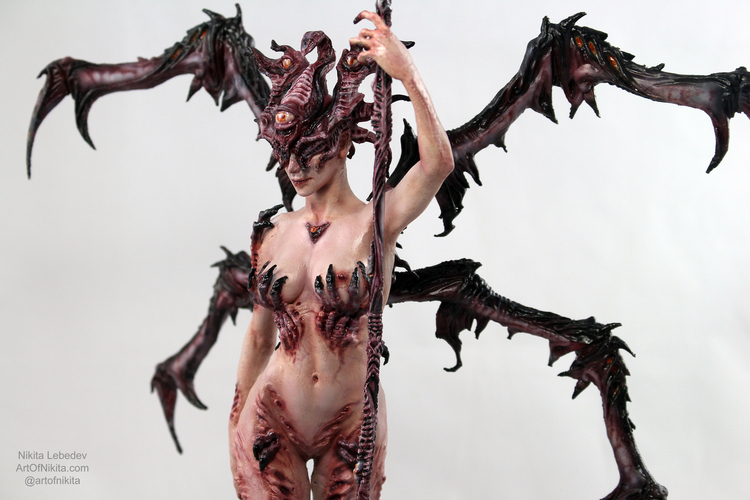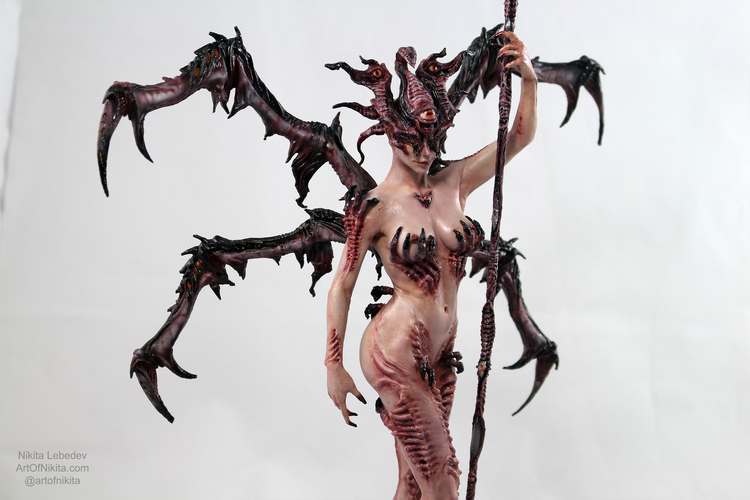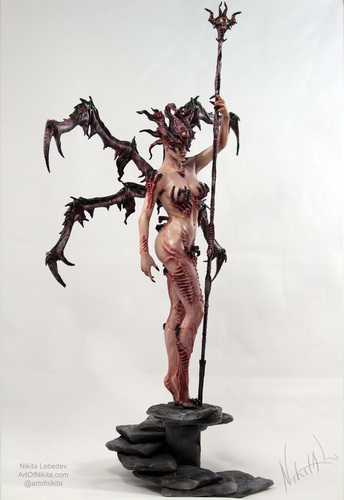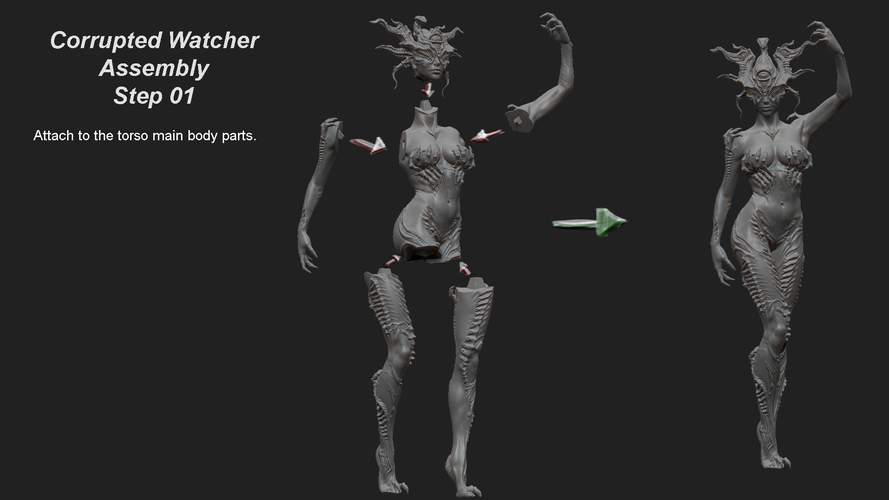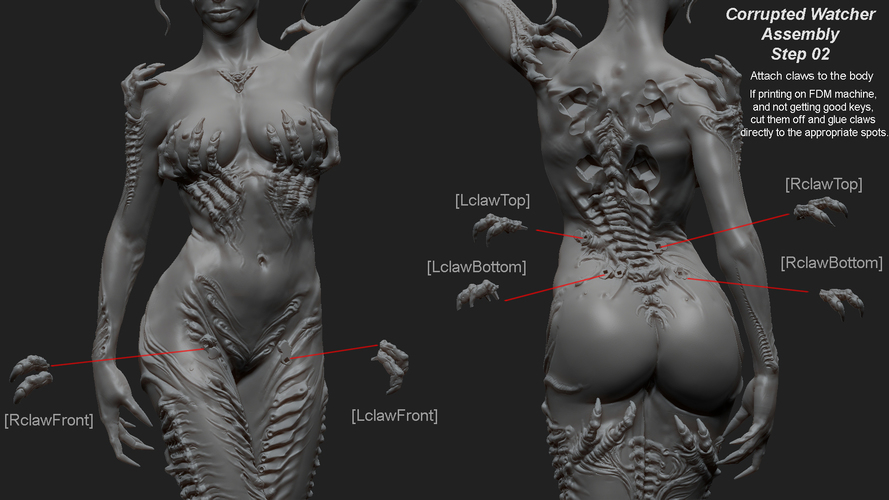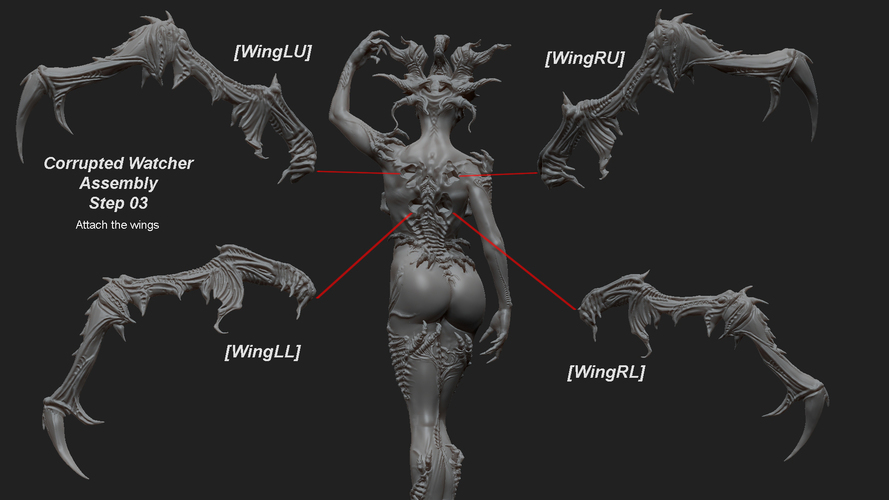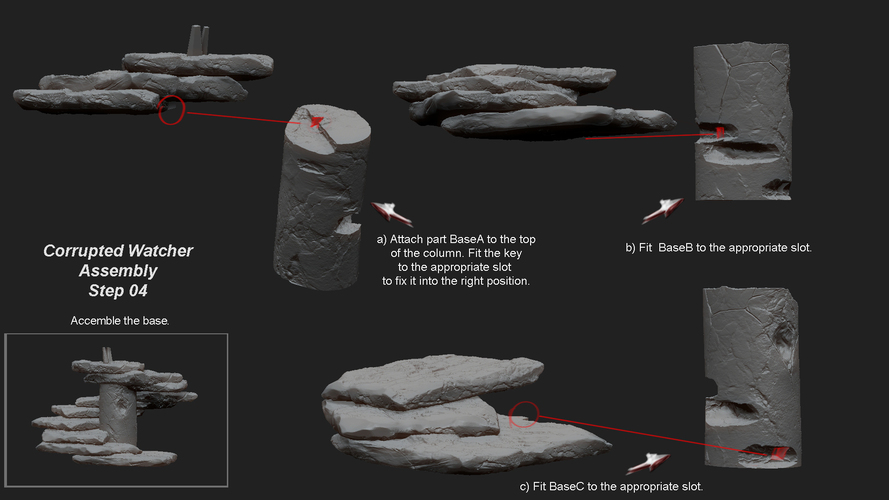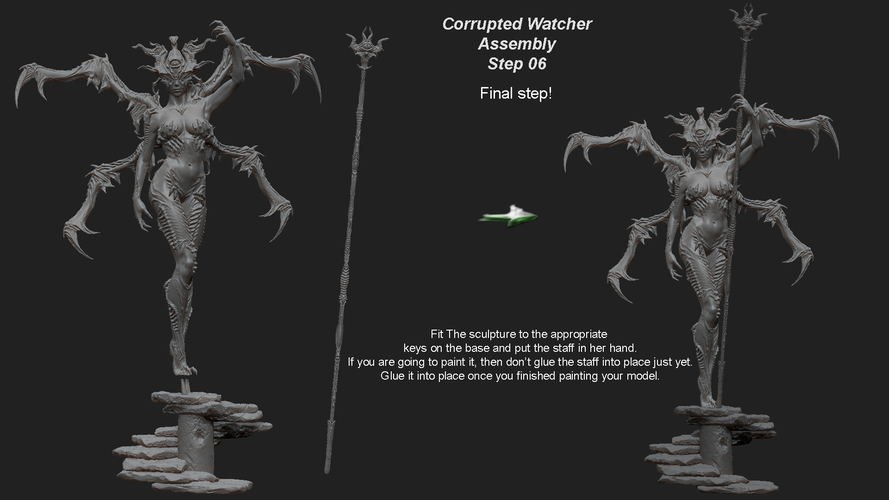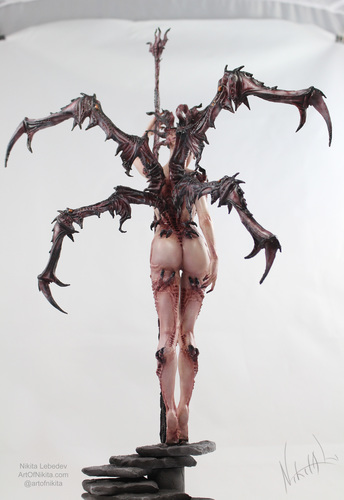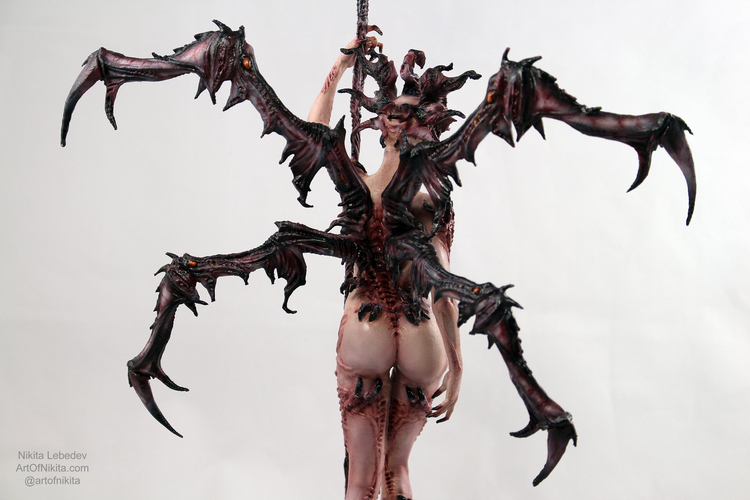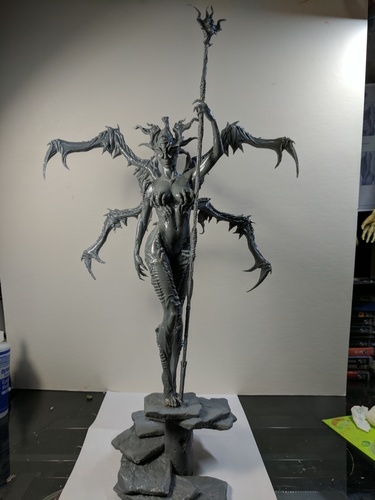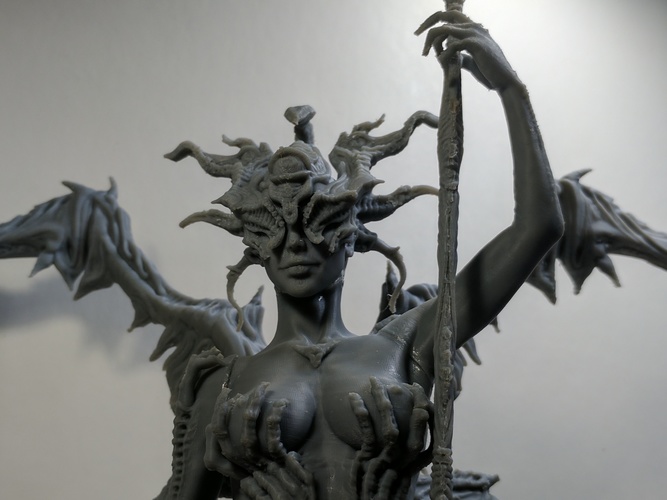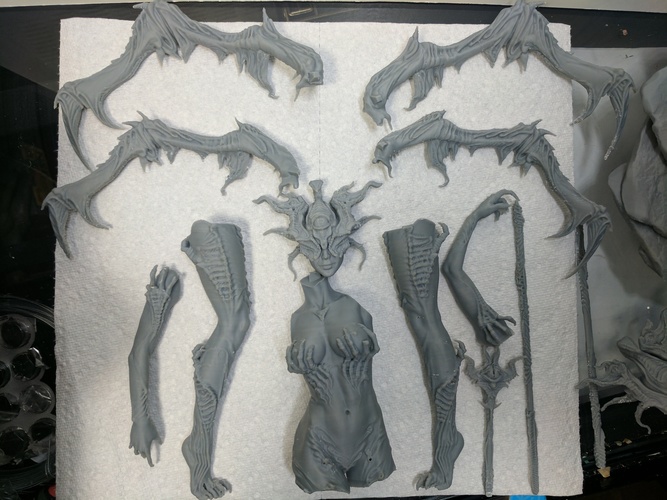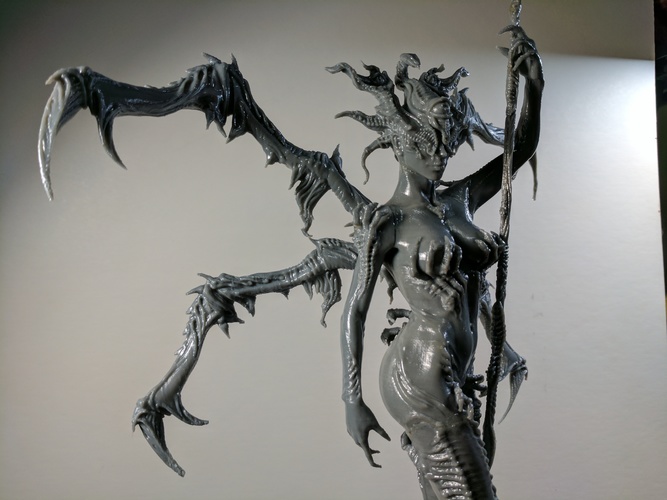 No Prints Yet

Be the first to upload a Print for this Design!
She used to be a powerful driada, that got corrupted by the demonic powers of the Underworld and now she is the watcher and the guard of the border  between our world and the Underworld. 
I printed this sculpture on Zortrax M200 and painted with airbrush and acrylics. This print is 480 mm tall. Wings are hollowed out to keep the sculpture in balance. I recommend printing it at highest detail settings to capture all the details. 
RackMultipart20170302-27287-vhw4nu.zip/BaseD.obj
13.2 MB
RackMultipart20170302-27287-vhw4nu.zip/Arm01.obj
7.73 MB
RackMultipart20170302-27287-vhw4nu.zip/WingRU.obj
8.52 MB
RackMultipart20170302-27287-vhw4nu.zip/BaseC.obj
16.2 MB
RackMultipart20170302-27287-vhw4nu.zip/WingRL.obj
6.27 MB
RackMultipart20170302-27287-vhw4nu.zip/Arm02.obj
7.12 MB
RackMultipart20170302-27287-vhw4nu.zip/BaseA.obj
21.2 MB
RackMultipart20170302-27287-vhw4nu.zip/BaseB.obj
32.8 MB
RackMultipart20170302-27287-vhw4nu.zip/head.obj
30.2 MB
RackMultipart20170302-27287-vhw4nu.zip/LclawBottom.obj
2.73 MB
RackMultipart20170302-27287-vhw4nu.zip/LclawFront.obj
3.68 MB
RackMultipart20170302-27287-vhw4nu.zip/LclawTop.obj
3.5 MB
RackMultipart20170302-27287-vhw4nu.zip/Leg01.obj
17.6 MB
RackMultipart20170302-27287-vhw4nu.zip/Leg02.obj
17.7 MB
RackMultipart20170302-27287-vhw4nu.zip/RclawBottom.obj
3.15 MB
RackMultipart20170302-27287-vhw4nu.zip/RclawFront.obj
3.32 MB
RackMultipart20170302-27287-vhw4nu.zip/RclawTop.obj
8.21 MB
RackMultipart20170302-27287-vhw4nu.zip/StaffA.obj
5.55 MB
RackMultipart20170302-27287-vhw4nu.zip/StaffB.obj
5.86 MB
RackMultipart20170302-27287-vhw4nu.zip/StaffC.obj
6.41 MB
RackMultipart20170302-27287-vhw4nu.zip/TorsoLite.obj
32.6 MB
RackMultipart20170302-27287-vhw4nu.zip/WingLL.obj
6.52 MB
RackMultipart20170302-27287-vhw4nu.zip/WingLU.obj
7.46 MB