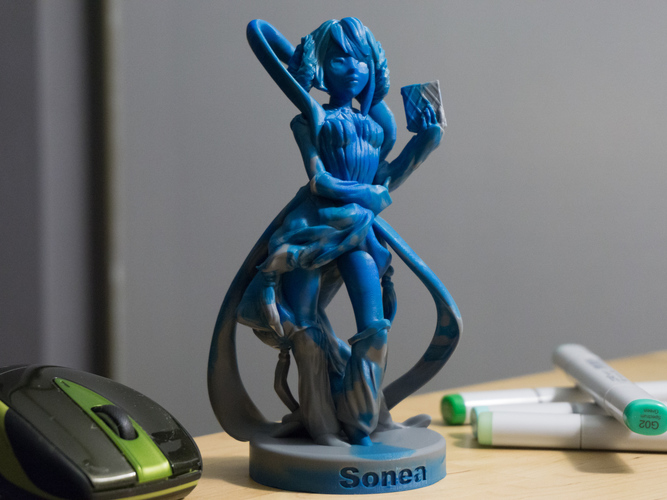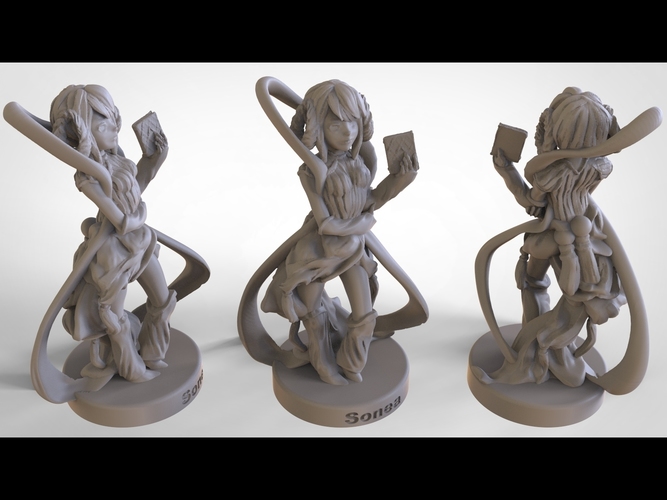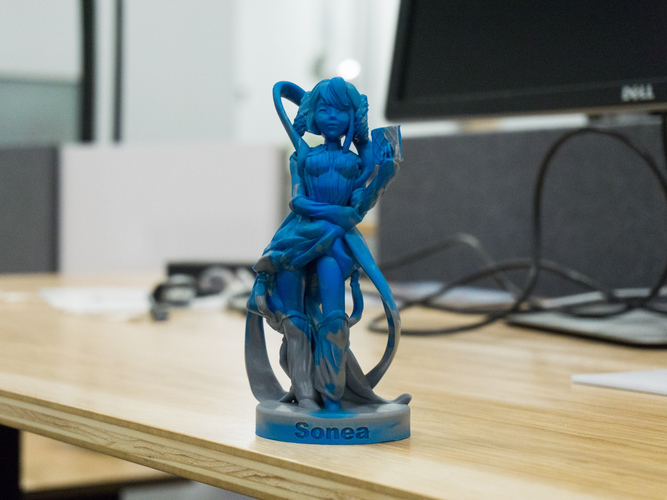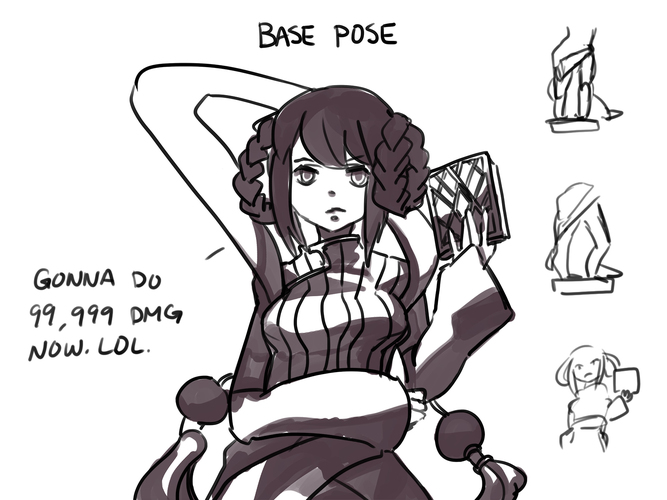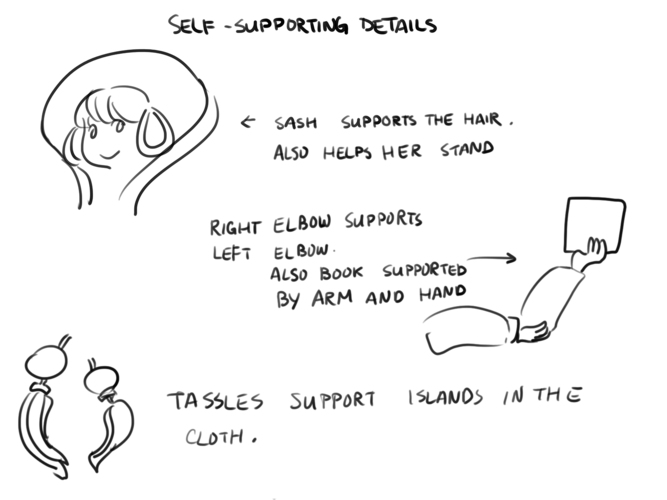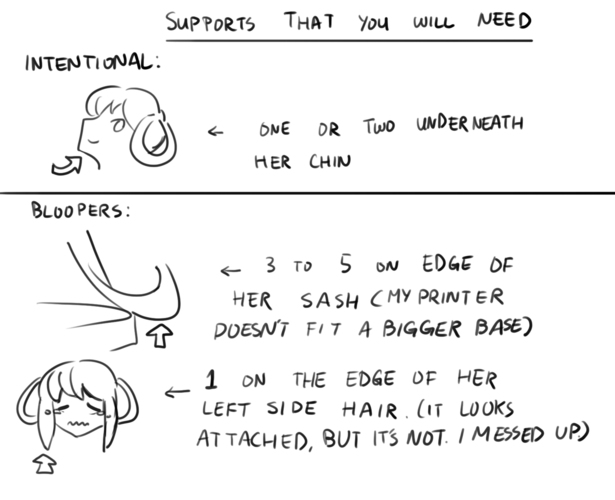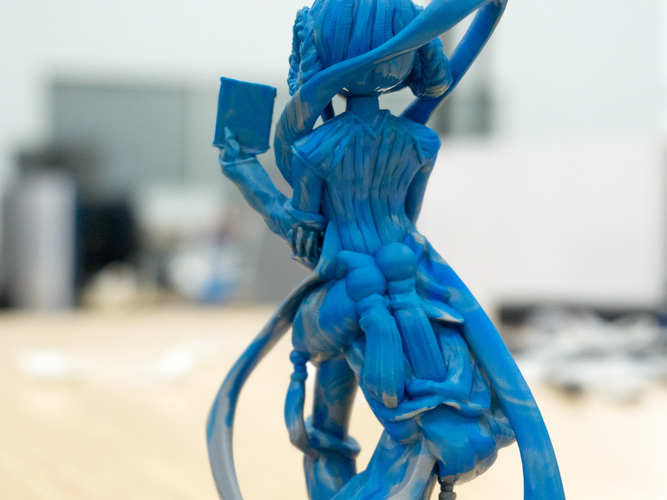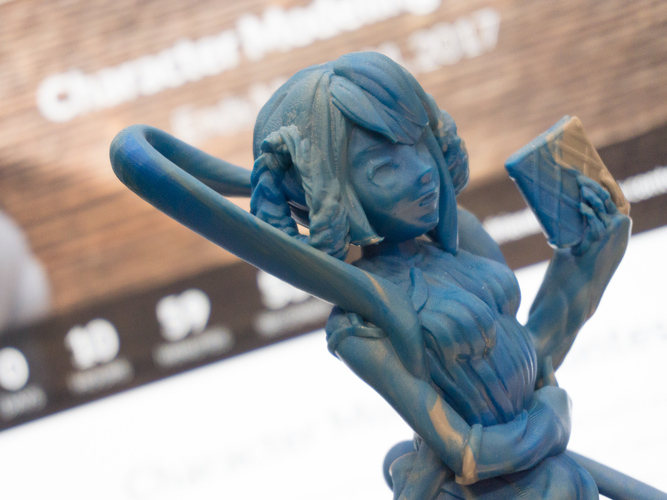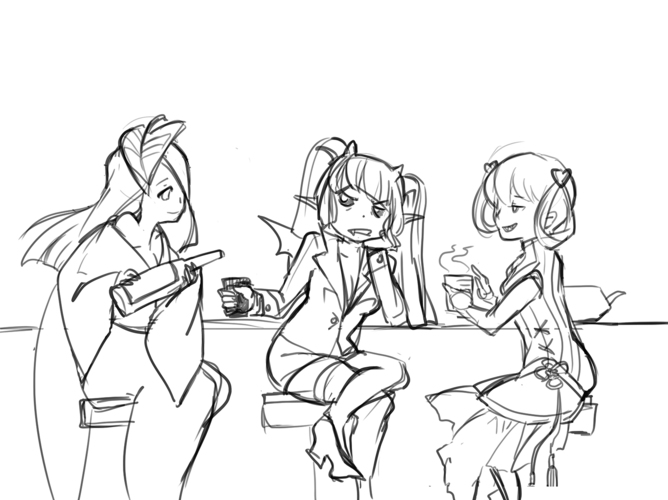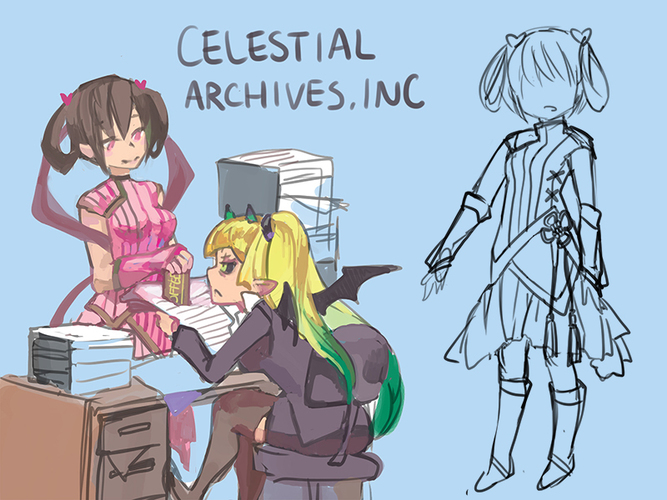 Sonea is created for the Pinshape character modelling contest. She can be (mostly) printed without supports or assembly.
Backstory
Sonea is the keeper of the Celestial Archives, which is a really glorified way of saying that she does clerical work for the entirety of human existence. Along with a blind serpent and a well-meaning imp, she is humanity's first, last and only advocate, should Heaven ever audit Earth for those tax returns from 3 millennia ago. (Talk about a single point of failure in the system. Good thing she's well-adjusted.)
On her days off, her hobbies include reading, warm beverages, and smiting poor noobs with her lvl.99 holy magic.
Design Details
I modeled her costume design after Chinese celestial maidens who serve in the court of the dragon emperor. She's a high-ranking archseraph in my light-hearted, modern fairytale of heaven and earth, and insists on sporting a more traditional garb, to the chagrin of her imp colleague with the modern suit and tie. You could say that she's an... early employee at Celestial Archives.
Technical Details
Overall, this was about 16 hours to sculpt, 3 hours to clean up the mesh for 3D-printing, 6.5 hours to print, and 10 minutes to  wash and post-process.
I found out about the contest kind of late (2 days ago), and so I scrambled to put together everything required for the entry. I sculpted the  original mesh for a support-less and assembly-less print on an SLA machine. (see diagrams for specific details). 
The structural support for the part is accomplished by the gentle arc of the sash that comes up out of the stand. Everything else is either self-supporting or (hopefully) not an overhang.  I had the fortune to get some time on a high-end prototype DLP machine to print this with. For what it's worth, the photos are taken of a print that went around the rate of around 24mm per hour at a slice thickness of 100 microns. What you see in the photo is pretty much what came directly off the printer. (No resurfacing or paints!) So, for the most part, I think I hit my design goals on the first try.
For those confused about DLP printing technology. Think of it as a big projector that cures an entire layer of resin at the time. 24mm/hr is the vertical speed at which the print moves out of the resin.
Analysis of Defects
In the final print, there are 3 small points that need support. One was intended, two were bloopers. I lightly supported 2 out of the 3 trouble spots, and ended with good results.
The intentional undersupport: 
1) Her chin is not supported. To print this version, I put 3 little supports underneath her chin. I tried to reason with myself how to not do it, but that intense eyeball-less simmer gaze just wasn't going to work with her head tilted up.
The unintentional undersupports:
1) When I put the model on the stand, I realized that if I wanted a circular stand, I couldn't fit her sash on my build volume. Between having a non-round stand and putting 5 little supports at the bottom tip of sash, I chose to put the supports there.
2) The small lock of her hair on the right side of her face is not touching her shoulder! I didn't catch this before I hit print, and as you can see, that piece of hair is a lot shorter than the other. Drat. I need to drag that piece of hair down a bit.
Overall, I'm pleased that there's no need for strength-based structural support. The support defects outlined here are important to form a base to grow an island out of, but they are not needed to prop up the structure as a whole while it was printing, despite multiple recommendations by 3Dprinter software to put more supports in. As much as I would love to say that my model was a smashing success for my contest prospects, it would be a bit irresponsible of me not to mention this for anyone that wants to try this at home. Please do consider supporting those 3 areas if you are going to print it!
I rushed the one and only print of this sculpt out the door on March 1st, the day when this contest ends. (The beauty of rapid prototyping!)
File Information
The provided file, sonea_small_mesh_cleaned.stl is a reduced, watertight mesh for sharing and viewing on pinshape. The original, non-decimated mesh that I sent directly to the printer is freely available here: sonea_decimated_repair_pedestal_mesh.stl (198.4MB)
Sonea's base is 6.5cm in diameter, and she stands around 15cm tall.
sonea_small_mesh_cleaned.stl
25.2 MB