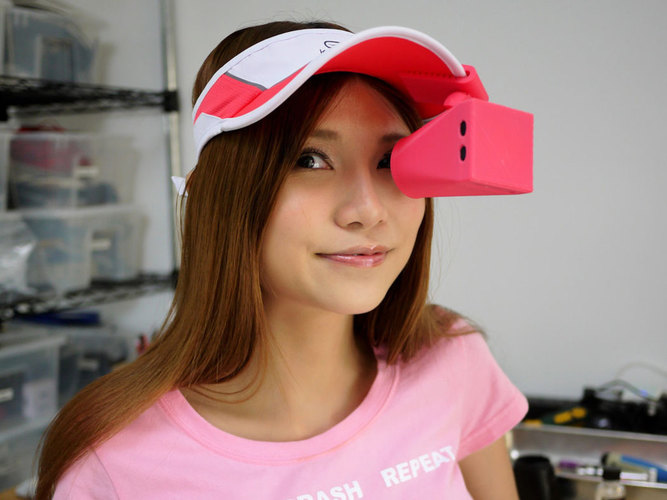 Summary Detailed build and use photos can be found here: http://imgur.com/a/SPqIG
As I mentioned recently (https://pinshape.com/items/282...) a few local ladies and I have been trying to get together an FPV drone racing club. While we've sort of gotten micro-drones taken care of with the above low cost VTX mount, we still needed displays.
Goggles are really best but when we tried out a cheap pair we hit a snag- you can't see anything with them on and none of the girls really wanted to be blindfolded in public. I think there are ones with a camera pass though? But they are way out of our budget. Being blindfolded at an event the middle of a crowd of guys was going to make focusing on racing tough (even if everyone was totally well behaved). So I decided to look at our options.
We need to keep costs low because I really want to use drone racing as a gateway to Maker culture for local girls, so all the solutions we're looking at are in the $50USD range. So far 5 inch displays mounted on tripods or the remote controls have not really worked out. I came up with this. I can use it pretty well but so far no one else has tested it.
If you like this and want to see more of my projects, or a bit of my life in Shenzhen, China you can look here:
Print Settings
Printer: FlashForge Creator Pro  Rafts:Yes  Supports:Yes  Resolution: .2mm  Infill: 15%  Notes: Used ABS but PLA should be ok.
Parts: You'll need a 5.8Ghz 2" screen FPV watch, there's only one design but a few brands. Just Google it, tons on the market they are about $35USD. I don't want to direct link or people think I work for them.
The LCD hood is made for the Sony NEX3 and NEX5, says "LCD-V4" on the side. It's 2.8x magnification and costs about $18USD it looks like (lot cheaper here).
poor_girls_hmd-cover.stl
12.2 KB
poor_girls_hmd-hood.stl
284 KB
poor_girls_hmd-clip.stl
166 KB