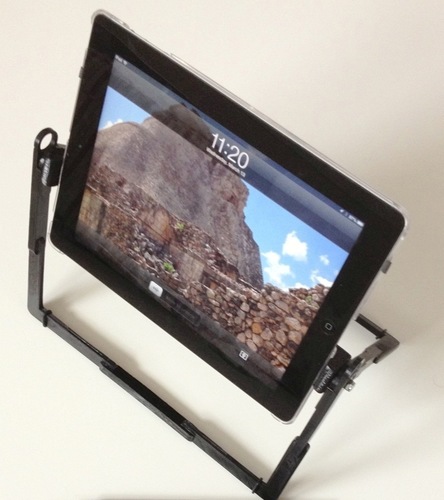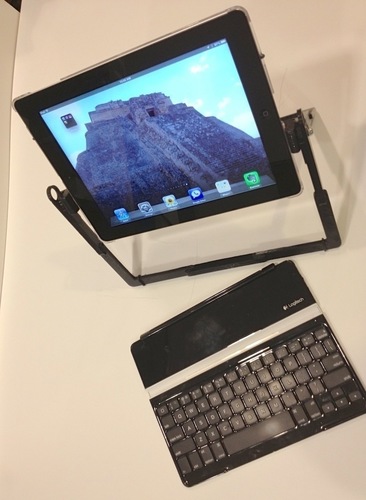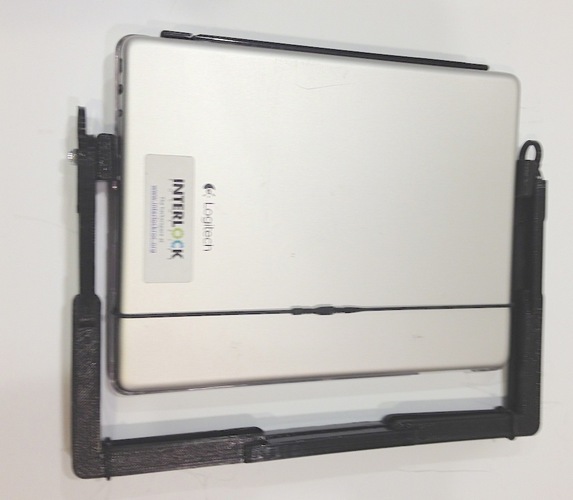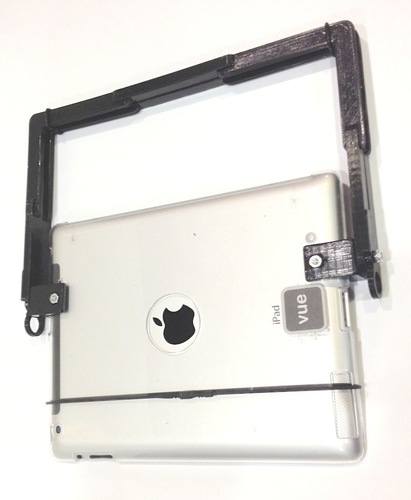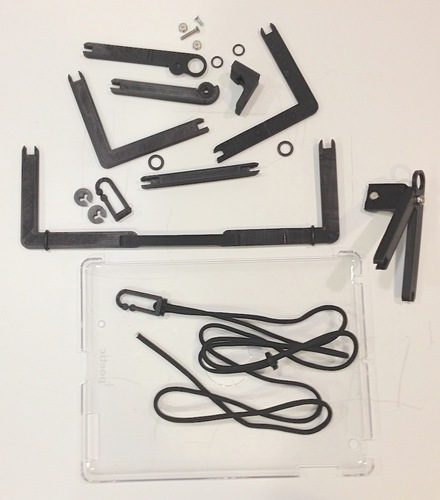 No Prints Yet

Be the first to upload a Print for this Design!
Summary
The iPad HandleStand is a protective case that has been hacked with a pair of 3D printed handles that hinge open into an A-Frame adjustable stand. It works with a Smart Cover or with the Logitech UltraThin Keyboard Cover, and it tilts to any angle. Additional information can be found on the blog: http://interlockroc.org/2013/0...
Instructions
Parts list:
-(1) Hinge Set (containing 2 brackets and 4 hinge members).
-(2) Handles (each containing parts for a 3-piece handle and a MicroBeaner for the shoulder strap).
-(1) Polycarbonate iPad case that snaps on at the corners such asamazon.com/PoeticBasic-Smart-Cover-Slim-Fit-Crystal/dp/B007JBN6NQ
-(2) Stainless steel 6-32 x .75 inch oval phillips machine screw (attach hinges to brackets)
-(2) flat-head 6-32 x .5 inch machine screw (attach brackets to polycarbonate case)
-(4) 6-32 lock nuts with nylon inserts
(4) #10 o-ring provide friction for hinges
(4) #41 o-ring provide friction against a table
-(1) .125 inch parachord 5 feet long
Tools:
-Drill with .125 inch bit and countersink bit
-Solvent to bond ABS such as Oatey cleaner (yellow label white can) made for ABS plumbing pipe (or use acetone or superglue)... See warning below!
-Use match or lighter to burn the cut ends of parachord
WARNING:
-Use CAUTION during solvent bonding!
-Use eye protection.
-Work in well ventilated area!
-The solvent dissolves many things, and the wet plastic stains whatever it touches!
-Use latex NOT vinyl gloves!
-Use aluminum foil on work surface!
Note:
-Use great care to go back and coat the whole part for a uniform glossy finish (especially if parts were sanded), but do one end and hang to dry (for a few minutes) before doing the other end!
-The solvent can also be used to heal delaminated parts, but BE CAREFUL!