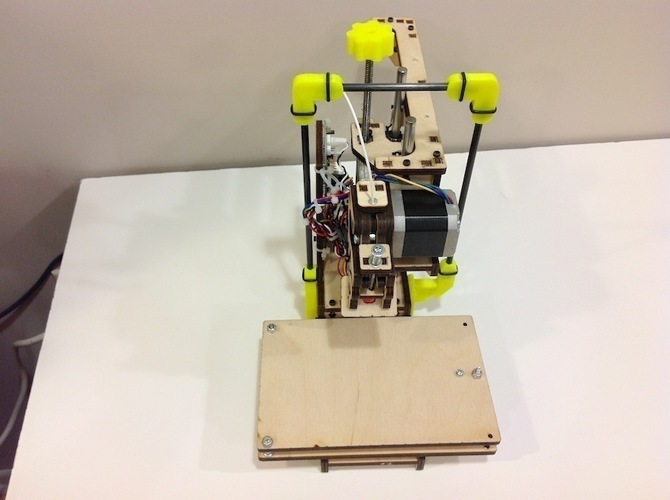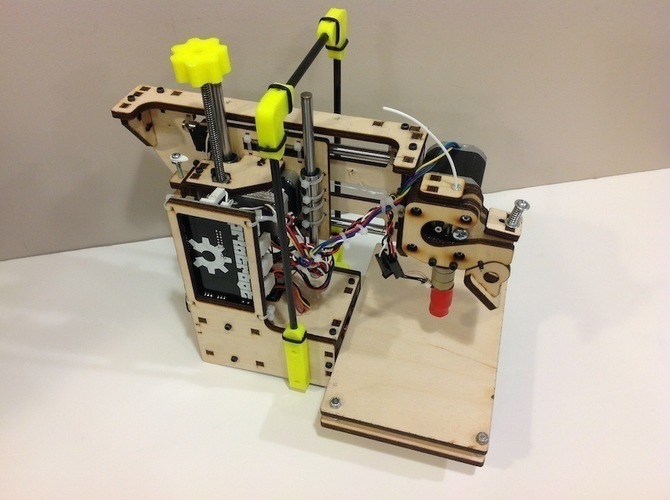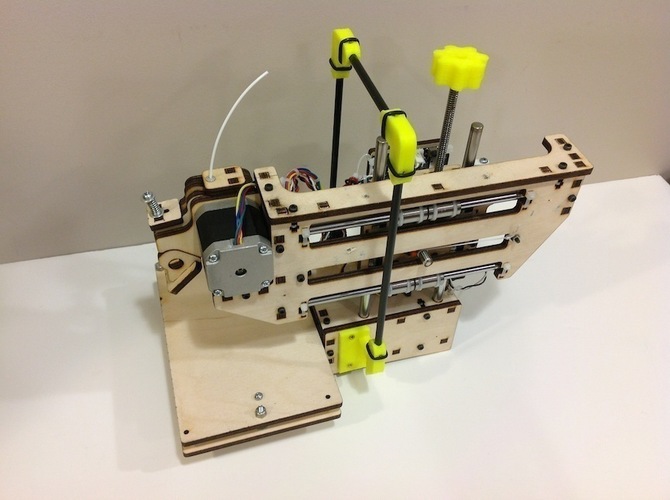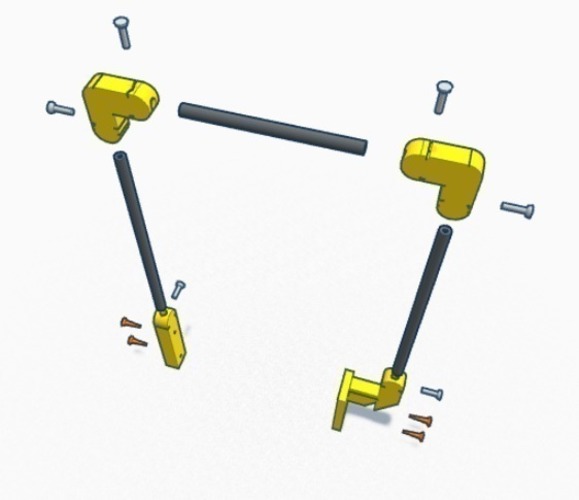 Summary
The Printrbot Simple is a great little 3D printer that is easy to carry around (as long as you have something to hold onto). The new ones have a handle, but The Carbon-Fiber Handle meets the requirement for the original. 
The parts for the Carbon-Fiber Handle were among the first things I printed after getting the Simple up and going. The handle can also be made with an oak dowel, but the carbon-fiber tube is much stronger than wood, and it feels more secure when carrying the printer.The design has been updated (on 5 August 2013). The original design fit the Beta Test version of the Simple.
Instructions
Print the handle parts (grouped into part 1 and part 2 to accommodate the size of the Simple printing bed).
Cut the 0.210 inch carbon-fiber tube into 3 pieces (2) 8.5 inch long and (1) 4.25 inch long.
Put 2 O-rings on each carbon-fiber tubes.
Insert the tubes into the printed parts.
Drill 1/32 inch holes through printed-parts-with-tubes for pinning the tubes with nails.
Cut nails to .5 inch (if necessary) and push them through printed-parts-with-tubes using pliers
Cover the nails with O-rings to keep them in place (and to complete handle assembly).
Locate the handle on the Printrbot Simple and drill holes for the screws.
Attach the handle with screws
Enjoy!
Materials
(4) Printed parts
(4) O-rings (ID = 7/16 inch)
(6) #2 x .5 inch brass screws
(6) #19 x .5 inch wire nails (or cut longer nails)
(1) 0.210 inch carbon fiber tube from Amazon.com cut into (2) 8.5 inch pieces and (1) 4.25 inch piece
Note:
Sometimes printed parts split along the grain, and the O-rings alleviate this worry.
Confession:
I printed my Carbon-Fiber Handle parts in ABS on my Printrbot LC because I wanted to safely handle my Simple from the beginning.
printrbot_simple_handle_part_2.stl
35.8 KB
printrbot_simple_handle_part_1.stl
162 KB