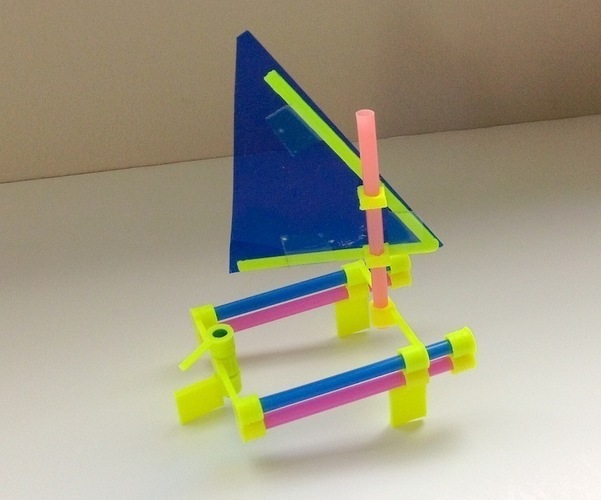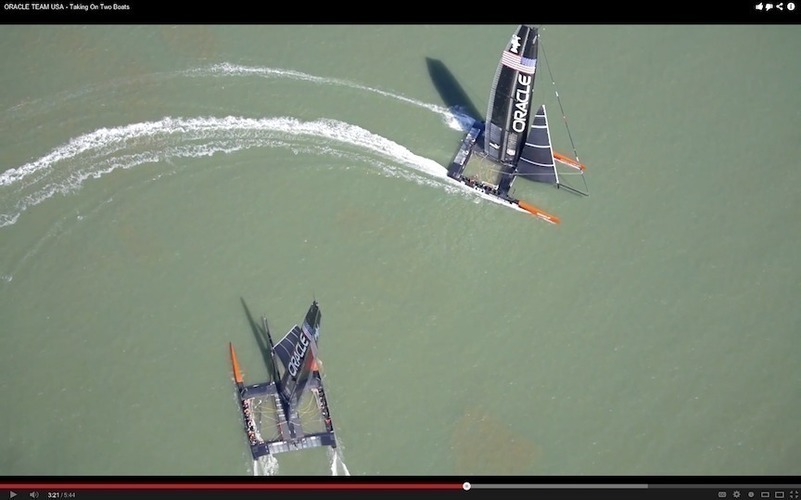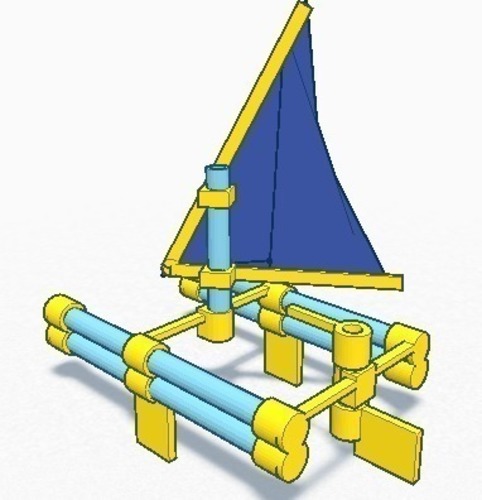 No Prints Yet

Be the first to upload a Print for this Design!
Summary
This thing was made with Tinkercad. Edit it online https://tinkercad.com/things/f...
The America's Cup Toy Boat Kit demonstrates teaching physics with 3D-printed toys. It was used in aTech Camp to teach grades 4, 5, and 6 in a Rochester, NY elementary school. Each of the 20 students built a boat and tested it in a shoebox. Constructively hacking the design (changing sail shape and position, hull length, etc.) teaches confidence in creatively making and fixing things.
Instructions
-Print the kit of sailboat parts (designed to fit on the small Printerbot Simple bed).
-Cut 4 equal straw pieces (4 inches long works well) for hulls.
-Cut a 1 inch straw for attaching the tiller to the rudder.
-Cut a straw for the mast (4 inches long works well).
-Cut the triangle sail from colorful cellophane or plastic film and tape it to the 3D-printed booms.
-Assemble the sailboat.
-Fill the plastic box half full of water.
-Float the boat in the water and adjust tiller and sail for a broad reach.
-Gently blow on sail through a straw.
-Each boat in the regatta has a shoebox and the sailers provide their own wind at the starting signal.
-The object of the game is to go the length of the box without touching the sides when wind blows from various directions.
Materials
:
-3D printed parts: sail, booms, forward frame, aft frame, straw plugs, rudder and tiller.
-5 colorful soda straws.
-Colorful cellophane food packaging.
-Plastic shoebox and water.
Lessons include:
-Center-of-gravity and tipping over.
-Angle of incidence and resulting forces on the sail.
-How to steer a sailboat to go other than the way the wind is blowing.
-The iterative design process (constructive hacking) where students can modify the boats to improve performance or fix flaws.
Teachers can re-use the apparatus with subsequent classes.
americas_cup_toy_boat_kit.stl
398 KB
americas_cup_toy_boat__part_2.stl
250 KB
americas_cup_toy_boat_part_1.stl
157 KB