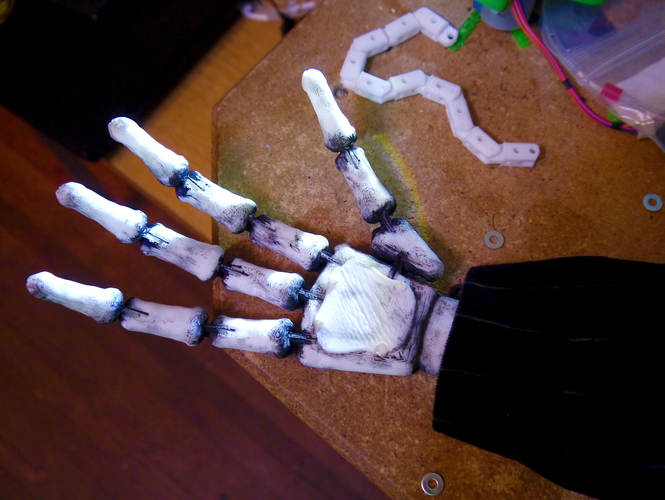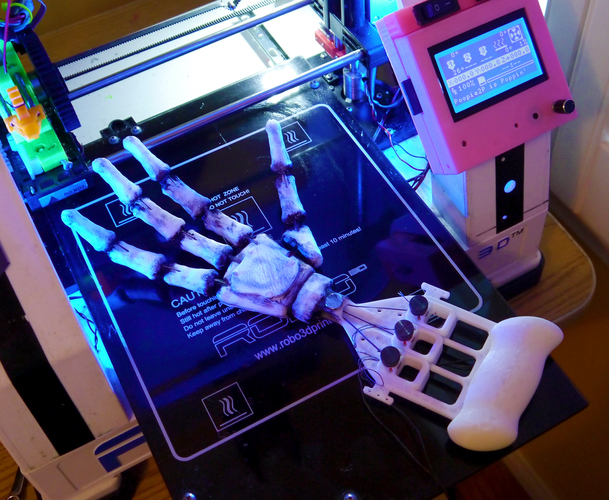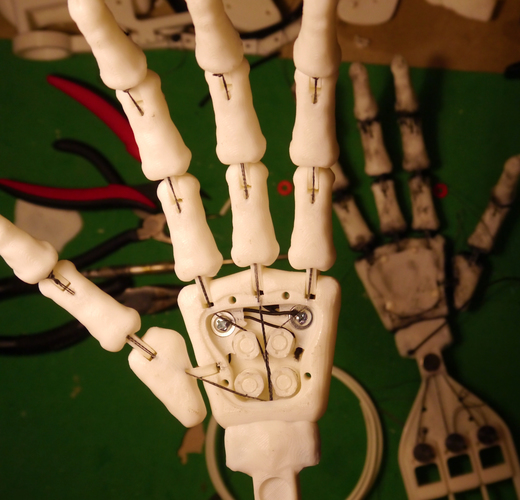 No Prints Yet

Be the first to upload a Print for this Design!
https://www.youtube.com/watch?...
This is my original design based on my modular hand, skinned and articulated for Jack Skellington from A NIghtmare Before Christmas. I consider it a puppet hand but it could be adapted for animatronic control. The actuator is designed to be held and manipulated under an extended sleeve. Unlike an attached gauntlet, it can disengaged easily. As well as looking cool, it is designed to be very easy to print, employing 12 printed-in hinges, 4 of my custom captured Super-pulleys in the palm, and channels for all of the thread and elastic string. This kind of wire/spring control can yield very subtle, beautiful performances. Follow and watch this space for assembly videos, updates, new skins to come! Zombie, skeleton, alien hand, perhaps Iron Man or Edward Scissorhands, who can say? A little bit of hardware required: Stretchy string 25lb fishing line (preferably braided and doubled) 2 - 1/2"-3/4" long socket 1/4-20 bolts to attach hand to gauntlet 3 M4 or #8/32 screws or knobs for adjusting finger string tension ~3/4" long 3 nuts (M4 or 8/32) 2 small screws/washers to lock down the stretchy string inside the palm (these can be harvested from old filament spools) optional - a 12mm neodymium magnet at the wrist to keep your sleeve in place Happy Halloween Everyone! Also, a shout out to my favorite Youtuber, James Bruton. If you are a fan of mechanized cosplay, check out his channel XRobots. I could not have accomplished this without the many enjoyable hours of watching his incredible process. Please keep making stuff, James!
Fingerpull Stringlock Side.STL
301 KB
Hand Palm Cover.STL
136 KB
JackGauntlet Backer.STL
448 KB
JackHand Right.STL
52.5 MB
Middle 2nd Backer.STL
1.15 MB
Middle Tip Backer.STL
2.37 MB
Finger Backer Set.stl
18.5 MB
Fingerpull Nutside Middle.STL
300 KB
Fingerpull Nutside Right.STL
312 KB