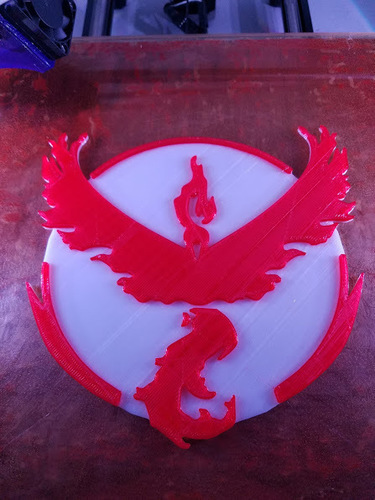 Summary
A simple set of badges from Pokemon Go. These badges are pretty large and can be printed in two colors. The first layer is 2 mm thick. The second is also 2 mm thick. So my best recommendation is to watch the first color filament (white in my case)print and have it pause at 2 mm then change it to what ever color the badge requires. If requested I can always make the badges smaller. The current versions are about 6 in x 6 in give or take.
7/14/16 Update: Added the raw logos so you can download it and apply it to other projects as you like!
7/21/16 Update: It was brought to my attention that the version of the Team Mystic logo was incorrect. I have replaced the old version and updated it to match the official logo. Thanks to xbackdraftVIIx for letting me know. If anyone wants the old "short" mystic logo let me know and I will happily upload them again.
Print Settings
Printer Brand: LulzBotPrinter: TAZ 5
Rafts: No
Supports: No
Resolution: Any
Infill: Any
How I Designed This
Designing this was pretty simple. I recreated the logos in Adobe Illustrator and then converted them into SVG files. I then imported them into Tinkercad and added a simple shape as a background. Once all that was done I adjusted the simple background shape to be 2mm thick. Then I took the logo and made it 4 mm thick allowing the logo to be partly outside of the simple shape.
team_mysticrev1_raw.stl
132 KB
team_instinct_raw.stl
80.3 KB
team_instinct.stl
94.1 KB
team_mysticrev1.stl
142 KB
team_valor-raw.stl
246 KB