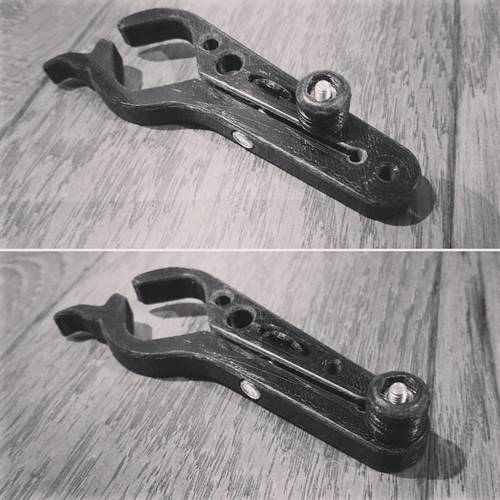 Thanks to toofuu & aaalberto on Thingiverse, I printed their designs and put it to work! After a couple rides, I wanted to make/add a few tweaks to suit my needs.
Make the tension adjuster slightly larger
Added a thumb lever to assist in quick disengagement during a ride. My bike has a good amount of torque ~ a "ball-buster" when you downshift or release the throttle at high speeds. I had to physically roll the throttle forward, causing lots of forward momentum thrust to disengage the lock. So this thumb lever gives you the ability to "unlock" without having to roll the throttle forward.
Added an index finger pin for easier engagement of the lock. It's also removable. Then I went further by adding a 2nd pin location, just in case one location is too close/far for different finger sizes.
As with aaalberto design, recommended hardware to use: M4 bolt/nut for the tension adjuster and M4 bolt (20mm) and a standard nut. Use stainless of course.
TensionAdjuster.stl
226 KB
ThrottleLock_Redeux.stl
469 KB