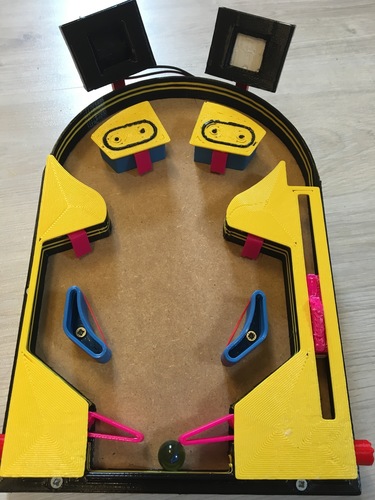 PINBALL
A game that can be printed and you can add micro:bit or arduino to program the switches in the game.
Programming can be made easy or difficult depending on the grade you're in.
Print Settings
Rafts: Yes
Supports: Yes
It's printed on a opiliones delta printer with pla filament of the brand by ctrl design. some parts need support.
How I Designed This
PINBALL
The PINBALL is designed in sketchup 2016. The dimensions are based on a print bed of 300mm by 300mm. I add an mdf board so the print time is shorter en de surface for the ball is smother.
see the video how to put it all together
for the arduino you can design and print your own score board. for the micro:bit the dimensions are all the same so there for the score board is in the print files.
PINBALL
Pinball 3d print for micro:bit and arduino.
Overvieuw and Background:
By printing and programming pinball you will learn how to program, to print 3d parts, and how a circuit works.
Objectives:
Students learn how to use a 3D printer to print parts and to put that together. Students also learn how to make a switch and control it via Arduino and micro:bit. Learning programming the Arduino and micro: bit is the main learning process.
Audience:
The great thing about pinball is that it can be worked with from a young age. Because you can make simple programs with Arduino and micro:bit. At the age of 8 the teacher can print all the parts and put it together so that the studens only have to program. For the older students it can be made more difficult by complex projects and put everything together themselves.
Subjects:
pinball is an project that can be used in science, technology and math.
Skills Learned:
skills that you learn is to work together, spatial awareness, programming, design, 3D printing, cognitive and more. All depending on the difficulty of the project you're programming.
Lesson / Activity:
The great thing about pinball is that you can go with it in many ways.
example: the teacher print everything out and the student put it all together.
teacher and student discuss a programming assignment.
student performs programming and test it.
The teacher and students can decide together how difficult they make it. By keeping it simple it can take about 1 hour but if the students are going to do everything themselves then they may need a week.
There are endless possibilities to what students and educators can do with this project. Duration:
The great thing about pinball is that it can take 1 hour ore almost a week. All depending on how complex you will make the programming.
Preparation:
The programming of micro:bit and arduino are for simple and difficult programs. So you do not need any experience in programming. The fun part is that you can print the parts and put it together and start programming. You can start simple and make it during the year more difficult.
References:
https://www.arduino.cc/ https://www.microbit.co.uk/
Rubric and Assets:
I think that the final score is up to the teacher. Teacher and students can discus in front of the project what they should achieve and how its grated.
Looks of the 3d print parts
Color choice
Programming skills
Explanation of the programing done
……
Handouts & Assets:
The link of how to put the printed parts together.
pinball flipper 1 right by ctrl design.stl
398 KB
pinball base by ctrl design.stl
699 KB
pinball bouncer left by ctrl design.stl
915 KB
pinball bouncer right by ctrl design.stl
915 KB
pinball cover left by ctrl design.stl
50.4 KB
pinball cover right by ctrl design.stl
62.1 KB
pinball cover top by ctrl design.stl
112 KB
pinball flipper 1 left by ctrl design.stl
398 KB
pinball flipper 2 left by ctrl design.stl
210 KB
pinball flipper 2 right by ctrl design.stl
210 KB
pinball flipper 3 left by ctrl design.stl
68.7 KB
pinball flipper 3 right by ctrl design.stl
69 KB
pinball launger by ctrl design.stl
77.1 KB
pinball microbit cover top.stl
591 KB
pinball scoreboard leg 2x by ctrl design.stl
5.94 KB
pinball scoreboard microbit holder 2x by ctrl design.stl
45.1 KB
pinball support left by ctrl design.stl
131 KB
pinball support right by ctrl design.stl
131 KB
pinball switch 4x by ctrl design.stl
21 KB
pinball touch top left by ctrl design.stl
85 KB
pinball touch top right by ctrl design.stl
83 KB