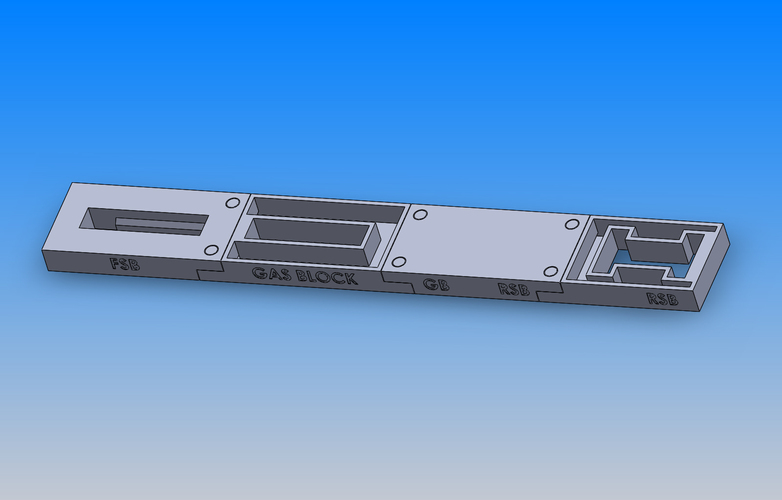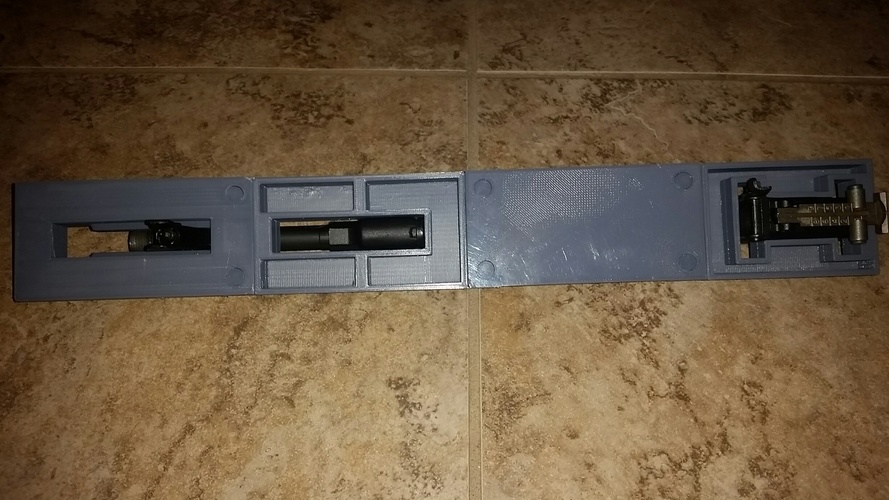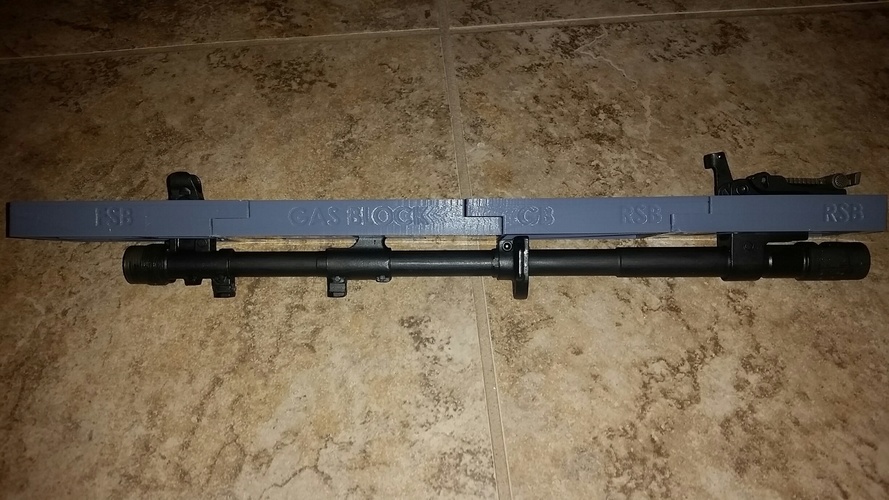 This is a multiple part assembly due to printer size constraints. The longest piece in this assembly is 6" x 2.5", so if your printer is bigger than that you can make this jig. This jig is based on the alignment jig that requiem arms makes from aluminum, but this is plastic and not $60 either. It still does what it is supposed to do and that is to keep the gas block and front sight block inline with the rear sight block while pressing them on the barrel. The fit is tight on the barrel components to keep them aligned, so if you printer is not calibrated it may not work well for you.
To use this, headspace the barrel in the front trunnion and drill/ream the barrel pin hole. Press on the rear sight block and align it centered between the front trunnion ears by eye. Drill and pin the rear sight block to the barrel, push out the barrel pin from the front trunnion and remove the barrel from the trunnion. Place the tool over the rear sight block (you will need to either remove the rear sight or flip it up and work it through the rear jig slot). Slide on your handguard retainer (or don't if you are using a Zhukov handguard) and then push the gas block until it is set on the barrel. While in the jig's slot, press the gas block on until it touches the end of its locating slot. Make sure you measured before so that the gas port will align with the gas block at the stopped position. Drill and pin the gas block and then slip the front sight block on the barrel and proceed to press it on until it is flush with the end of the barrel. Don't pin the front sight block until after it is sighted in, you may need to adjust it a little bit after it is initially assembled. Remove the jig and press the assembly back into the front trunnion and pin it. That's it for this tool's use.
Inland Grey PLA 195C/60C bed
25% infill on blocks and 755 infill on pins
.25mm layers
The pins may need to be scaled so they fit properly. They should fit just tight enough so the parts don't move in the assembly, but not so tight that they crack or distort anything. I scaled mine to 95% to fit nicely. Rotate all the components so the pockets are facing up while printing to avoid using supports.
RSB Alignment.STL
69.2 KB
RSB to GB Spacer.STL
113 KB
.375 Locating Pin.STL
13.4 KB
FSB Alignment.STL
60.2 KB