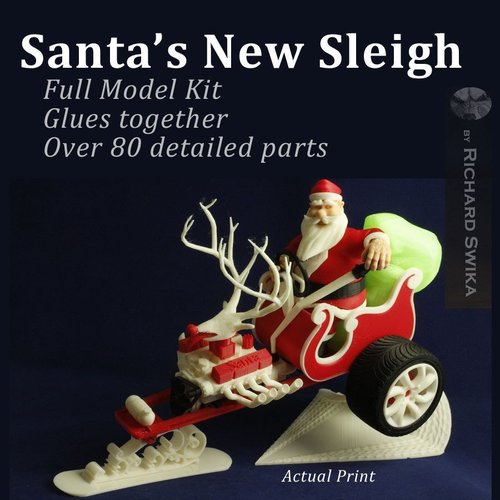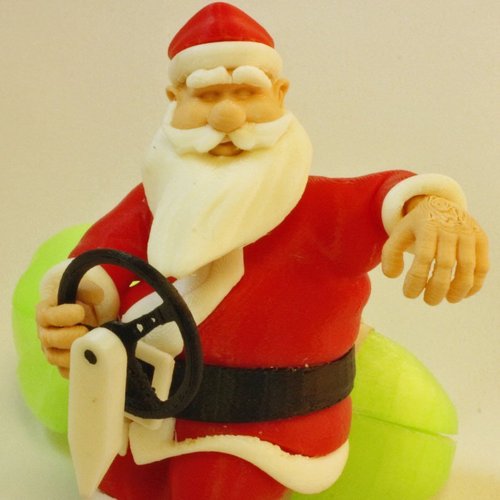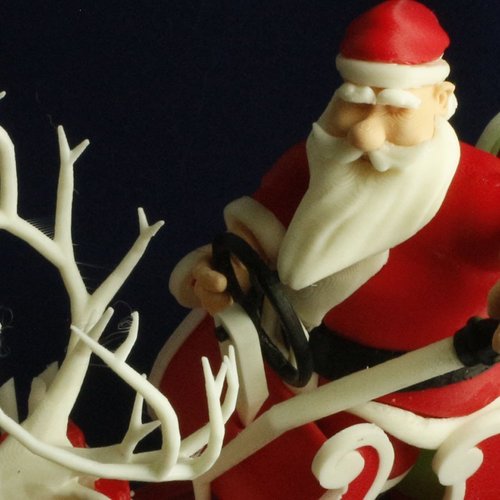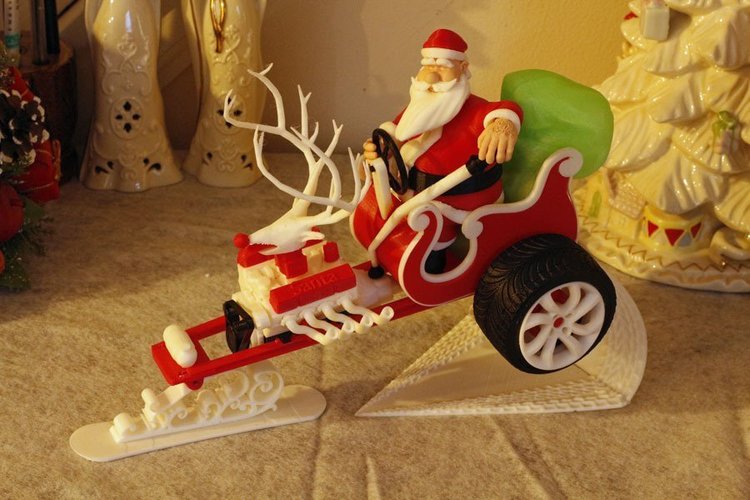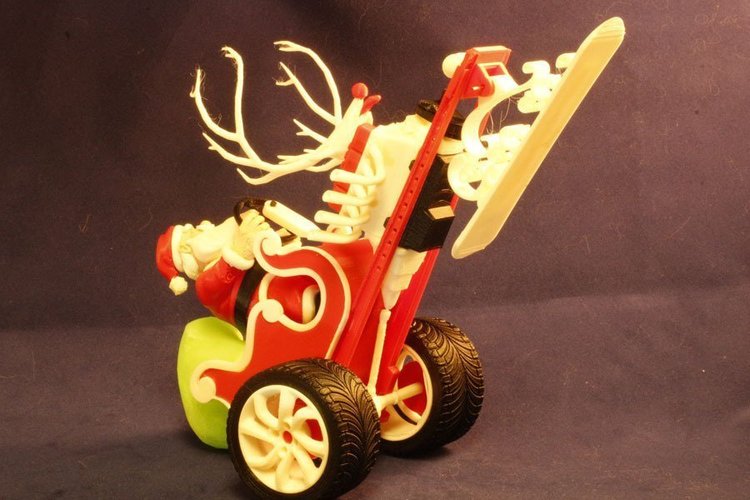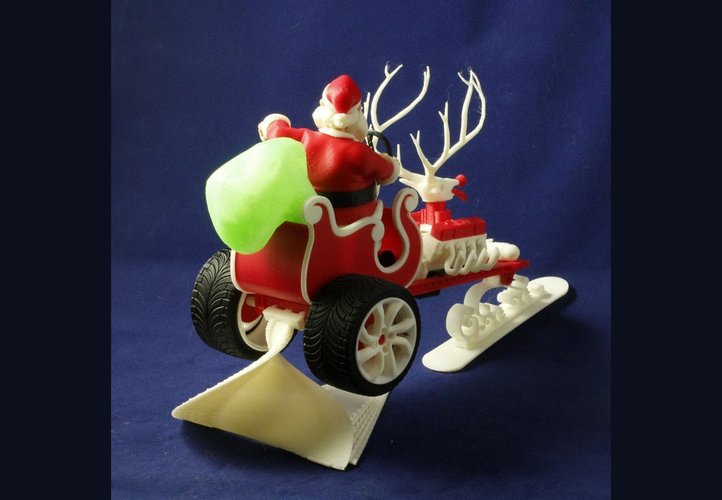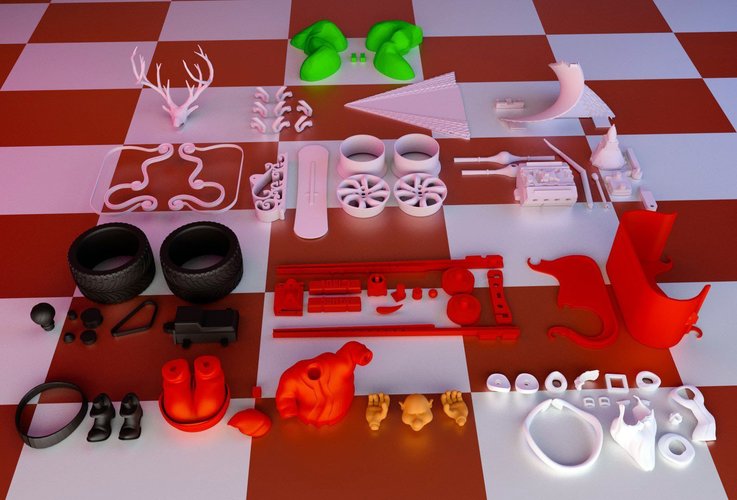 Santa's New Sleigh (by Richard Swika)
Santa's reindeer retired,
No longer up to the task,
Old they still could fly,
Just not very fast.
They'd sometimes get lost,
Or misplace their antlers,
"We don't use reindeer anymore,
Drones can get there faster".
And as you know,
Tardiness is NOT fine,
Santa can't be late,
He's always on time.
And so it was proclaimed and agreed,
An executive order,
From the head elf indeed!
"Elves, go to the garage and build a new sled,
Pulled by 8 powerful pistons instead."
"Fuel it with nitrous,
Gas, nog, and wi-fi,
Make sure it can drive,
It can ski,
And of course,
It can fly."
"It must go supersonic,
Then turn on a dime.
And be nimble enough,
To land on a pine."
"The sleigh must be warmed,
With a nuclear heater,
So no matter how cold,
It'll melt through the snow,
In any bad weather,
With just the nose glow,
That way the sleigh's,
Always ready to go."
"It has to be able,
To shrink and to grow,
To any size Santa's needs,
On his job while he goes.
He might need it small,
To fit through a crack.
Or as large as the moon,
To go very fast."
No danger or doubt,
Come snow, hail, rain or ice,
Making deliveries for Santa,
Now will be very nice.
By 3D printed contraption,
On Christmas Eve night,
Circumventing the globe in your new sled Saint Nick,
Have a wonderful flight!
Message from Richard
Some of my fondest memories revolve around building of plastic models, always received in ample supply as Christmas gifts as a kid. I hope this model brings the same joy of the holidays to you and your family. I really enjoyed working on this project and I hope you have a great Christmas. Happy Holidays!
Organized into build plates by color, so you can build this model without painting. Requires little support and clean up. There are assembly tabs and guides on most parts, making it a fun and easy build. Once printed, everything goes together fast with super glue.
Assembly Instructions
Interactive Assembly Animation on Sketchfab
You'll build this model just like the elves did in Santa's shop, starting with the frame rails and working your way up. You'll build and install a detailed V8 engine, powertrain components, front end, ski, sleigh, stand, and Jolley ol' Saint Nick himself. The whole kit contains over 80 detailed parts. Everything is modeled right down to the bolts on the engine parts, to Santa's eye brows. All of the parts were designed from scratch for successful 3d printing and ease of assembly.
Includes tested S3D factory files for each build plate, optimized, tested and proven to produce beautiful results on typical home 3D printers.
Printing
I developed and tested the project using S3D and have provided the factory files containing all of the settings and support you need for a successful print in ABS. You will have to adjust the settings for PLA, PET, and so on. The plates are designed to print in a few hours each, on average.
For other slicers, I've provided stl files for each build plate. You'll need to add support as needed. Please see the parts list for guidance. 
RackMultipart20151219-537-6q7vah.zip/PartsList.pdf
4.55 MB
SantaPlate1White.stl
41.5 MB
SantaPlate2Black.stl
1.64 MB
SantaPlate3Red.stl
4.06 MB
SantaPlate4Flesh.stl
7.25 MB