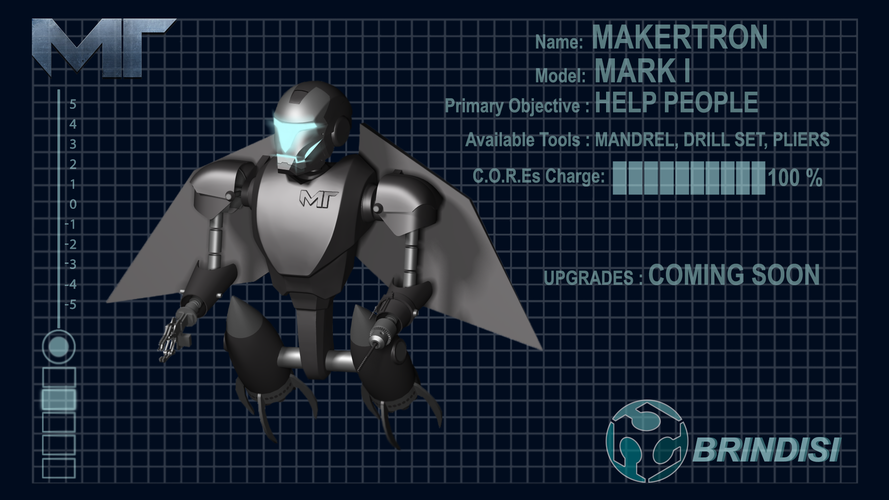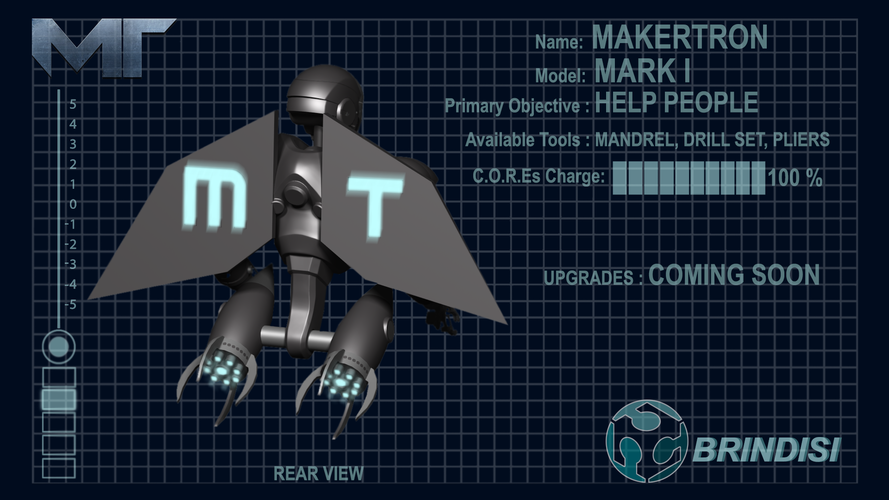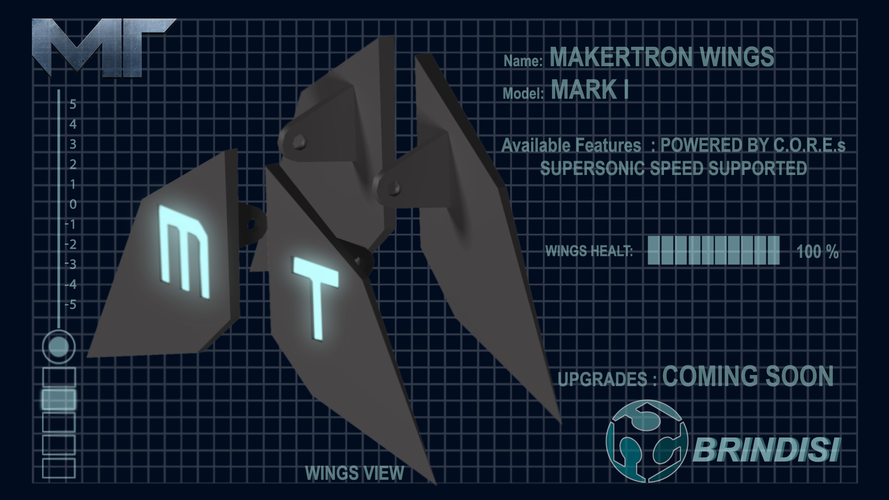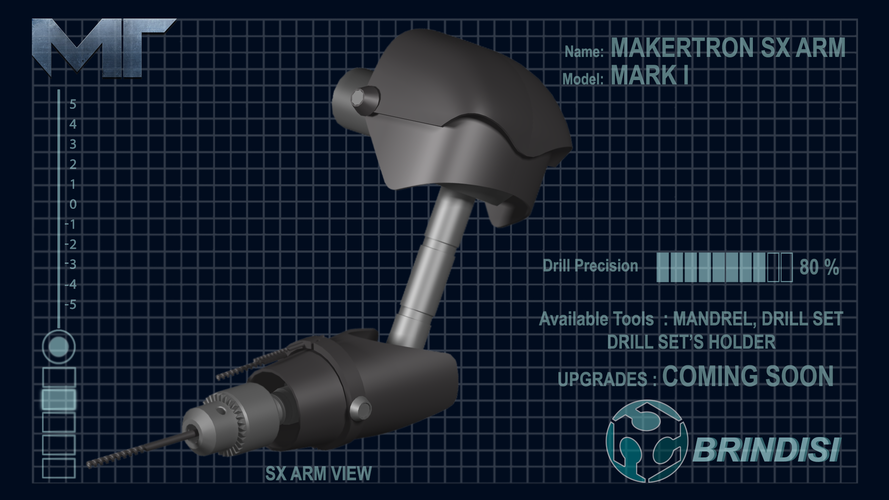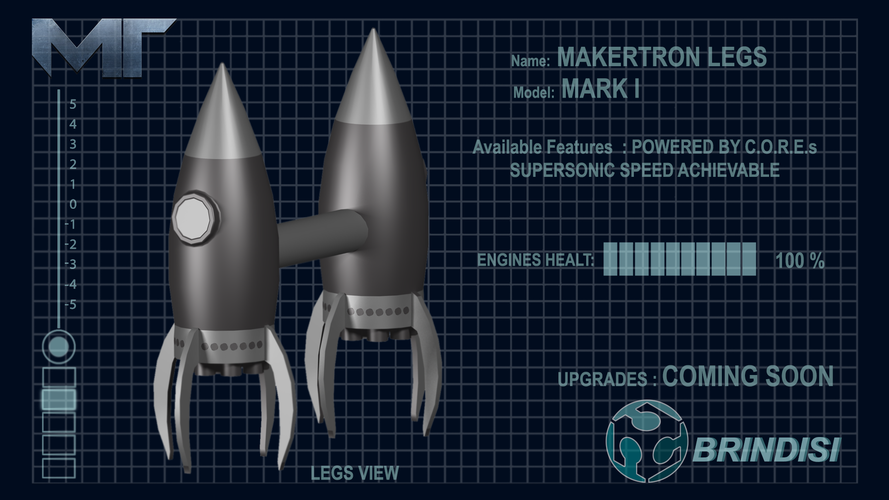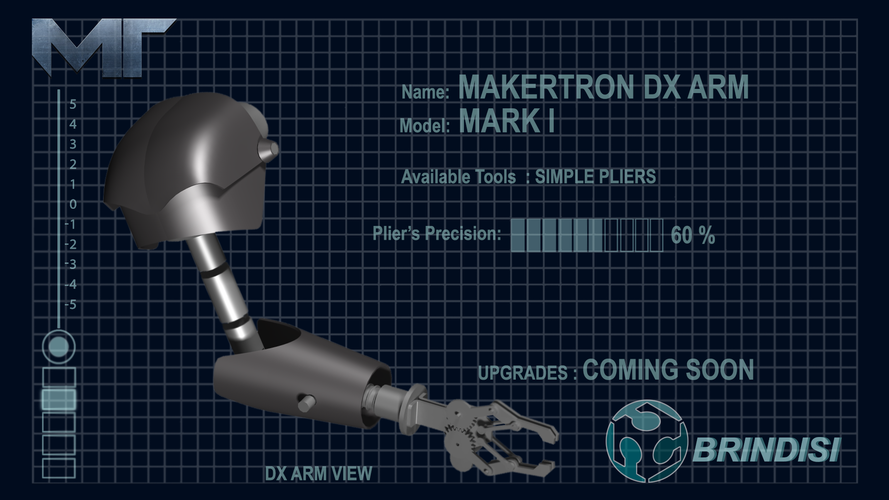 No Prints Yet

Be the first to upload a Print for this Design!
Hello folks.
This is the presentation of Makertron's MARK I SUPPORT KIT!
This KIT is used by Makertrons that who want to take part in simple operations of maintenance.
It is fully UPGRADABLE beacause it has a forearm that has a thread , suitable to screw and unscrew several tools .
This KIT is a base configuaration, but in future it will be developed.
It is composed by:
MAKERTRON-HEAD : This head has MULTICORE-CPU that adds the ability to see, speak, and listen, while also providing additional computing power to make the MakerTron smarter than if they didn't have a head. With specific augmentations like excellent vision( even X-RAY vision), translation skills, acute hearing and large amounts of computing power, certain MakerTron become experts in areas such as security, diplomacy and research. In this case is MAINTENANCE area.
 MAKERTRON-SX ARM: Arms provide a way for the MakerTron to physically interact with and manipulate their environment. Balancing strength with dexterity and the ability to attach specific tools to their arms, a wide variety of jobs can be filled in thanks to thread put in its forearm. In SX ARM case it has a mandrel screwed on its forearm  that allows it to use tools to perform foraure . The hole that it can carry depends on the tip that it may include in its should send . It has a set of tips on staying a bit holder placed around the forearm armor . At the basic level it has a tool kit consists of 3 spikes . The spindle allows a drilling precision equal to 80 % . In the future we hope to implement the tool of laser cutter in the MARK II of this kit , so as to assure a pressure that workmanship equal to 99-100 % .
MAKERTRON-DX ARM: The right hand works the same way the left . But it has the task of carrying out support to the left arm . For example in the replacement of the drill bit. The clamp that holds it is critical in these operations , but also allows moving or lifting objects with an accuracy of 60 % . In KIT MARK II the intention will be to develop the laser cutter , which makes it independent from the same right arm . It will be possible to install a new tool or a hand that allows an accuracy of 100%.
MAKETRON-ROCKET LEGS: A MakerTron is heavily dependent on it's legs for mobility and transportation.  In this case legs are the same thing with the rockets. They're powerd by C.O.R.E. energy that permit it to reach a supersonic speed.  The design of them is made to lean on the rockets. In MARK II we provide to devise a foothold position betterand  add afterburner to improve speed and reach a fantastic speed!!!
MAKERTRON-WINGS : Wings are made to stabilize correct the trajectory of flight. Them support supersonic flight and also act as a shield. 
We suggest some instructions of printed divided in two Cura's sets. Structure Sets:
INFILL -Shell Tickness: 0.8 mm -Top/bottom Thickness: 0.8 mm -Infill overlap: 15% -Infill pattern: Grid Check infill top solid check infill bottom solid
SUPPORT -Support Pattern: Lines -Overhang angle: 43° -Fill density: 5% -XY distance. 0.7 mm -Z distance: 0.15 mm
SKIRT AND BRIM -Skirt Line: 0 -skirt distance 2
Extrusion sets: General check enable retraction check perimeter before -Retraction speed: 40 mm/s -Retraction distance: 4 mm -Minimum shift before retraction :1.5 mm -Minimum Extrusion before retraction: 0.1mm -Z Hop: 0 mm -Base object Cut off: 0 mm -nozzle diameter: 0.4 mm minimizes crossing parameters: Always
We hope that you apreciate our work and to be an inspiration to the whole community of makers.
Thank You for Your attention.
Cosimo Rizzo
FabLab Brindisi Stuff (ITALY)
MT_Torso_Master.OBJ
16.5 MB
LEG_AllCATPart.stl
1.62 MB
Head_AllCATPart.stl
2.51 MB
Braccio_AllCATPart - dx.stl
3.03 MB