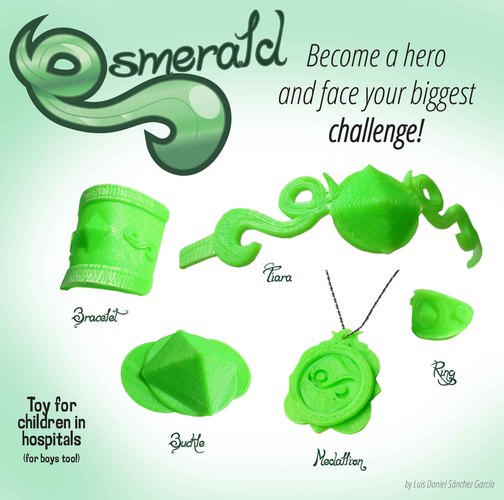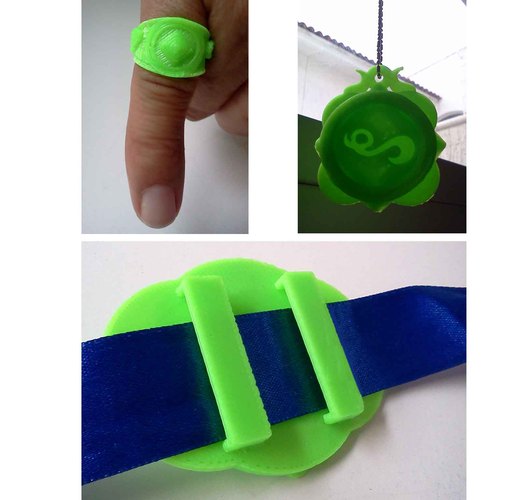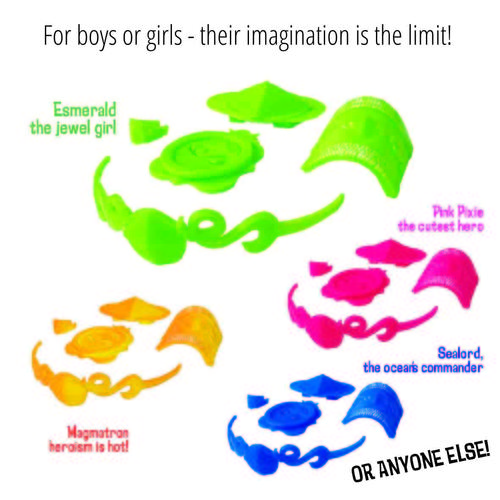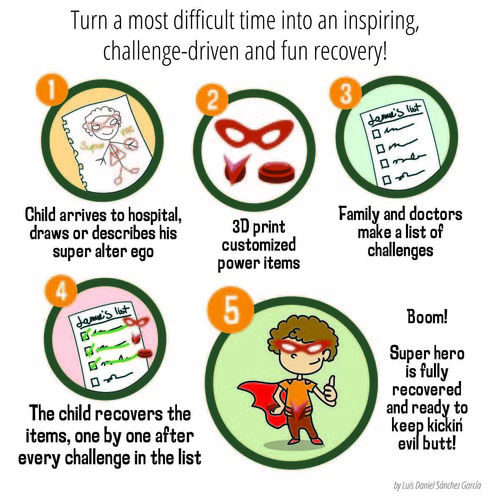 No Prints Yet

Be the first to upload a Print for this Design!
Looking to be more than just a toy, Esmerald is a wearable game-set that turns the child into a superhero. Designed purposely for children in hospitals, it tells a story: The child is normally a superhero but the arch enemy has stolen all his hero items and its power, sending him or her to the hospital, ill. In order to recover its power and be back in the streets bringing law and order, the child must overcome challenges set by his/her family and doctors, that may include completing certain physical rehabilitation sessions such as chemo, finishing the medicine jar, having the cast removed... or having that dreadful shot taken. After every challenge succeded, the child recovers one of his items. Slowly, his/her powers return fully with every item. 
This makes the stay in the hospital more bearable, fun and challenging, as every new day is an opportunity to recover more power. Of course, this requires the full participation of the family and medical staff, to make the child feel like the superhero he is. 
• Background and research include Child and Teenager Psychology, Pedagogy, and simply having fun while designing it. It was my goal to offer not a plastic figure to the child, but an adventure that turns his stay in bed into something he or she is eager and feels good about accomplishing with the help of everyone. It involves the system around the child to behave differently together for a good cause. Imagine if the whole children's hospital "played" this game! It would be a super hero hospital! Every child sharing their progress and asking what the other's powers are!
• Every child can "design" their own power items and invent their superhero story, and the toy can be customized. Esmerald is just an example. The items must allow the child to wear them while still in the hospital, attending challenges wearing them, they are his/her powers! (of course maybe shower time is ok not to wear).
• Esmerald power items are printed flat in PLA for faster printing times and then bent while still hot using a pencil or soda can as mold.
Either boys or girls, using Esmerald or creating their own, at a hospital or at home, it doesn't matter.... crime never rests! I hope this idea reaches real children and helps them recover faster and happier!
esmerald - bracelet.stl
131 KB
esmerald - medallion.stl
126 KB
esmerald - tiara.stl
189 KB
esmerald - buckle.stl
30.8 KB
esmerald - ring.stl
167 KB