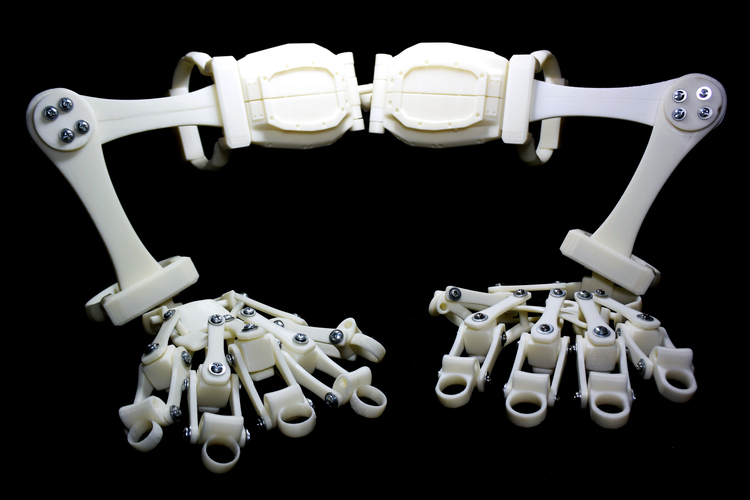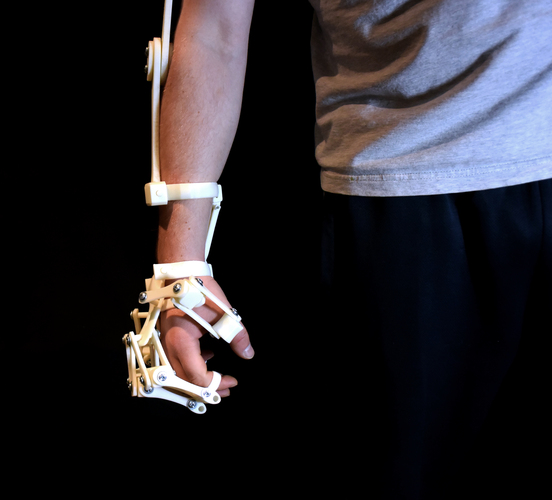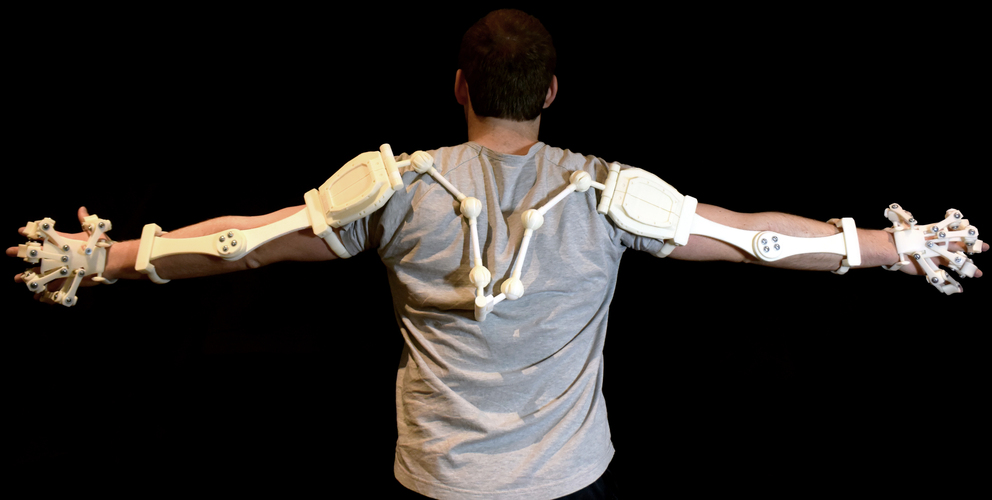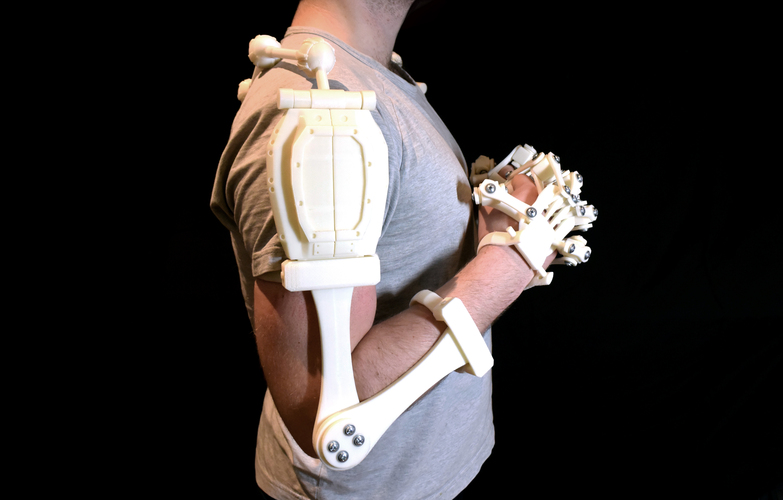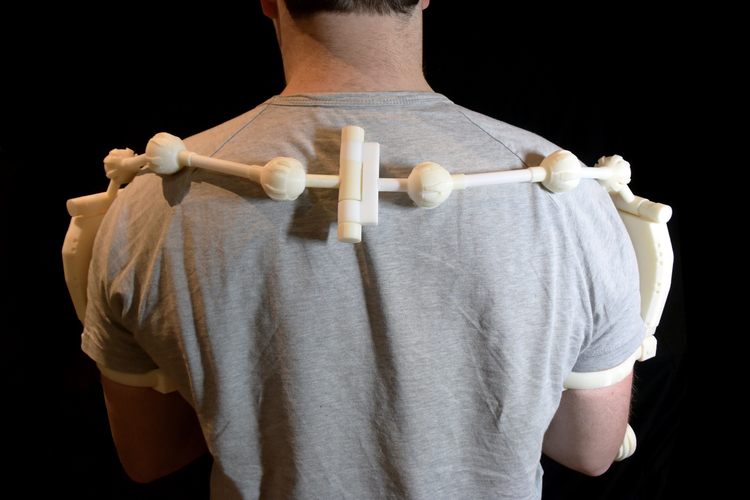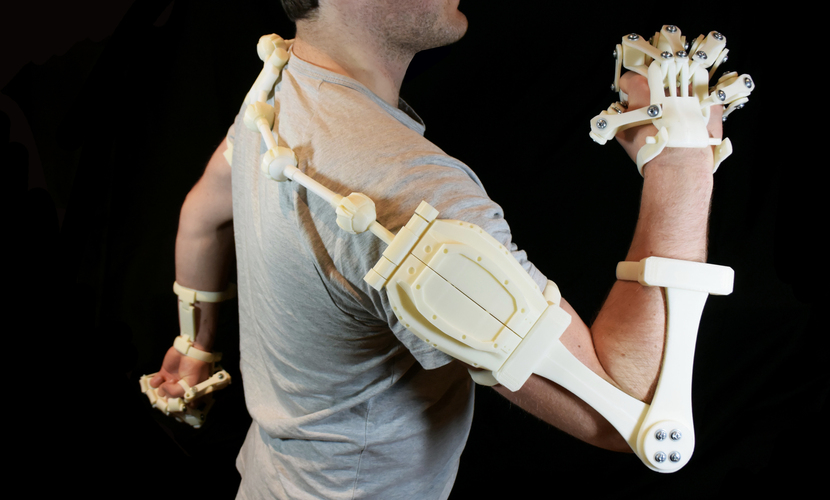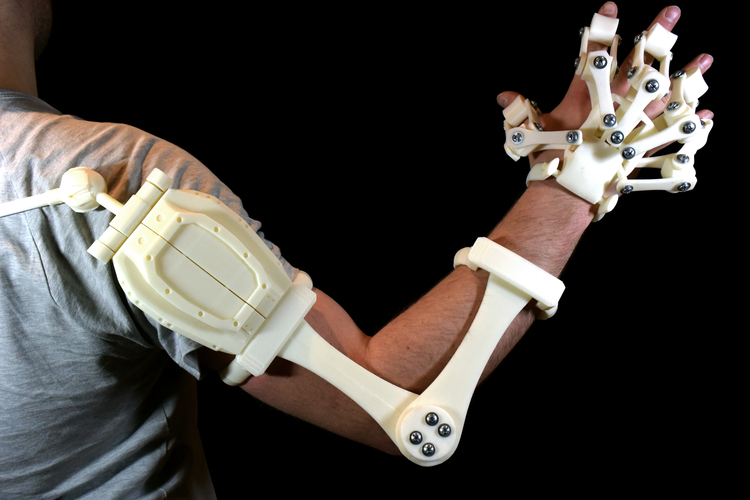 No Prints Yet

Be the first to upload a Print for this Design!
Ever wanted to 3D print your own exoskeleton arms? Well now you can.
What you are downloading is the result of countless hours of test printing to give you the most freedom of movement whilst still feeling strong and solid. I feel that this model brings us one step closer to Matt Damon's exoskeleton suit from Elysium. All of the parts were printed on my Up Plus 2 which has a build area of 14cm x 15cm x 15cm. Please note : This is only a digital download (STL file) used on a 3-D printer, not a physical item.
Download the Instruction Manual >>> Exoskeleton Arms Assembly Instructions
***Disclaimer – 3D Print It will not be liable for personal injury resulting from negligent use of this product. Please use the 3D Printed Exoskeleton with care and do not cause harm to others. The purchasing of this product does not award the customer the rights to use this 3D model for monetary gain or re-sale. The designer retains all copyrights and intellectual property rights even after these files are sold. Do not distribute the 3D Printed Exoskeleton STL files. The files that you have bought are for your personal use only. 
Copyright (c) Alex Czech 2015 
3DPrintIt.com.au_3D_Printed_Exoskeleton_Arms_STL_Files&Manual.zip/3DPrintIt.com.au_3D_Printed_Exoskeleton_Arms_STL_Files&Manual/Exo_Arms_STL_Files/Deltoid_Panel_Cover_Part_1.stl
9.51 MB
3DPrintIt.com.au_3D_Printed_Exoskeleton_Arms_STL_Files&Manual.zip/3DPrintIt.com.au_3D_Printed_Exoskeleton_Arms_STL_Files&Manual/Exo_Arms_STL_Files/Ball_Joint_Connector.stl
75.1 KB
3DPrintIt.com.au_3D_Printed_Exoskeleton_Arms_STL_Files&Manual.zip/3DPrintIt.com.au_3D_Printed_Exoskeleton_Arms_STL_Files&Manual/Exo_Arms_STL_Files/Deltoid_Panel_Cover_Pin_Upper.stl
6.14 KB
3DPrintIt.com.au_3D_Printed_Exoskeleton_Arms_STL_Files&Manual.zip/3DPrintIt.com.au_3D_Printed_Exoskeleton_Arms_STL_Files&Manual/Exo_Arms_STL_Files/Wrist_Lock.stl
2.37 MB
3DPrintIt.com.au_3D_Printed_Exoskeleton_Arms_STL_Files&Manual.zip/3DPrintIt.com.au_3D_Printed_Exoskeleton_Arms_STL_Files&Manual/Exo_Arms_STL_Files/Ball_Joint_Female.stl
2.17 MB
3DPrintIt.com.au_3D_Printed_Exoskeleton_Arms_STL_Files&Manual.zip/3DPrintIt.com.au_3D_Printed_Exoskeleton_Arms_STL_Files&Manual/Exo_Arms_STL_Files/Bicep_Lock_Clip.stl
145 KB
3DPrintIt.com.au_3D_Printed_Exoskeleton_Arms_STL_Files&Manual.zip/3DPrintIt.com.au_3D_Printed_Exoskeleton_Arms_STL_Files&Manual/Exo_Arms_STL_Files/Deltoid_Panel.stl
4.22 MB
3DPrintIt.com.au_3D_Printed_Exoskeleton_Arms_STL_Files&Manual.zip/3DPrintIt.com.au_3D_Printed_Exoskeleton_Arms_STL_Files&Manual/Exo_Arms_STL_Files/Forearm&Bicep_Panel_Bolt_Cap.stl
73.6 KB
3DPrintIt.com.au_3D_Printed_Exoskeleton_Arms_STL_Files&Manual.zip/3DPrintIt.com.au_3D_Printed_Exoskeleton_Arms_STL_Files&Manual/Exo_Arms_STL_Files/Forearm_Panel.stl
23.1 MB
3DPrintIt.com.au_3D_Printed_Exoskeleton_Arms_STL_Files&Manual.zip/3DPrintIt.com.au_3D_Printed_Exoskeleton_Arms_STL_Files&Manual/Exo_Arms_STL_Files/Spine_Hinge_Right.stl
1.29 MB
3DPrintIt.com.au_3D_Printed_Exoskeleton_Arms_STL_Files&Manual.zip/3DPrintIt.com.au_3D_Printed_Exoskeleton_Arms_STL_Files&Manual/Exo_Arms_STL_Files/Bicep_Lock_Pin.stl
6.14 KB
3DPrintIt.com.au_3D_Printed_Exoskeleton_Arms_STL_Files&Manual.zip/3DPrintIt.com.au_3D_Printed_Exoskeleton_Arms_STL_Files&Manual/Exo_Arms_STL_Files/Bicep_Panel.stl
23.1 MB
3DPrintIt.com.au_3D_Printed_Exoskeleton_Arms_STL_Files&Manual.zip/3DPrintIt.com.au_3D_Printed_Exoskeleton_Arms_STL_Files&Manual/Exo_Arms_STL_Files/Deltoid_Panel_Cover_Part_2.stl
9.51 MB
3DPrintIt.com.au_3D_Printed_Exoskeleton_Arms_STL_Files&Manual.zip/3DPrintIt.com.au_3D_Printed_Exoskeleton_Arms_STL_Files&Manual/Exo_Arms_STL_Files/Ball_Joint_Male.stl
1.25 MB
3DPrintIt.com.au_3D_Printed_Exoskeleton_Arms_STL_Files&Manual.zip/3DPrintIt.com.au_3D_Printed_Exoskeleton_Arms_STL_Files&Manual/Exo_Arms_STL_Files/Deltoid_Panel_Pin_Cap.stl
7.28 MB
3DPrintIt.com.au_3D_Printed_Exoskeleton_Arms_STL_Files&Manual.zip/3DPrintIt.com.au_3D_Printed_Exoskeleton_Arms_STL_Files&Manual/Exo_Arms_STL_Files/Deltoid_Panel_Pin_Top.stl
18.8 KB
3DPrintIt.com.au_3D_Printed_Exoskeleton_Arms_STL_Files&Manual.zip/3DPrintIt.com.au_3D_Printed_Exoskeleton_Arms_STL_Files&Manual/Exo_Arms_STL_Files/Forearm&Bicep_Panel_Bolt.stl
31.3 KB
3DPrintIt.com.au_3D_Printed_Exoskeleton_Arms_STL_Files&Manual.zip/3DPrintIt.com.au_3D_Printed_Exoskeleton_Arms_STL_Files&Manual/Exo_Arms_STL_Files/Forearm_Lock.stl
314 KB
3DPrintIt.com.au_3D_Printed_Exoskeleton_Arms_STL_Files&Manual.zip/3DPrintIt.com.au_3D_Printed_Exoskeleton_Arms_STL_Files&Manual/Exo_Arms_STL_Files/Forearm_Lock_Pin.stl
6.14 KB
3DPrintIt.com.au_3D_Printed_Exoskeleton_Arms_STL_Files&Manual.zip/3DPrintIt.com.au_3D_Printed_Exoskeleton_Arms_STL_Files&Manual/Exo_Arms_STL_Files/Shoulder_Pivot_Joint.stl
1.18 MB
3DPrintIt.com.au_3D_Printed_Exoskeleton_Arms_STL_Files&Manual.zip/3DPrintIt.com.au_3D_Printed_Exoskeleton_Arms_STL_Files&Manual/Exo_Arms_STL_Files/Spine_Hinge_Left.stl
1.18 MB
3DPrintIt.com.au_3D_Printed_Exoskeleton_Arms_STL_Files&Manual.zip/3DPrintIt.com.au_3D_Printed_Exoskeleton_Arms_STL_Files&Manual/Exo_Arms_STL_Files/Spine_Hinge_Pin.stl
18.8 KB
3DPrintIt.com.au_3D_Printed_Exoskeleton_Arms_STL_Files&Manual.zip/3DPrintIt.com.au_3D_Printed_Exoskeleton_Arms_STL_Files&Manual/Exo_Arms_STL_Files/Wrist_Front_Clip.stl
502 KB
3DPrintIt.com.au_3D_Printed_Exoskeleton_Arms_STL_Files&Manual.zip/3DPrintIt.com.au_3D_Printed_Exoskeleton_Arms_STL_Files&Manual/Exo_Arms_STL_Files/Wrist_Link_Clip.stl
849 KB
3DPrintIt.com.au_3D_Printed_Exoskeleton_Arms_STL_Files&Manual.zip/3DPrintIt.com.au_3D_Printed_Exoskeleton_Arms_STL_Files&Manual/Exo_Arms_STL_Files/Wrist_Lock_Link_Pin.stl
1.91 MB
3DPrintIt.com.au_3D_Printed_Exoskeleton_Arms_STL_Files&Manual.zip/3DPrintIt.com.au_3D_Printed_Exoskeleton_Arms_STL_Files&Manual/Exo_Arms_STL_Files/Bicep_Lock.stl
598 KB
3DPrintIt.com.au_3D_Printed_Exoskeleton_Arms_STL_Files&Manual.zip/3DPrintIt.com.au_3D_Printed_Exoskeleton_Arms_STL_Files&Manual/Exo_Arms_STL_Files/Bicep_Lock_Extension.stl
881 KB
3DPrintIt.com.au_3D_Printed_Exoskeleton_Arms_STL_Files&Manual.zip/3DPrintIt.com.au_3D_Printed_Exoskeleton_Arms_STL_Files&Manual/Exo_Arms_STL_Files/Deltoid_Panel_Cover_Pin_Lower.stl
6.14 KB
3DPrintIt.com.au_3D_Printed_Exoskeleton_Arms_STL_Files&Manual.zip/3DPrintIt.com.au_3D_Printed_Exoskeleton_Arms_STL_Files&Manual/Exo_Arms_STL_Files/Forearm_Lock_Clip.stl
161 KB
3DPrintIt.com.au_3D_Printed_Exoskeleton_Arms_STL_Files&Manual.zip/3DPrintIt.com.au_3D_Printed_Exoskeleton_Arms_STL_Files&Manual/Exo_Arms_STL_Files/Wrist_Back_Clip.stl
487 KB