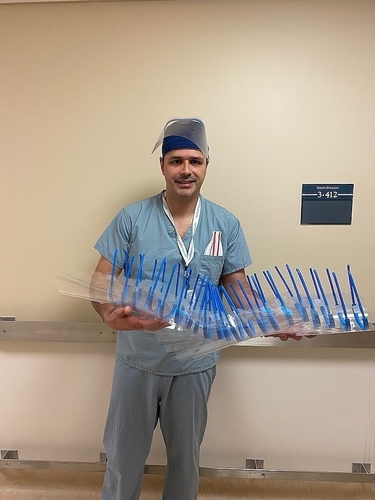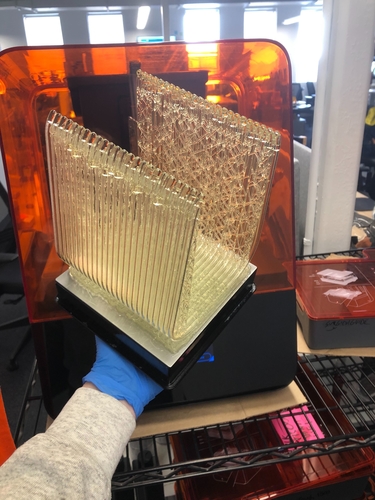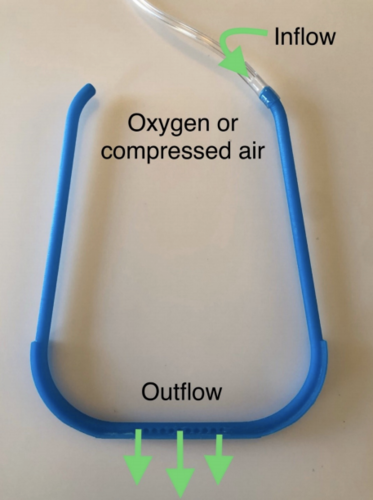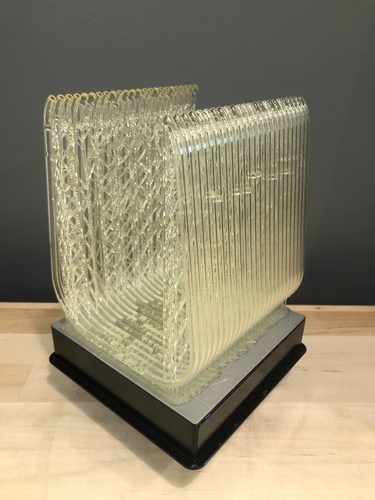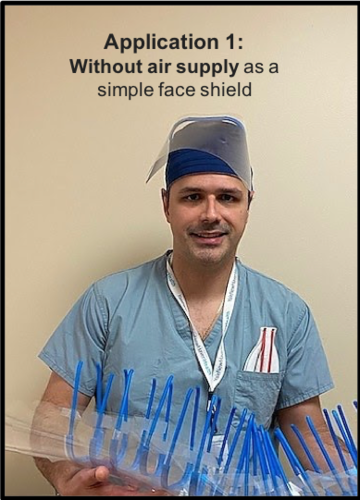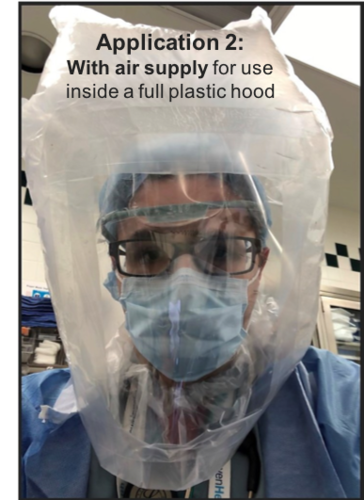 **Agreement Terms** This is a device for clinical use. By downloading this file, you confirm that you have read the three supporting materials below:
1. Dr. Maracaja's Oxyframe Manuscript
3. Disclaimer + Material Selection (below in Section II)
--------------------------------------------------------------------------------------------------------
I. PART + PROCESS
What: Oxyframe Facial Shield, including an innovative ventilated Facemask Rim, which has an inflow for compressed air, allowing for smooth constant ventilation and cooling of the mask. The 3D printed device unites a traditional face shield framework with a novel air channel system that allows inflow of oxygen or compressed air behind the ear and outflow above the nose-bridge. The continuous airflow allows the user to breathe comfortably inside the plastic hood, while simultaneously defogging the clear shield film. There are two methods for using Oxyframe:
1. Without air supply: as a simple face shield 
2. With air supply: for use inside a full plastic hood
Designer: Dr. Luiz Maracaja, in collaboration with his colleagues at Yale School of Medicine and University of Mississippi.
Material: Formlabs Surgical Guide resin
Printing + Post Processing: This part has been optimized for SLA 3D printing. It's also important to note that without supports, the parts will fall off the build platform. If they do adhere, they will warp in the cure. The part should be taken off the build platform as one and cured as one, then removed from supports to minimize warpage.
Assembly: A video on instructions for full assembly can be found here.
-------------------------------------------------------------------------------------------------------
II. ADDITIONAL INFORMATION
More Info on Formlabs Covid-19 Community Parts Library here.
IIa. Disclaimer
In our commitment to help minimize the impact of personal protective equipment shortages during the COVID-19 pandemic, Formlabs is dedicated to providing safe and effective solutions.
Any 3D printed appliances that are subjected to skin contact should meet the biocompatibility requirements stated in ISO 10993-1. Please note that Formlabs materials not categorized as biocompatible were not designed to meet these requirements. If your specific performance needs are beyond the scope of the original non-biocompatible material design, please consult Formlabs for further information on the potential use of secondary processing. Any additional modifications outside the published guidance for use must be tested by the manufacturer prior to implementation.
IIb. Important Note on Material Selection
Biocompatible materials should be used for applications requiring skin contact.  Formlabs Surgical Guide Resin, intended for printing endosseous implant accessories, is biocompatible for short term surface contact (ex: mucosal membrane) and may be autoclaved.
If a more pliable material is used to increase comfort, such as Formlabs Tough 1500 Resin or Durable Resin, we recommend the application of biocompatible coatings (e.g., luxaprint flex coat and ComfortCoat) or adhering moleskin tape across any piece which may touch the skin. 
Make sure the biocompatible coatings are also compatible with other application requirements prior to use. An example is EP42HT-2Med, a USP Class VI coating that is solvent resistant and compatible with multiple sterilization cycles. Follow manufacturer instructions to ensure uniformly coated surfaces for optimal performance.
Note:  Luxaprint flex coat, ComfortCoat, and EP-42HT-2Med are third party coatings not affiliated with Formlabs Inc.
OXYFRAMEV2 24x SG with supports raft.form
6.37 MB