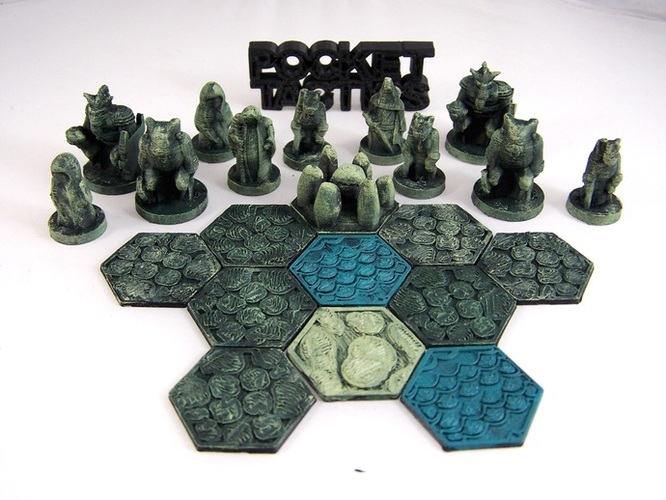 No Prints Yet

Be the first to upload a Print for this Design!
Introducing Pocket-Tactics! 
A fast-paced, modular strategy board game that all fits in a tiny bag! This expansion provides a faction that can be played against any of the current sets. The unit stat sheets and special rules pdf for this faction can be found here, though for the full rules sheet, visit either of the starter sets here: https://pinshape.com/items/583-3d-printed-pocket-... or here: https://pinshape.com/items/467-3d-printed-dominion... Note: This is the same Tribes faction as found in the derivative core set, though these guys needed their own entry. 
Instructions 
Printed at a layer height of .10 and 10% infill. Models were painted with model acrylics.
pocket-tactics_tribes_of_the_dark_forest.zip/pocket-tactics_tribes_of_the_dark_forest/juggernaut.stl
3.35 MB
pocket-tactics_tribes_of_the_dark_forest.zip/pocket-tactics_tribes_of_the_dark_forest/druid_circle.stl
2.71 MB
pocket-tactics_tribes_of_the_dark_forest.zip/pocket-tactics_tribes_of_the_dark_forest/stalker.stl
2.14 MB
pocket-tactics_tribes_of_the_dark_forest.zip/pocket-tactics_tribes_of_the_dark_forest/forest_witch.stl
1.45 MB
pocket-tactics_tribes_of_the_dark_forest.zip/pocket-tactics_tribes_of_the_dark_forest/druid.stl
2.36 MB
pocket-tactics_tribes_of_the_dark_forest.zip/pocket-tactics_tribes_of_the_dark_forest/cursed_ranger.stl
1.55 MB
pocket-tactics_tribes_of_the_dark_forest.zip/pocket-tactics_tribes_of_the_dark_forest/tribes_tiles.stl
3.92 MB
pocket-tactics_tribes_of_the_dark_forest.zip/pocket-tactics_tribes_of_the_dark_forest/marauder.stl
3.52 MB