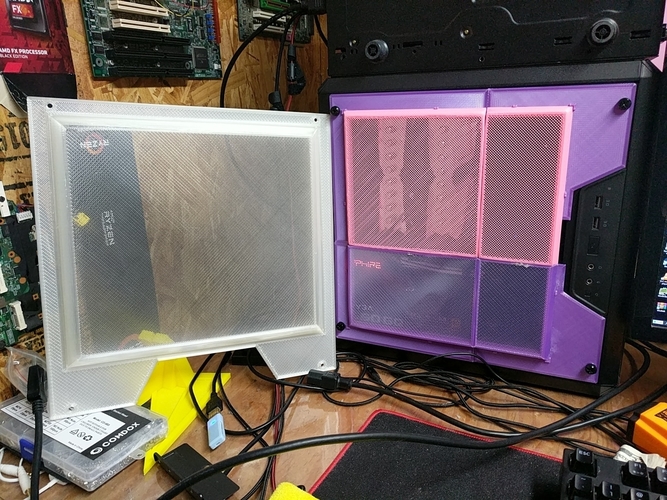 No Prints Yet

Be the first to upload a Print for this Design!
The single piece model is available for free on Thingiverse https://www.thingiverse.com/thing:3877451 My CPU cooler was too big to fit with the side panel on, so I had to make an extended replacement.
The case also has some airflow issues and having a mesh side panel fixes that.
Lovely case otherwise.
zip file includes cut up models for 200mm printers and some documentation.
I think that pink PLA is just really low quality. The purple on the multiple piece unit came out fine. I had a lot of curling/warping as well so it might just be wet. I included narrower versions of the files as well which should be easier to print.
I used a raft for the 8 piece mesh models, used nothing for the 2 piece model.  If you'd like to order a large 2 piece model just e-mail me at [email protected]  As I have a CR10S5, though it's unlikely to be too cheap given the lengthily print times of 20+ total hours, and I'm sure you know if you have a 3D printer not to really expect perfection. I simply sanded them down with fine grit paper, and used super glue to attach everything together and clamped it for a while after. could probably use a superior gluing technique.
There's a bit of room around the I/O panel just for proper fit safety.
It was designed in Design Spark Mechanical, a free easy to use CAD suite, and the original design files are included for any further modification. Couldn't get the origin/orientation just right, might be a thing with that softward's save as feature. May need to 0/0/0 some files. And please avoid reuploading my models, you are free to do whatever with the finished prints. *I printed out the incorrect model for my 8 piece side panel. It's fixed in the final release, and the thickness of the mesh should be 1.25mm all around.
Q300L Bottom IO 4 Piece 3 Narrow.stl
8.29 KB
Q300L Bottom IO 4 Piece 3.stl
8.29 KB
Q300L Bottom IO 4 Piece 4 Narrow.stl
7.8 KB
Q300L Bottom IO 4 Piece 2.stl
7.8 KB
Flat Overlap Model Placements.txt
144 Bytes
Overlap Model Dimensions.txt
19 Bytes
Follow the Screenshots for Overlap Model Placement.txt
356 Bytes
Q300L 8 Piece Right IO Piece 4a.stl
10.6 KB
Q300L 8 Piece Right IO Piece 4b Narrow.stl
2.82 KB
Q300L 8 Piece Right IO Piece 4b.stl
2.82 KB
Q300L Complete Flat Model.stl
20.3 KB
Q300L 8 Piece Right IO Piece 3b Narrow.stl
2.82 KB
Q300L 8 Piece Right IO Piece 3b.stl
4.48 KB
Q300L Flat Side Panel Overlap Reference bottom slice settings.jpg
189 KB
Q300L Flat Side Panel Overlap Reference bottom position.jpg
182 KB
Washer info.txt
253 Bytes
Support Blocker Model Overlap Settings.txt
340 Bytes
Q300L Flat Side Panel Overlap Reference top slice settings.jpg
1.94 MB
Q300L Flat Side Panel Overlap Reference top position.jpg
1.89 MB
Piece 4 Overlap Model Placement.jpg
97.2 KB
Piece 3 Overlap Model Placement.jpg
87 KB
Q300L Flat Side Panel Overlap Model.stl
684 Bytes
Q300L Flat Model 4 Piece 4.stl
5.75 KB
Q300L Overlap Model Piece 1.stl
684 Bytes
Q300L Overlap Model Piece 2.stl
684 Bytes
Q300L Overlap Model Piece 3.stl
684 Bytes
Q300L Overlap Model Piece 4.stl
684 Bytes
Q300L Flat Model 4 Piece 1.stl
5.75 KB
Q300L Flat Model 4 Piece 2.stl
5.36 KB
Q300L Flat Model 4 Piece 3.stl
5.84 KB
Piece 2 Overlap Model Placement.jpg
100 KB
Piece 1 Overlap Model Placement.jpg
1.18 MB
Overlap Model Settings.jpg
1.37 MB
Q300L 8 Piece Extended Bottom IO Piece 3b Narrow.stl
2.82 KB
Q300L 8 Piece Extended Bottom IO Piece 3b.stl
4.48 KB
Q300L 8 Piece Extended Bottom IO Piece 4b.stl
2.82 KB
Model Settings Example.jpg
632 KB
Model Settings Example 2.jpg
1.19 MB
Q300L 4 Piece Right IO Piece 1.stl
8.29 KB
Q300L 4 Piece Right IO Piece 2 Narrow.stl
7.8 KB
Q300L 4 Piece Right IO Piece 4 Narrow.stl
7.8 KB
Q300L 4 Piece Right IO Piece 4.stl
7.8 KB
Q300L 8 Piece Right IO Piece 2a.stl
10.5 KB
Q300L 8 Piece Right IO Piece 2b.stl
4.48 KB
Q300L 8 Piece Extended Bottom IO Piece 2a.stl
9.26 KB
Q300L Complete Extended 2 Piece Model 2.stl
4.18 KB
Q300L Complete Extended 2 Piece Narrow Top.stl
3.79 KB
Q300L 8 Piece Extended Bottom IO Piece 1a.stl
9.46 KB
Q300L Bottom IO 4 Piece 1 Narrow.stl
9.46 KB
Q300L 8 Piece Extended Bottom IO Piece 1b Narrow.stl
2.82 KB
Q300L 8 Piece Extended Bottom IO Piece 1b.stl
4.48 KB
Q300L Bottom IO 4 Piece 1.stl
9.46 KB
Q300L Bottom IO 4 Piece 2 Narrow.stl
7.8 KB
Q300L Complete Extended 2 Piece Model 1.stl
26.7 KB
Cura Settings Complete Model.jpg
2.61 MB
Q300L Complete Extended Model Narrow.stl
23.8 KB
Q300L Extended Side Panel One Piece.stl
23.8 KB
Q300L 8 Piece Extended Bottom IO Piece 4b Narrow.stl
2.82 KB
Q300L 4 Piece Right IO Piece 3 Narrow.stl
8.19 KB
Q300L 8 Piece Right IO Piece 1b Narrow.stl
2.82 KB
Q300L 8 Piece Right IO Piece 3a.stl
9.26 KB
Q300L Bottom IO 4 Piece 4.stl
8.19 KB
Q300L 8 Piece Extended Bottom IO Piece 3a.stl
10.6 KB
Q300L 8 Piece Extended Bottom IO Piece 2b.stl
4.48 KB
Q300L 8 Piece Extended Bottom IO Piece 4a.stl
10.5 KB
Q300L 4 Piece Right IO Piece 1 Narrow.stl
8.29 KB
Q300L 4 Piece Right IO Piece 2.stl
7.8 KB
Q300L 4 Piece Right IO Piece 3.stl
8.19 KB
Q300L 8 Piece Right IO Piece 1a.stl
9.26 KB
Q300L 8 Piece Extended Bottom IO Piece 2b Narrow.stl
2.82 KB
Q300L 8 Piece Right IO Piece 1b.stl
4.48 KB
Q300L 8 Piece Right IO Piece 2b Narrow.stl
2.82 KB