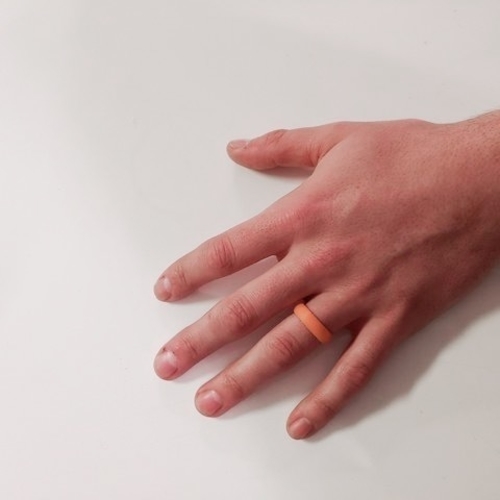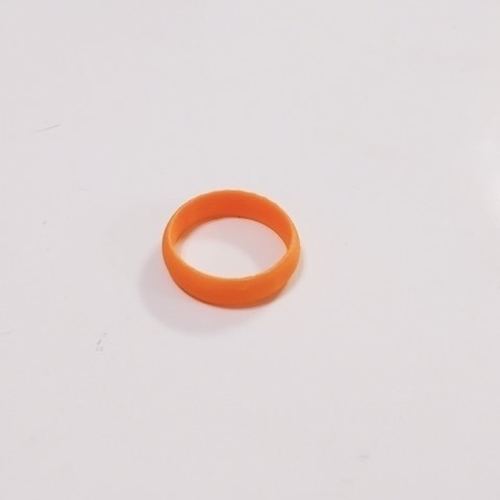 This is a really basic 6mm comfort fit wedding band design! 
Print it on a raft for a clean bottom.
Sizes go from 0 to 16 with half steps. I pulled the sizing from here: https://en.wikipedia.org/wiki/...
The inner diameter is listed in the filename as well.
Make the steps as small as you can, it doesn't take long to print. fine sandpaper works well to smooth it out!
If you want to make it thinner or thicker, scale the z height! It's 6mm right now, so you can get it precisely as thick as you want.
A TPU version works great, too! 
If you need this printed, let me know and I'll ship whatever you need to you for a reasonable price!
RackMultipart20190808-45-2gaaiz.zip/Size 12.5 (21.79mm).stl
1.35 MB
RackMultipart20190808-45-2gaaiz.zip/Size 10.5 (20.17mm).stl
1.36 MB
RackMultipart20190808-45-2gaaiz.zip/Size 7.5 (17.73mm).stl
1.46 MB
RackMultipart20190808-45-2gaaiz.zip/Size 3.5 (14.48mm).stl
1.57 MB
RackMultipart20190808-45-2gaaiz.zip/Size 5 (15.70mm).stl
1.46 MB
RackMultipart20190808-45-2gaaiz.zip/Size 0 (11.63mm).stl
1.62 MB
RackMultipart20190808-45-2gaaiz.zip/Size 2.5 (13.67mm).stl
1.57 MB
RackMultipart20190808-45-2gaaiz.zip/Size 11.5 (20.98mm).stl
1.36 MB
RackMultipart20190808-45-2gaaiz.zip/Size 11 (20.57mm).stl
1.37 MB
RackMultipart20190808-45-2gaaiz.zip/Size 12 (21.39mm).stl
1.34 MB
RackMultipart20190808-45-2gaaiz.zip/Size 4.5 (15.29mm).stl
1.48 MB
RackMultipart20190808-45-2gaaiz.zip/Size 7 (17.32mm).stl
1.44 MB
RackMultipart20190808-45-2gaaiz.zip/Size 9 (18.95mm).stl
1.43 MB
RackMultipart20190808-45-2gaaiz.zip/Size 5.5 (16.10mm).stl
1.48 MB
RackMultipart20190808-45-2gaaiz.zip/Size 10 (19.76mm).stl
1.41 MB
RackMultipart20190808-45-2gaaiz.zip/Size 2 (13.26mm).stl
1.59 MB
RackMultipart20190808-45-2gaaiz.zip/Size 1.5 (12.85mm).stl
1.59 MB
RackMultipart20190808-45-2gaaiz.zip/Size 4 (14.88mm).stl
1.56 MB
RackMultipart20190808-45-2gaaiz.zip/Size 8 (18.14mm).stl
1.44 MB
RackMultipart20190808-45-2gaaiz.zip/Size 3 (14.07mm).stl
1.56 MB
RackMultipart20190808-45-2gaaiz.zip/Size 6 (16.51mm).stl
1.48 MB
RackMultipart20190808-45-2gaaiz.zip/Size 6.5 (16.92mm).stl
1.46 MB
RackMultipart20190808-45-2gaaiz.zip/Size 8.5 (18.54mm).stl
1.45 MB
RackMultipart20190808-45-2gaaiz.zip/Size 14.5 (23.42mm).stl
1.31 MB
RackMultipart20190808-45-2gaaiz.zip/Size 13 (22.20mm).stl
1.33 MB
RackMultipart20190808-45-2gaaiz.zip/Size 1 (12.45mm).stl
1.61 MB
RackMultipart20190808-45-2gaaiz.zip/Size .5 (12.04mm).stl
1.6 MB
RackMultipart20190808-45-2gaaiz.zip/Size 15 (23.83mm).stl
1.31 MB
RackMultipart20190808-45-2gaaiz.zip/Size 15.5 (24.23mm).stl
1.33 MB
RackMultipart20190808-45-2gaaiz.zip/Size 9.5 (19.35mm).stl
1.41 MB
RackMultipart20190808-45-2gaaiz.zip/Size 16 (24.64mm).stl
1.31 MB
RackMultipart20190808-45-2gaaiz.zip/Size 14 (23.01mm).stl
1.33 MB
RackMultipart20190808-45-2gaaiz.zip/Size 13.5 (22.61mm).stl
1.35 MB