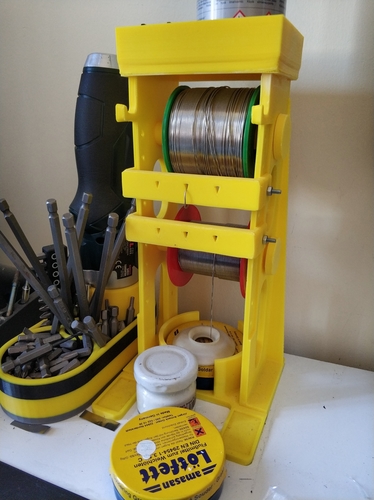 No Prints Yet

Be the first to upload a Print for this Design!
This tower is amazing, it holds 2 solder wire reels, solder grase can is at the bottom and it has a space at the top.
***Please click the LIKE button if you like it, follow our account !! More will come, we promise ...
**Thurbolt is a small start-up with huge dreams!!
**We are currently building custom skateboard & esk8 decks, esk8 storage systems, custom electronics.. Check them out on www.thurbolt.com , instagram @thurbolt, youtube Kanber M.S.
We are always there to help, thanks for your support !
Solder Tower Part 1-solder stick(print 2 pcs).STL
65.2 KB
Solder Tower Part 2-solder holder(print 2 pcs).STL
39.4 KB
Solder Tower Part 3-Left body(print 1 pcs).STL
164 KB
Solder Tower Part 4-Bottom(print 1 pcs).STL
234 KB
Solder Tower Part 5-top(print 1 pcs).STL
2.23 KB
Solder Tower Part 6-Right body(print 1 pcs).STL
161 KB