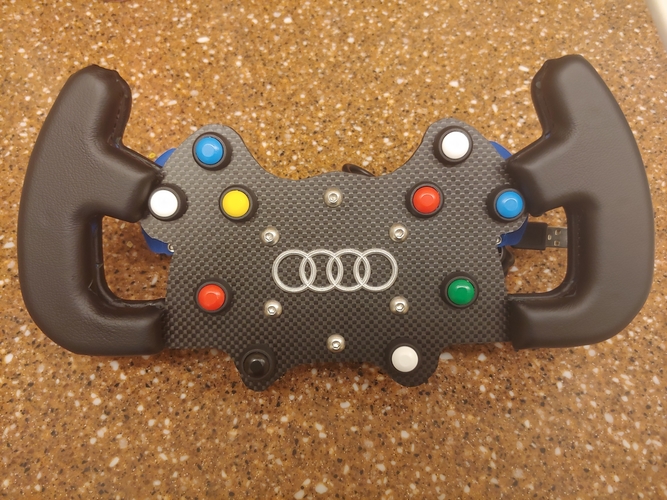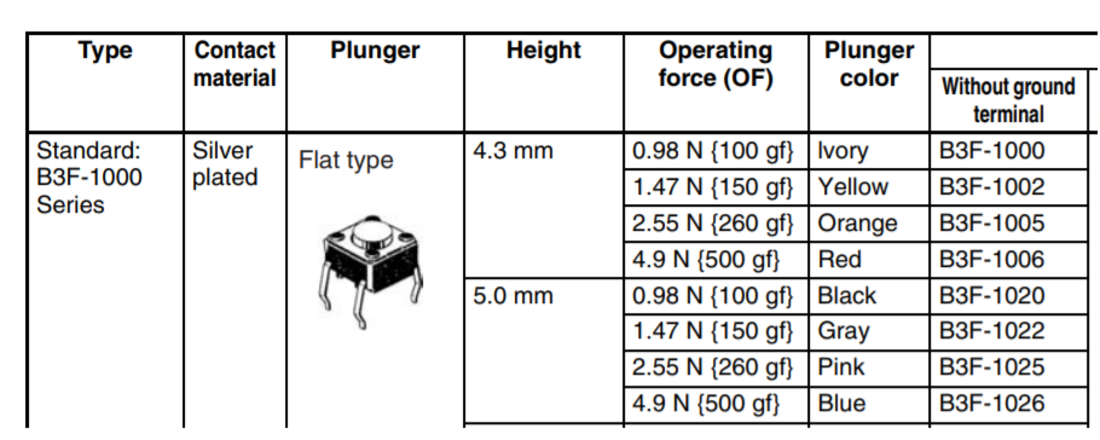 ONLY PRINT THE DFGT FILES IF YOU HAVE A LOGITECH DRIVING FORCE GT
WHEN PRINTING THE WHEEL BASE PDF, MAKE SURE TO SET THE SCALE TO 100% OR LOOK FOR AN OPTION THAT SAYS "ACTUAL SIZE"
If you end up using carbon fiber, please watch this video. I highly recommend it https://youtu.be/EWzN6GZeEzs
If any of the links go down, let me know and I will update them
Update 4 (7/12/19):
---Users with a G25/G27/G29/G920 base, I recommend you download RamjetX's Logitech Quick Release Adapter (https://www.thingiverse.com/thing:3117355). You can then use the Thrustmaster included here for the wheel.
Update 3 (7/11/19):
---Increased the thickness of the top surface on both the DFGT and Thrustmaster adapters.
Update 2 (7/10/19):
---Got rid of the need to mirror the Paddle Arm and Paddle. They now have a left and right side.
Update 1 (7/8/19): 
---Redesigned the handles. They should look closer to the real ones and also be more comfortable. I also added a left and right so no need to mirror the handles. 
---I made the opening larger on the DFGT Stock Wheel Adapter so it's easier to fit on the wheel(hopefully no more sanding). 
---I changed the size of the both the female and male side of the DFGT quick connect so that the clamp doesn't scrape. 
---I also added a Fanatec adapter that you can use with their universal hub. I'm going to need feedback on the Fanatec adapter because I don't know if the paddle base will clear the hub or hit it. If it does hit it, let me know how much more height it needs to clear it.
MATERIALS NEEDED:
--200x300 4mm Carbon Fiber Sheet https://ebay.com/Carbon-Fiberor a 200x300 3mm Aluminum Plate 
--USB Encoder, make sure to get the one that includes both the red and blue wires and the USB cable 
--x10 12mm Momentary Push Button https://ebay.com/Push-Button
--x2 Omron B3F Switch (Look at the picture posted and choose whichever switch is the cheapest, I used the blue switch) 
--x4 Neodymium Magnets https://ebay.com/Magnets
HARDWARE: 
I recommend getting a screw and nut set like this one https://www.amazon.com/VIGRUE-... 
--x6 M5 x 35mm screws 
--x6 M5 nuts 
--x6 M3 x 16mm or M3 x 25mm screws if you are wrapping the handles in leather or suede. 
--x4 M3 x 8mm screws 
--x2 M3 x 20mm screws 
--x10 M3 nuts
OPTIONAL ITEMS: 
--x4 Leather/Suede pieces or one larger piece for the handles https://ebay.com/Leather
--Barge Rubber Cement if wrapping the handles https://www.amazon.com/dp/B00B... 
--Blue Loctite https://www.amazon.com/dp/B000... 
--Tamiya X-2(Used as primer for the rings) 
--Tamiya XF-16(Used to make the rings silver)
If you have a Logitech Driving Force GT: 
--40mm Seat Post Clamp https://ebay.com/Clamp
--6 Pin JST Connector https://ebay.com/JST-Connector
PRINT SETTINGS:
All were printed with 3 walls
40% infill or more: 
Paddle Base 
Fanatec Adapter
Thrustmaster Adapter 
DFGT Adapter
DFGT Quick Connect
DFGT Stock Wheel Adapter
15% infill or more: 
Paddle Arms
Paddles 
Rings and Rings Alignment can be printed at any infill
Thrustmaster Adapter.stl
573 KB
DFGT Stock Wheel Adapter.stl
338 KB
Right Paddle Arm.stl
129 KB
Left Paddle Arm.stl
129 KB
Assembly Intructions.pdf
556 KB
DFGT Quick Connect.stl
202 KB
Right Front Handle.stl
585 KB
Fanatec Adapter.stl
207 KB
Left Back Handle.stl
619 KB
Left Front Handle.stl
587 KB
Right Back Handle.stl
621 KB
Rings Alignment Tool.stl
57.8 KB
Right Wheel Base.pdf
5 KB
Left Wheel Base.pdf
5.07 KB