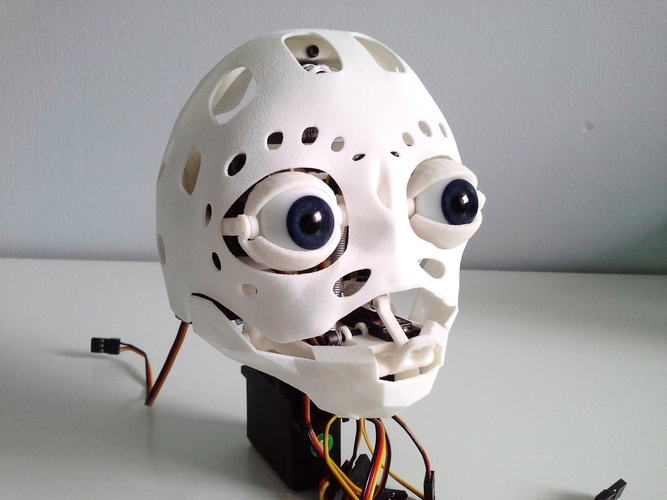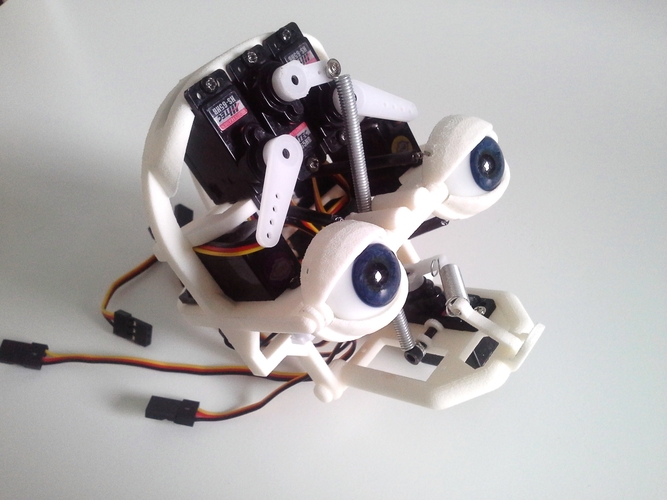 No Prints Yet

Be the first to upload a Print for this Design!
Self Assembly Kit (27 printed pcs*) Compressed
- Eyelids - Jaw movement - Bottom Lip - Head rotation - Neck Tilt 2DOF - Shoulder 2DOF each - Elbows - Legs w/Passive Knee's     + PLUS five extra servo      placements for smile, tongue or eyebrows actuators
This is a self assembly kit. We only sell the 3D Printed Mechanical Structures that you will require to build your NANO. Servo motors, Electronics, Etc are sold separately.  
The mechanical HEAD rig will allow for "up to" 11x HS65MG/HB servos to be installed, however only 6 will be required for full control.
FUTURE PROOF:
Additional spaces have been designed into the mech to allow for expansion 'should you wish to apply other features to the rig. 
The mechanical BODY will allow for 5x HS***MG/HB Servos to be installed. We would recommend that you use a HS645MG servo for the neck however lower spec servos can be used for the shoulders and legs. (HS485HB - HS311HB) Also you will require 4x HS65MG/HB servos that fit into the arm to provide Shoulder and Elbow actuation.  
There are standoffs measuring at 47mm apart that is designed to hold an Arduino NANO Shield.  Required parts: 1x HS645MG Servo
10x HS65MG Servo's
4x HS311HB Servo's
4x 3x4x8mm Flanged bearings -2mm Threaded Rod 30cm -1mm Steel rod 200mm
-M2 Threaded ball joints -M3 Bolts, washers and nuts. Power and Control boards (Arduino) For additional safety 'Springs can replace the Threaded rods in some joints to help ease motor strain and hallow for better handling. 
NANO BABY Full Kit.stl
5.19 MB