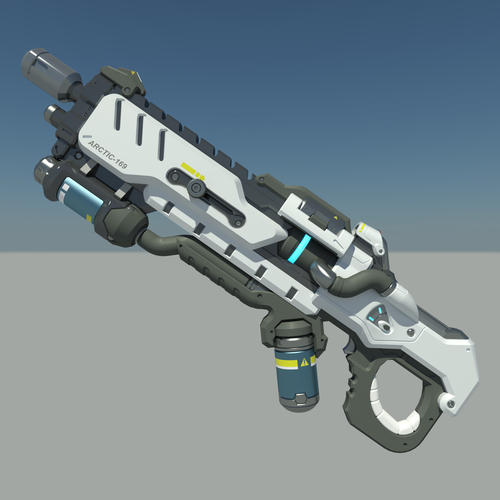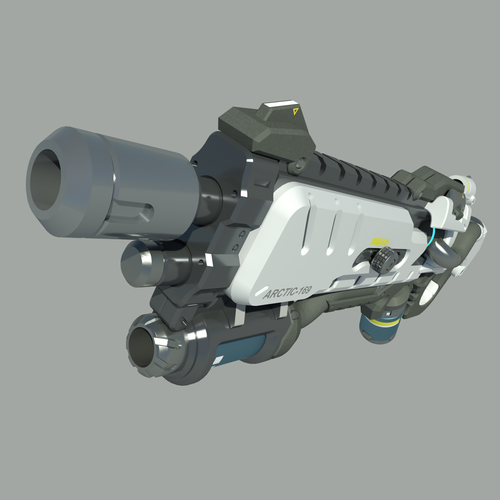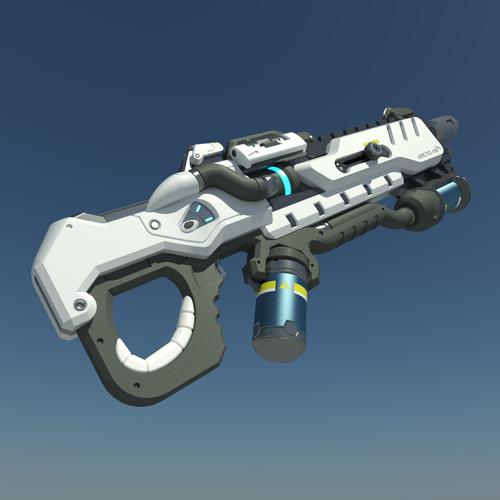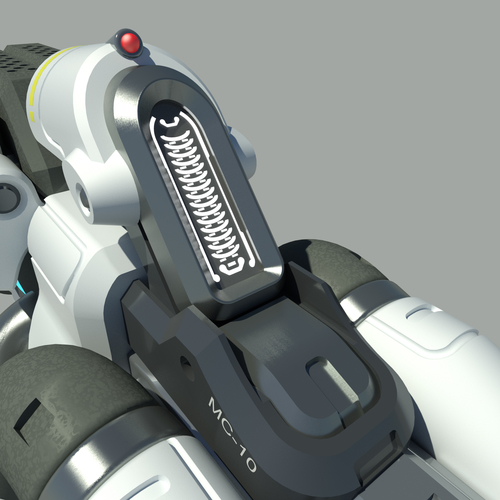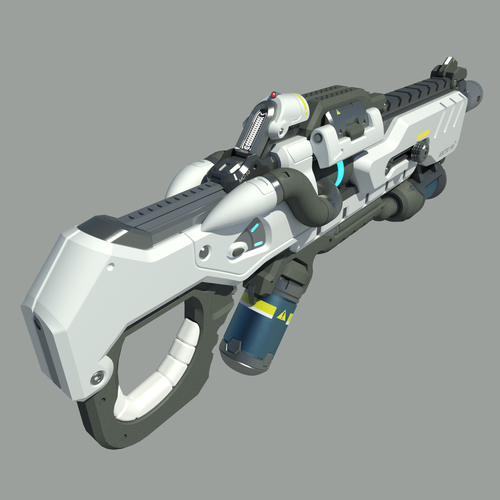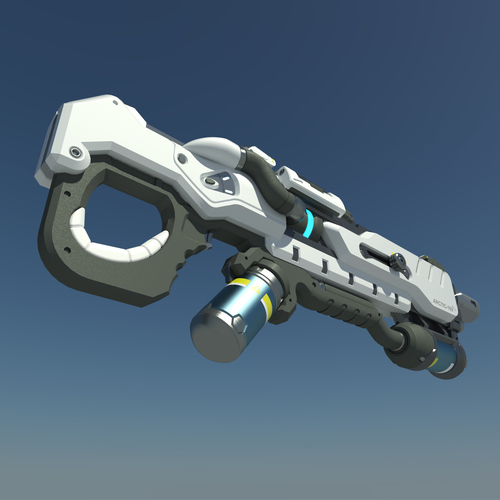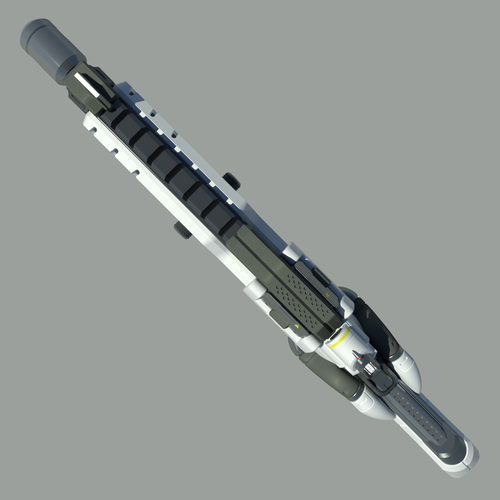 No Prints Yet

Be the first to upload a Print for this Design!
Attention! This is not a physical, digital product for printing on a 3D printer on its own after purchase!
Soldier 76's rifle remains particularly steady while unloading fully-automatic pulse fire. The weapon is the most accurate for the first three shots, encouraging the player to fire it in short bursts rather than continuous stream. Spread recovery has a short delay. Tiny rockets spiral out of Soldier 76's Pulse Rifle in a single burst. The rockets' explosion damages enemies in a small radius.
Very detailed canonical model for 3D-printing. In our studio, we pay great attention to detail so that you get the right and canonical product.
10 Buttstock light.stl
21.8 KB
10 Buttstock half part 02.stl
433 KB
11 Handle pin.stl
38.2 KB
10 Buttstock pad half.stl
1.16 MB
10 Buttstock half.stl
1.3 MB
09 Grenade tank bottom.stl
404 KB
08 Emitter part 02.stl
65.7 KB
08 Emitter part 01.stl
338 KB
07 Body detail half part 01.stl
24.5 KB
06 Magazine holdier part 02.stl
249 KB
04 Remaining rounds screen.stl
39.1 KB
04 Reart sight cover.stl
1.4 MB
04 Reart sight cover half.stl
919 KB
04 Reart sight body half.stl
84.7 KB
04 Front sight.stl
71.4 KB
03 Helix rocket launcher frame.stl
812 KB
03 Helix rocket launcher frame half part 01.stl
233 KB
03 Helix rocket launcher cup.stl
478 KB
02 Barrel holdier part.stl
98.7 KB
01 Frame half part 03.stl
53.1 KB
01 Frame half part 02.stl
419 KB
01 Frame half part 01.stl
135 KB
10 Trigger half.stl
34.9 KB
10 Rail back end.stl
245 KB
10 Buttstock tail.stl
75.1 KB
09 Grenade tank top.stl
58.8 KB
09 Grenade tank body 02.stl
111 KB
08 Emitter tube 02.stl
1.4 MB
08 Emitter tube 01 half.stl
923 KB
07 Body detail.stl
55.8 KB
07 Body detail half part 02.stl
7.41 KB
06 Magazine half.stl
241 KB
05 Side cover part 02.stl
189 KB
04 Reart sight light.stl
444 KB
04 Reart sight body.stl
166 KB
04 Front sight half.stl
42.8 KB
03 Helix rocket launcher tube half part 01.stl
312 KB
03 Helix rocket launcher frame half.stl
426 KB
03 Helix rocket launcher body.stl
477 KB
02 Barrel holdier.stl
246 KB
RackMultipart20181102-7277-yl7el9.zip/Arctic169.png
56.8 KB
RackMultipart20181102-7277-yl7el9.zip/Arrow.png
72.4 KB
RackMultipart20181102-7277-yl7el9.zip/Caution.png
37.1 KB
RackMultipart20181102-7277-yl7el9.zip/MC10.png
23.8 KB
RackMultipart20181102-7277-yl7el9.zip/readme.txt
746 Bytes
RackMultipart20181102-7277-yl7el9.zip/Remaining_rounds_screen.png
72.8 KB
01 Lower frame half part 01.stl
48.9 KB
01 Lower frame half part 02.stl
50.9 KB
01 Lower frame half part 03.stl
18.1 KB
01 Lower frame half part 04.stl
180 KB
01 Lower frame half.stl
264 KB
01 Lower frame.stl
498 KB
02 Barrel half.stl
85.6 KB
02 Barrel holdier half.stl
129 KB
02 Barrel holdier part half.stl
51.3 KB
03 Helix rocket launcher frame half part 02.stl
315 KB
03 Helix rocket launcher tube half part 02.stl
109 KB
03 Helix rocket launcher tube.stl
442 KB
04 Front sight light.stl
684 Bytes
04 Remaining rounds screen frame.stl
563 KB
05 Side cover part 01.stl
270 KB
05 Side cover part 03.stl
139 KB
06 Magazine holdier part 01.stl
95.9 KB
06 Magazine holdier part 03.stl
174 KB
07 Body detail half part 03.stl
5.65 KB
07 Body detail half.stl
28.8 KB
08 Emitter light.stl
471 KB
08 Emitter tube 01.stl
1.14 MB
09 Grenade tank body 01.stl
59.7 KB
09 Grenade tank clip.stl
2.23 KB
10 Buttstock half part 01.stl
1.67 MB
10 Buttstock pad.stl
2.15 MB
10 Rail clip button.stl
152 KB
RackMultipart20181102-7277-yl7el9.zip/Triangle.png
19.5 KB