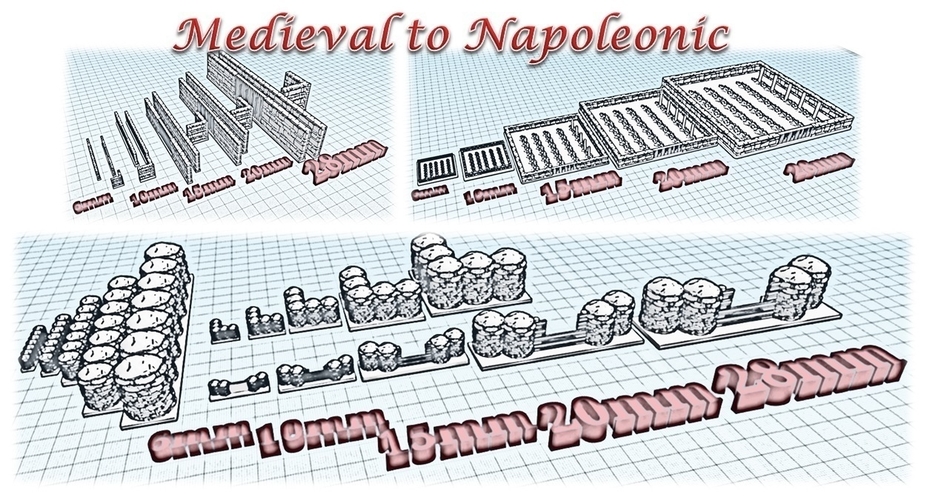 Accessories set 2
High walls (corner, straight, straight with portal)
Gabions (corner, straight, fire station)
Garden with wall
This 3D file is intended to be beautiful and very SIMPLE to print. Designed to be printed without support, even on a 3D printer with a volume of 20x20x20. 
All the scales most used in the wargame are present: 
6mm
10mm
15mm
20mm (1/72)
28mm
The larger the scale, the more detail (in 20 and 28mm, there are for example floors on the ground). 
From the "Medieval to Napoleonic collection", many others are available for you to make a superb game table cheaply and pro quality.
Gabions droit 20mm.stl
6.41 MB
Gabions droit 6mm.stl
6.6 MB
Gabions angle 20mm.stl
4.2 MB
Gabions angle 10mm.stl
4.05 MB
Murs hauts droit 28mm.stl
1.05 MB
Murs hauts droit 15mm.stl
1.05 MB
Murs hauts avec portail 28mm.stl
957 KB
Mur haut angle 6mm.stl
856 KB
Mur haut avec portail 6mm.stl
963 KB
Mur haut droit 6mm.stl
1.06 MB
Murs hauts angle 10mm.stl
856 KB
Murs hauts angle 15mm.stl
890 KB
Murs hauts angle 20mm.stl
890 KB
Murs hauts angle 28mm.stl
890 KB
Murs hauts avec portail 10mm.stl
963 KB
Murs hauts avec portail 15mm.stl
957 KB
Murs hauts avec portail 20mm.stl
957 KB
Murs hauts droit 10mm.stl
1.06 MB
Murs hauts droit 20mm.stl
1.05 MB
Gabions angle 6mm.stl
4.05 MB
Gabions angle 15mm.stl
4.05 MB
Gabions angle 28mm.stl
4.06 MB
Gabions droit 10mm.stl
6.6 MB
Gabions droit 15mm.stl
6.6 MB
Gabions droit 28mm.stl
6.43 MB
Gabions poste de tir 6mm.stl
3.81 MB
Gabions poste de tir 10mm.stl
3.93 MB
Gabions poste de tir 15mm.stl
3.92 MB
Gabions poste de tir 20mm.stl
3.84 MB
Gabions poste de tir 28mm.stl
3.84 MB