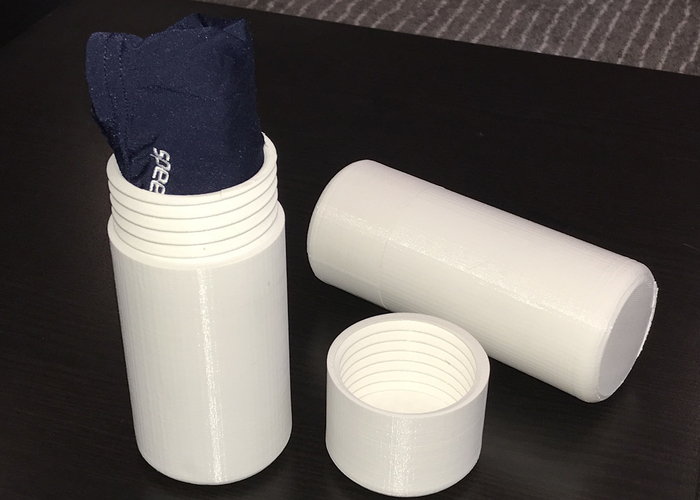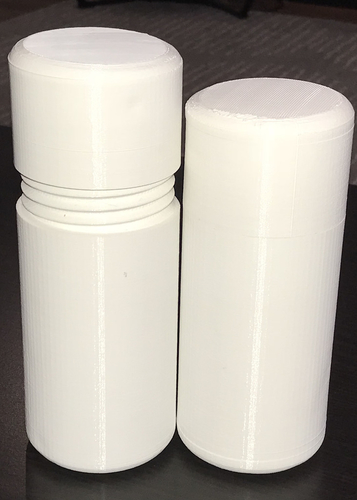 I designed this container to carry items like clean underwear/swimwear/gym-wear to/from the pool or gym, but you could really use it for anything. The Screw-Top threads were a wee bit tight to begin with, but it loosens up as it's used. You can print as many Extension Tubes as you like to screw together to add to your storage. Extension tubes may need to print with Supports.
EDIT: I've added a Hollow Extension Tube so you can (theoretically) join an infinite number together. I've also fixed 2 problems with the threads on the extension tubes that would stop them from working.
Printer:
MakerBot Replicator+ 
Resolution: 0.2mm 
Infill: 10% 
Notes: Printed with Hexagonal Infill (I was experimenting) which should give the container better rigidity but it on't matter too much. Added additional Perimeters for added strength and thicker (1.5mm) Base & Top Layers.
75mm Extension Tube sans Divider.stl
485 KB
75mm Extension Tube.stl
553 KB
75mm_Container_Lid.stl
2.86 MB
75mm_Container_Base.stl
1.72 MB