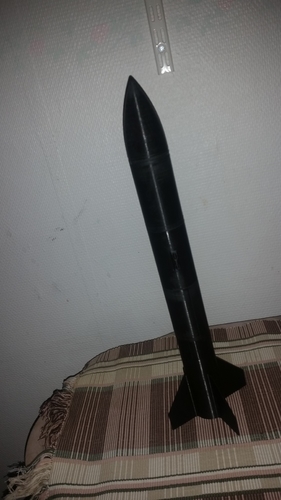 No Prints Yet

Be the first to upload a Print for this Design!
This an upgraded version of the original version made by "Landru" on thingiverse.
The Model is renamed to "Rocket System Aurora". This is not only "a rocket model", but it will become a fully customizable rocket system. To make this possible I need to get YOUR feedback on things that are incorrect/should be improved or just new ideas!
NOTE: The example models are not meant to be print out directly! They are just there as inspiration. Open .zip file in the zip file to get to the STL files.
  Current Version: 1.2
NEW:  - Payload Bay Parts
Package contains: - Large Body Tube + Payload version - Medium Body Tube + Payload version - Small Body Tube + Payload version - Payload Adapter - Payload Coupler (Only needed in special cases) - Dual Female Adapter - Dual Male Adapter - Ogive Nosecone + Payload version - Conical Nosecone + Payload version - Nosecone Coupler + Payload version - Engine Holder 32mm - Engine Upper Stop 32mm - Blank Fincan - Fincan 24mm - Fincan 18mm - Fincan Angled 2xCluster 18mm
Coming Soon: - Camera Mounts in different sizes (maybe a customizable size mount) - Fincan with small fins - Launchpad + Rocket Mount
Working on: - Booster holder for, 18/24 mm engines, 2x Booster holder and 4x Booster holder.
To change: - Optimise Conical Nosecone for supersonic airflows. - (Depending on effort I gonna put in), maybe change all "put-together-parts" so they have threads and does not need to be glued or such things =)
Instructions: Step 1: Select Components. You will need at least nosecone, body tube,  fincan, and nosecone coupler. You can use multiple body tubes fincans to make a longer and more steady rocket if desired
Step 2: Print parts. They printed with the perfect tightness on printer. You may need to sand some mating surfaces or add tape for the correct fit.
Step 3: Screw nosecone to coupler. Glue if needed
Step4: Tie the nosecone coupler to the fin can through the body tube with 3ft of non-flammable cord. Attach a parachute or streamer if desired (HIGHLY RECOMMENDED)
Step 5: Insert Motor and add short drywall screw to the rear of the rocket for motor retention. You can also put tape on the rocket motor for a tight friction fit.
Or if you use a homemade rocket engine, (only 32mm outer diameter compatible for the moment). Use an empty fincan with an Engine holder 32mm put directly on top of it. Then place body tubes between and when preferred put the engine stop to prevent it to shoot up through the rocket.
Step 6: Fly safely and have fun! (Be sure that you are at a safe distance from houses and such things to prevent damaging others property or people).
Payload_Nosecone_Hemispherical.stl
2.24 MB
Engine_Upper_Stop_32mm.stl
1.21 MB
Payload_Coupler.stl
741 KB
Payload_Nosecone_Ogive.stl
2.19 MB
Body_Tube_Large.STL
473 KB
Body_Tube_Medium.stl
1.71 MB
Dual_Female_Adapter.stl
708 KB
Body_Tube_Small.stl
1.7 MB
Payload_Adapter.stl
6.01 MB
Body_Tube_With_Lug.STL
1 MB
Rocket_Example_PayloadBay.stl
16.2 MB
Dual_Male_Adapter.stl
1020 KB
Payload_Nosecone_Conical.stl
421 KB
Payload_Body_Tube_Large.stl
1.6 MB
Fincan_Angled_2xCluster__18mm.STL
2.61 MB
Rocket_Exampel_Classic.stl
11.8 MB
Engine_Holder_32mm.stl
891 KB
Payload_Body_Tube_Medium.stl
1.74 MB
Payload_Body_Tube_Small.stl
1.61 MB
Payload_Nosecone_Coupler.stl
816 KB
Nosecone_Conical.STL
414 KB
Nosecone_Coupler.STL
383 KB
Nosecone_Hemispherical.STL
2.19 MB
Nosecone_Ogive.STL
2.14 MB