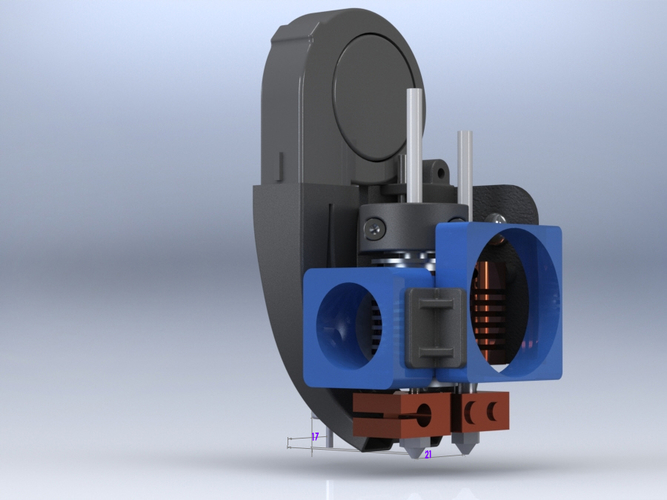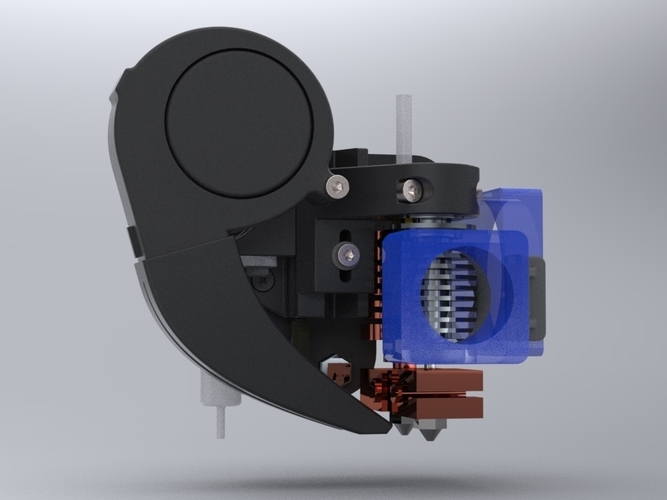 No Prints Yet

Be the first to upload a Print for this Design!
Summary This is now the final version, probably. From here there will only be minor changes if something for some reason need that. I chose to use the original fan for cooling of the stock extruder. It is mounted with a bracket and double sided tape. The part cooling fan is available on eBay and other places for next to nothing and there seems to only be one type that looks like this. 
I removed the setting screw and the spring. They where a bit of overkill. Instead everything got lighter.
 If one doesn't have the BLTouch just skip that part. The nut for this part is fastened either by some glue or by melting in some material over the nut. Some screws and nuts in M3 size is needed. 
Background... This comes from that I wanted to print with material that require high temperatures. Thus I ordered a E3D. But when I looked at everything and realized that I don't want to cut the original cables and I feel it's a waste to not use the original extruder, I desided to make a dual head configuration. An extra Nema17 stepper and extruder is cheap on eBay. Since I already had switched to a motherboard that has more connections and I have a BLTouch it was just to start modelling. I had to get rid of the original fan and used the commonly used radial fan. The fan and the duct is completely vibration isolated since it is mounted with silicon hoses as dampers and fasteners. The reason that they are mounted in the Y direction instead of the normally X is that the carrier does shift ever so slightly when moving in the Z direction. Note that I have the version with one Z screw. Anyway, this means that there will be some difference between the nozzles due to this shift. One can notice it when moving the Z screw by hand and look at the right side of the X rail. Mounting them in this way makes them shift just as much and end up at the right distance when shifting extruder. I hope... :)
(You perhaps now this but since the mass is increased there might be a problem with resonances, it's simply decrease the speeds. But not arbitrarily...)
E3D Extruder Fastener MainV2.STL
379 KB
E3D Mount outher.STL
590 KB
BLTouch Mounting V2.STL
286 KB
Cooling fan Duct.STL
1.57 MB
Fanbracket_for_original_fanFan_Duct_for_FDM_PrinterV2.STL
198 KB