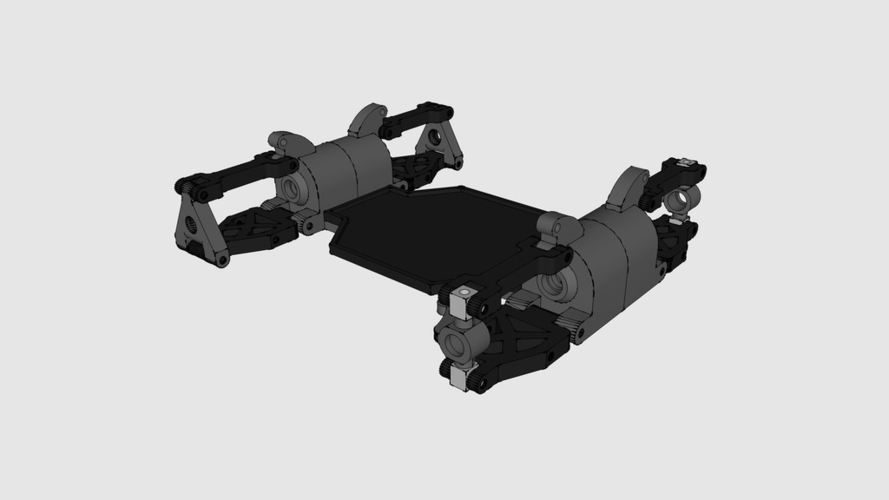 No Prints Yet

Be the first to upload a Print for this Design!
Summary I'm designing a 1:25th scale rc car. One of my main goals is to make this car printable on the smallest of printers, so all parts will be well within 100mm square build volume. Other goals include: Uses common hardware of a single type for the whole design, (currently Metric M3 bolts and nuts), and overall ease of use, build quality, function. It is a work in progress so bare with me... UPDATE 7-3-2017 : I revisited this project again after 2 years.... Sorry people of the internet! Made some more changes (We can finally turn!) there are some new parts and I am working on the drive system. not sure yet if I want to go with a belt drive or shaft drive. Maybe I have a new type of drive system in mind.... UPDATE 7-25-2015 : Made changes to the whole model. The A-arms have been updated so there are no overhangs and they lay flat for printing, Shock towers complete redesign, chassis pan is lighter now, and added new part "Bearing carrier". I am working on making the turning knuckles and the top control-arms. I would like to having a rolling chassis in a few months, let me know if you want to help. :)
"A" arms Chassis pan Shock Towers Bearing Carriers
Instructions
Print the printables Assemble with Metric M3 hardware Enjoy!
gear-housing-half.stl
392 KB
a-arm-v3-front.stl
259 KB
knuckle-hinge-v3.stl
73.9 KB
bearing-carrier.stl
172 KB
turning-knuckle-v3.stl
244 KB