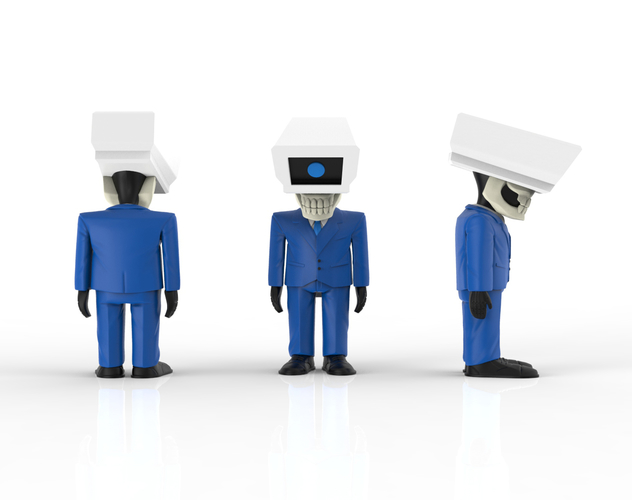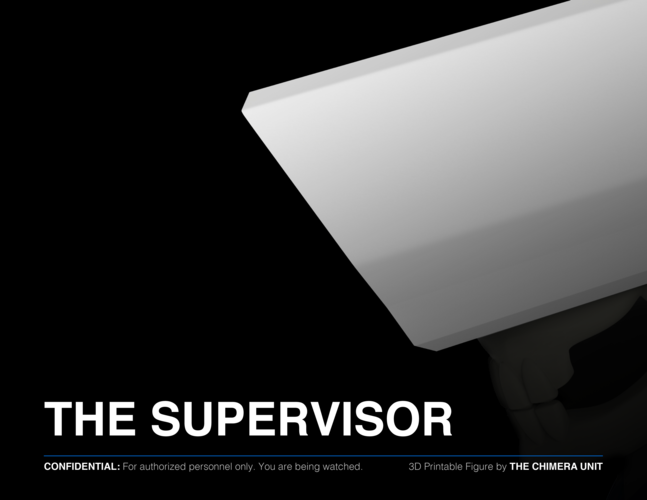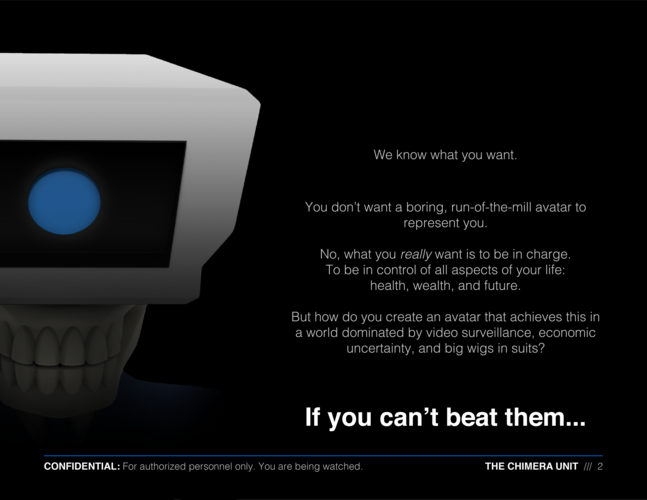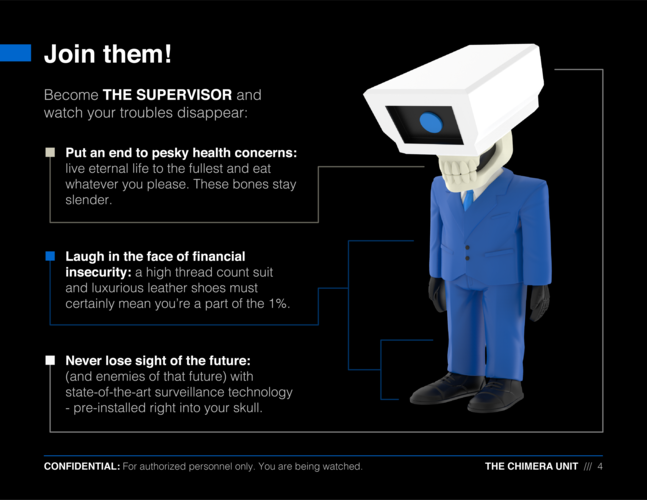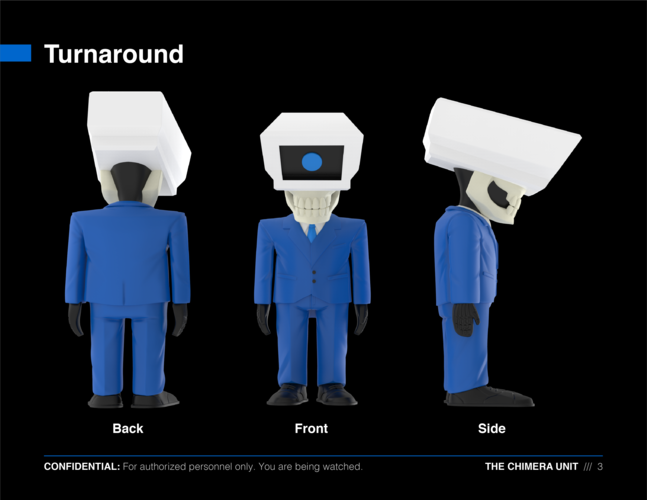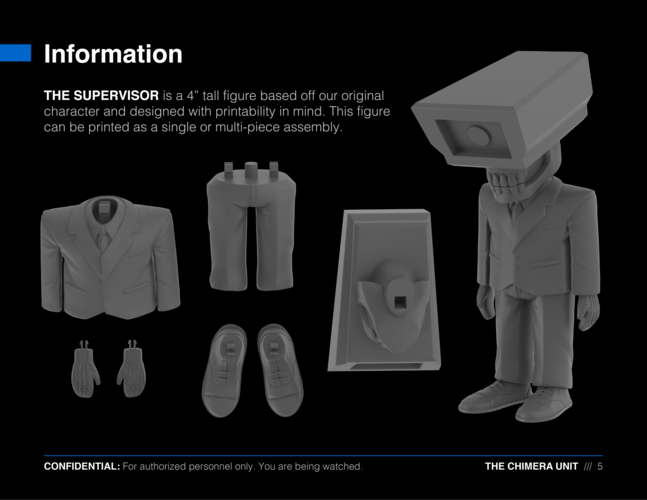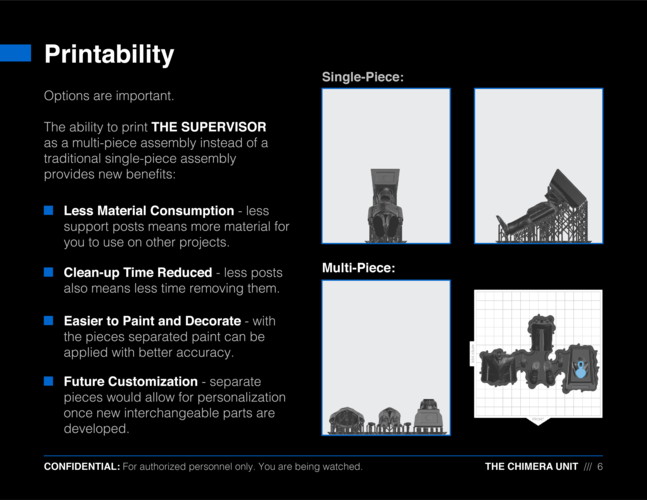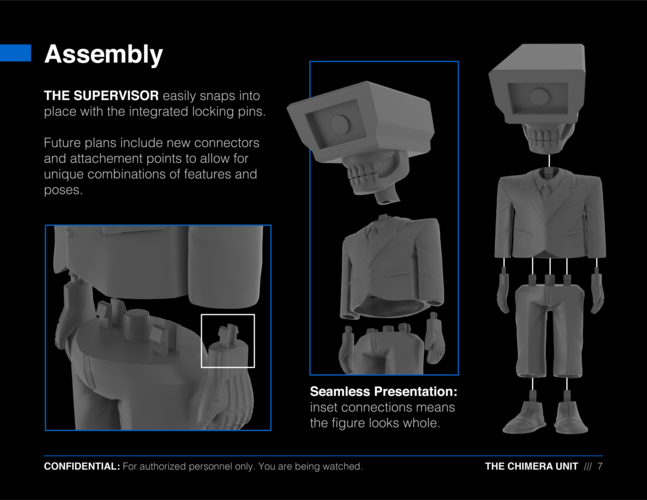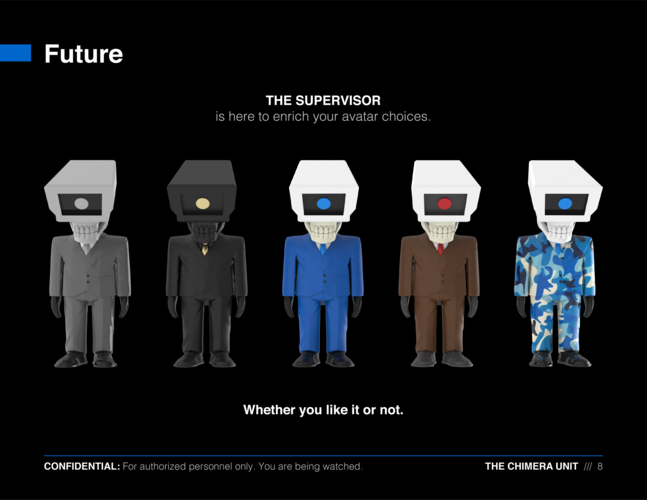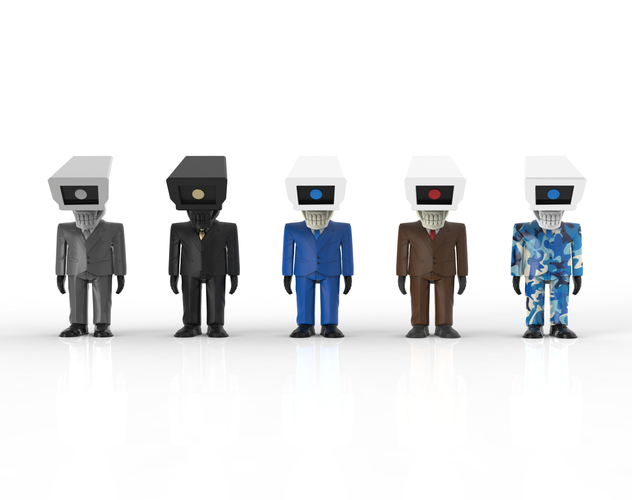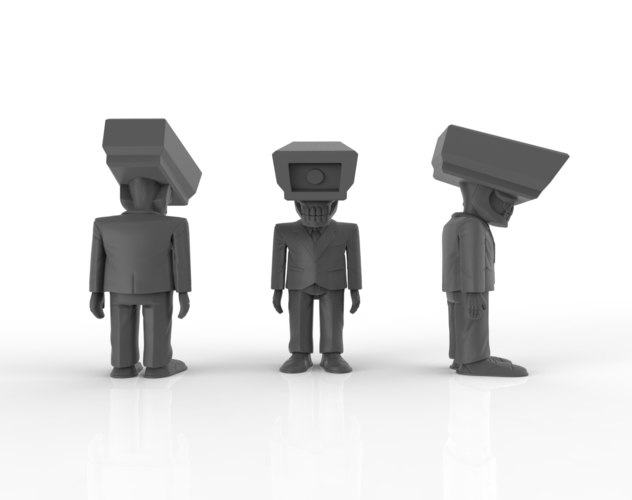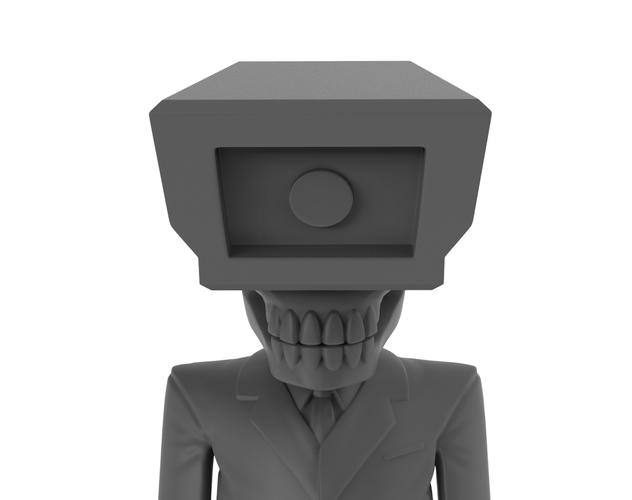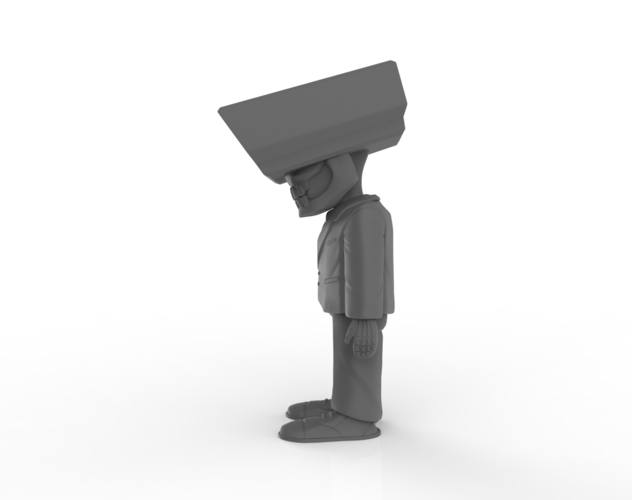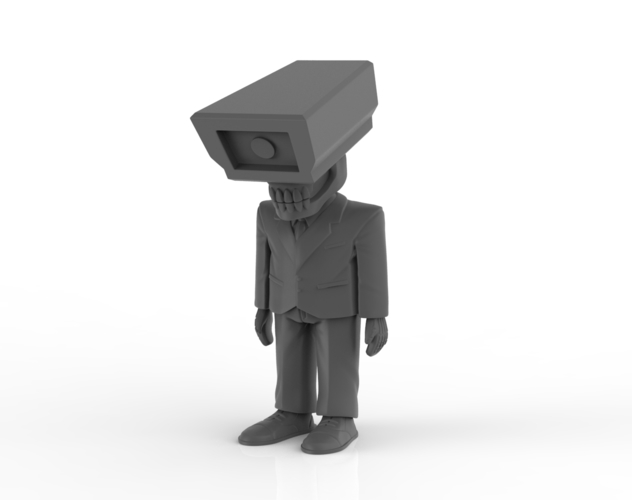 Hey Pinshape community! We stumbled onto this contest when it was half over but we wanted to take part. We definitely came together so without further delay here is The Supervisor. This is our first project and we hope you guys like it!
Please check out the pdf attached! It gives an even better rundown of this figure.
Story | Narrative : 
We know what you want. You don't want a boring, run-of-the-mill avatar to represent you. No, what you really want is to be in charge. To be in control of all aspects of your life: health, wealth, and future. But how do you create an avatar that achieves this in a world dominated by video surveillance, economic uncertainty, and big wigs in suits? If you can't beat them...JOIN THEM.
Print Settings:
The Supervisor was designed with printability and options in mind. Attached to this post there are two ways to print The Supervisor -- either in a split assembly or a fully merged assembly. The pros/cons are outlined in the document and images above. We mainly wanted to give the user the option to print it their way. The attached 3D files contain the default split way and the default merged way (also included are .preform files for easy printing on FormLabs printers) that we found works best but depending on your printer we more than welcome you to experiment and choose the one that best fits you! 
Assembly:
Assembly is extremely easy for The Supervisor. Currently the figure comes with interlocking pegs and pins that allow for a glueless assembly. Although we still recommend using adhesive for a cleaner and more secure outcome in the end but once again it's up to the user. We are currently in development of interchangeable pins/pegs to allow for even more customization.  In the future most parts of The Supervisor will be interchangeable so the user can create their own story and their own avatar. As the first figure however this one was just meant to showcase our idea and what can come from it.
Once again we hope you guys enjoy The Supervisor! It's the first flagship figure from our collaborative "The Chimera Unit" and we really appreciate you guys checking it out!
***If you are going to be printing The Supervisor please make sure to print the high res files and NOT the low res files. The Low Res files are only for display purposes for the 3D view.***
A thank you and About us:
Firstly, we just wanted to say thank you to the pinshape community. The Chimera Unit is comprised of three friends: Jeirome, Christian(MSTRMIND), and Zach(homie_gomie) who have always talked about coming together to make figures/toys and just cool things in general. This contest acted as the main driving force for us finally coming together to produce something that we are extremely proud of. We wish everyone in the contest the best of luck. Regardless of who the winner is, we are extremely grateful for the humbling experience and to have created something that will jump start our ventures. 
Supervisor_Split_Floor_LOWRES.OBJ
6.55 MB
Supervisor_Merged_LOWRES.OBJ
8 MB
Supervisor_Merged.OBJ
42.6 MB
Supervisor_Split_Floor.OBJ
35 MB
Supervisor_Merged_Preform.form
82 MB
Supervisor_Split_Preform.form
73.4 MB
Codename-TheSupervisor.pdf
9.22 MB