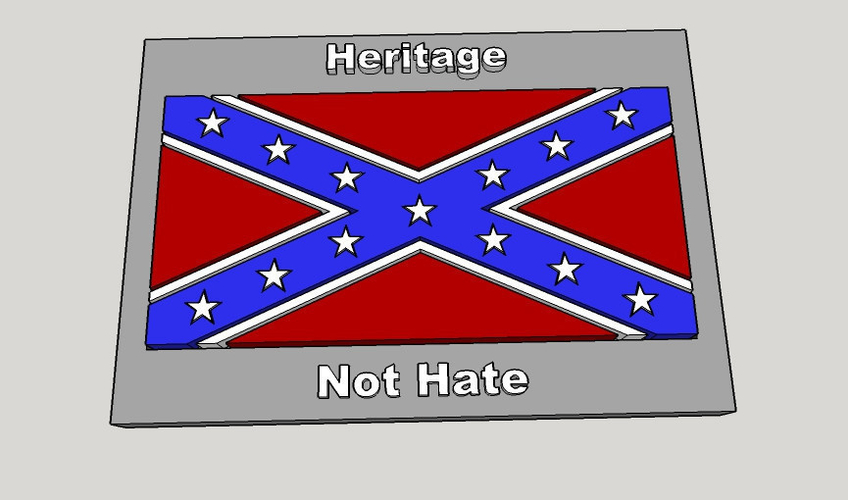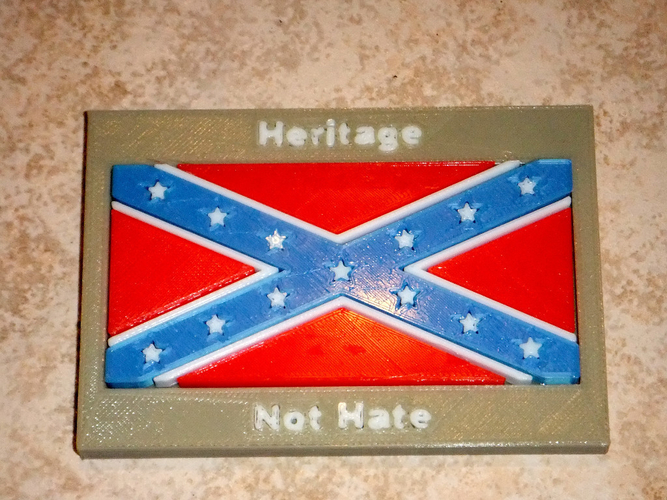 I thought, in the interest of a fair and balanced view as afforded by the First Amendment of the Constitution of the United States of America (at least for the time being), I would provide a counter view to those expressed by the creator of the original piece from which this was "remixed." Rather than simply copy someone else's work, though, I wanted my piece to stand out from the rest.
To that end, this is designed to be printed in multiple colors and assembled like a puzzle. The stars and the stripes are printed in white, the cross is printed in blue and the field is printed in red. For the base, you have two options. First, you can print the version 1 base with the text as one unit, printing in grey first and then swapping to white as soon as the letters being printing. Alternatively, you can print the version 2 base in grey and then print the letters separately in white, reducing them in scale slightly, depending on your printer, to account for the slop needed for a good fit. The letters then press into the base for a recessed look instead.
I will print this when a get a chance, but if anyone else prints it, I would really love to see photos.
Peace....
SouthernPride-white_stars.stl
384 KB
SouthernPride-white_NotHate.stl
44.4 KB
SouthernPride-blue_cross.stl
30.9 KB
SouthernPride-base_version2.stl
104 KB
SouthernPride-base_version1.stl
104 KB
SouthernPride-white_stripes.stl
3.99 KB
SouthernPride-white_Heritage.stl
56.5 KB
SouthernPride-red_field.stl
1.64 KB