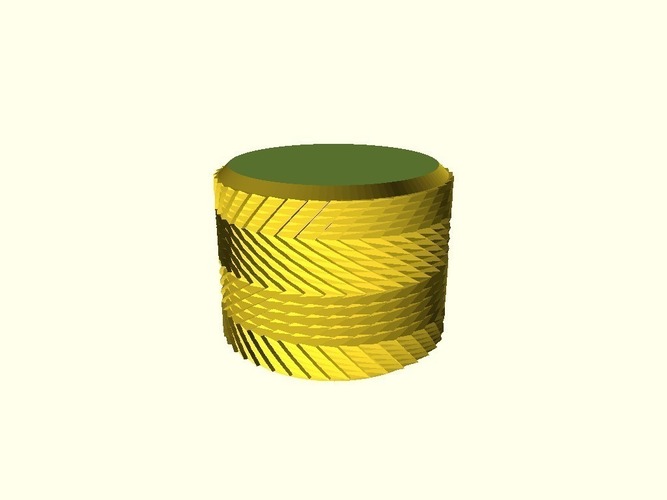 No Prints Yet

Be the first to upload a Print for this Design!
Summary
Design this Shade to fit your needs. Make it fit to your Lamp or use it as candlelight. Someone used it as a vase, but not all the generated pieces are watertight. With the right settings you can also make flexible bottle- and can-isolaters. It could be usefull as a box too.
Maybe i try to make a plantingpot.
Print Settings Supports: No Infill: no Notes: Print the bottom with 3 or 4 Layers and the rest in spiral- or vase-mode. For a sleeve only print without bottom layers. Carefull ,crossed patterns sometimes generate parts on the contour that make holes.
Post-Printing Use sharp knive to cut th holes in the bottom.
How I Designed This Openscad is the right thing for this.
U-TWIST-O-SHADE_canisolator_330ml_3.stl
6.02 MB
U-TWIST-O-SHADE_canisolator_330ml_1.stl
246 KB
U-TWIST-O-SHADE_tealight_3.stl
8.85 MB
U-TWIST-O-SHADE_tealight_1.stl
5.36 MB
U-TWIST-O-SHADE_E14_lampshade_1.stl
1.71 MB
U-TWIST-O-SHADE_box_1_.stl
2.68 MB
U-TWIST-O-SHADE_box_2_.stl
2.56 MB
U-TWIST-O-SHADE_E14_lampshade_2.stl
3.68 MB
U-TWIST-O-SHADE_tealight_2.stl
2.06 MB
U-TWIST-O-SHADE_canisolator_330ml_2.stl
6.03 MB