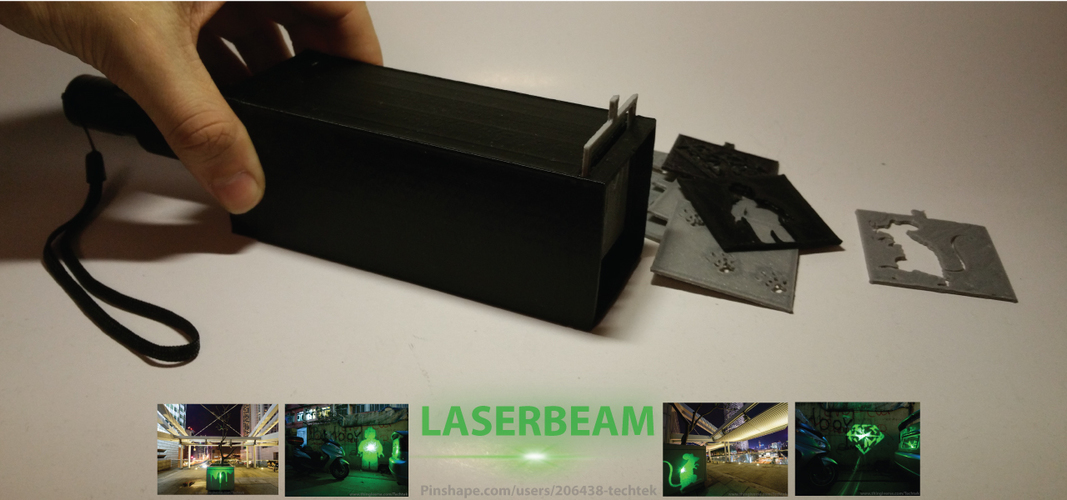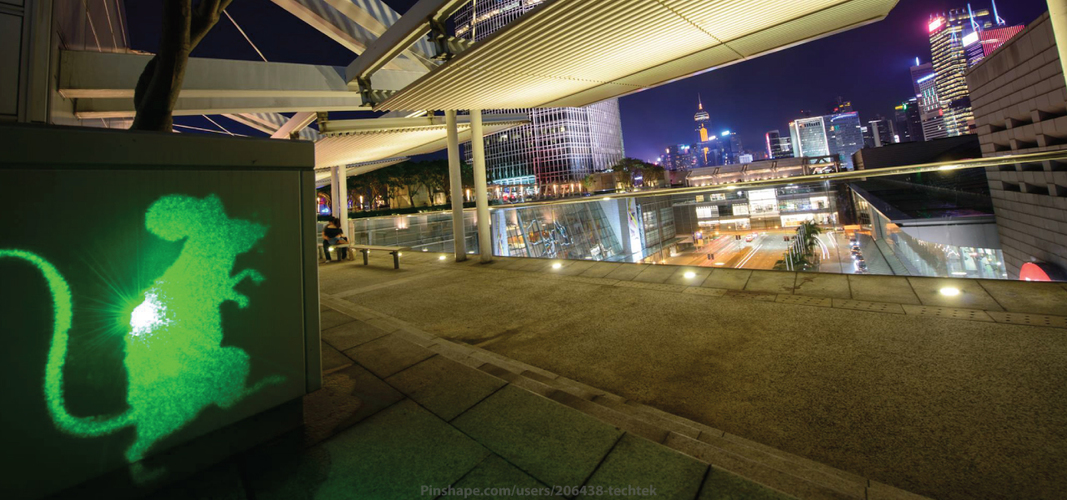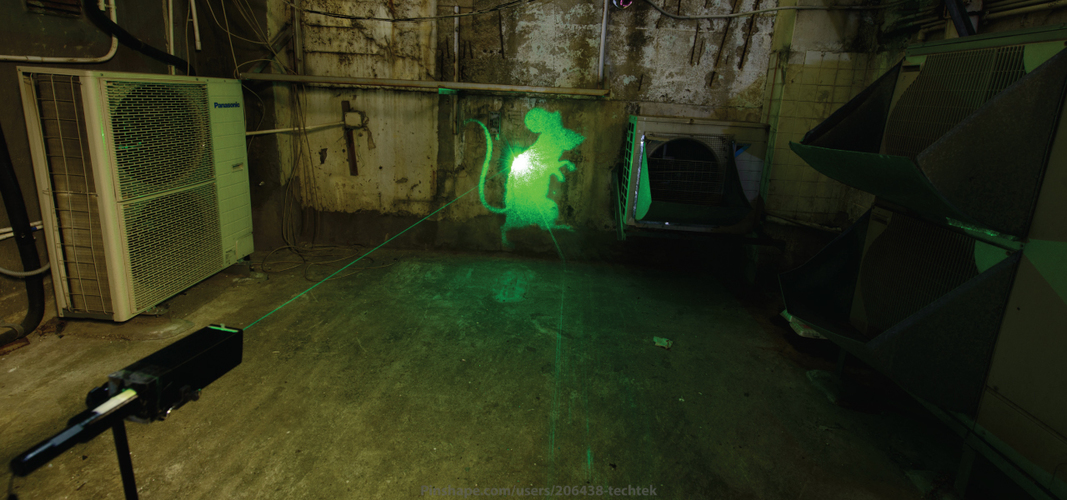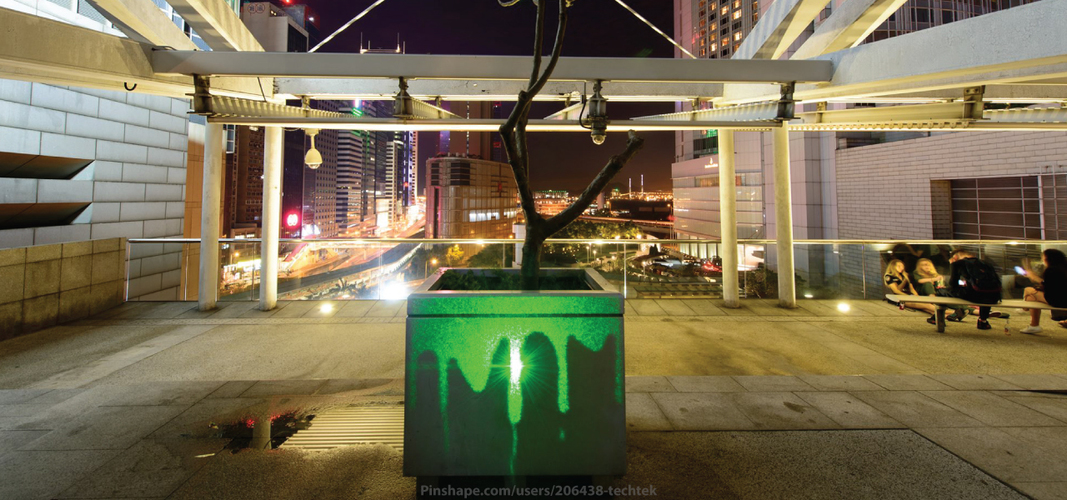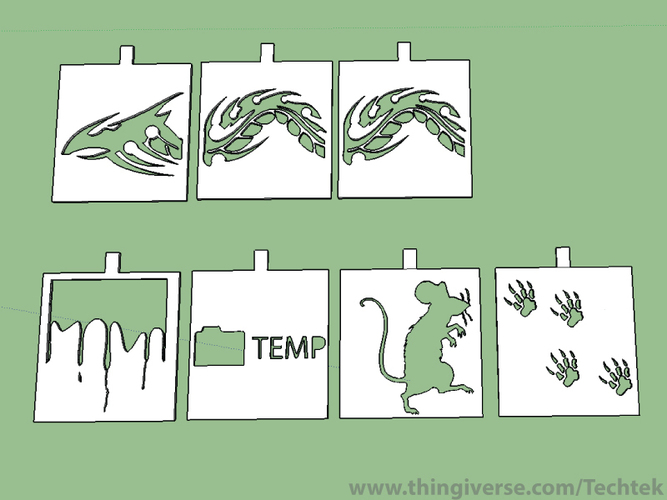 LASERBEAM This new concept idea and quick start will help you to build a low cost laser beamer! It can project laser silhouettes, stencil art, logo's, text.... and more! i didn't find any projects that share the same idea and i'm curies where it can go! What do you need to make one?
-3d printer  (instead of a 3d printer you could use cnc, or scissors/knife and cardboard is a option as well but i don't have instructions for it) -Laser pointer  (clip on) Mobile phone macro camera lens -Some tape
i tried a few different lenses and configurations, but the best result i got is with the cheap macro lens. the effect you want to have when trying different lenses is to spread the laser light in a wide bundle. Later, when mounting the laser in the laser tunnel, the laser tunnel housing will block the rest of the laser light and the projection will have nice straight outline lines and projects a empty green square screen
How to make your own slides and Laserbeamer? The slides print fast, and designing new slides would not take to long using your favorite 3d program. ( i posted a separate thing "Slide template for LASERBEAM" please use this for remixes of the slides:   https://pinshape.com/items/346... ) If you want to beam (logo's, stencils, etc) you will need to convert them to vector, you will need GIMP (free) or Illustrator to make vectors from your images and export them into a compatible importable line format for your favorite 3d software. (try: svg, dxf format) Download "Slide_template_for_LASERBEAM.stl" place the imported line drawing on top of the "Slide_template_forLASERBEAM.stl" (intersect the line drawing with the template extrude/delete the things you want to project) Depending on how dark the wall is you want to project on, and how strong your laser is you could get around 3+ meter projections with a cheap green laser. If you want to start beaming asap i suggest you print one slide. And prepare your laser pointer with the lens, use some tape to combine the two. after this is done you can already try out the effect, meanwhile print the laser projection tunnel, and laser holder. The laser beamer has 3 parts, Laser holder, Laser tunnel , and a slide 3d part details:
Slide size: 4.6x4.9x0.16 cm (please make your slides the same dimensions so we can use each others slides.) "Normal laser" holder .stl - laser diameter: 1.3 cm "Big laser" holder .stl laser diameter diameter: 2 cm
Stretching the concept idea / some ideas i am working on
Laser project LCD screen, I tried to project trough LCD screens but with no good results yet. i will try find a other screen, so far i tried a Arduino screen and a calculator screen) Best would be a screen that works on Raspberry PI or Arduino but most of them are TFT and not LCD. DIY LCD overhead projectors where quit popular 10 years ago and ibuild onebefore, it would be nice to have a portable laser version.
-Upgrading the laser to a more powerfull one :)
-Interchangeable "gun style" handles
-Multi colour laser
-Automatic slides
-DIA projector
-Slides with moving elements
-Experiment with LED's instead of Lasers
-Pictures to slides: Customizable Pixel Beads Photo Panel 40x40 http://www.thingiverse.com/app...
What are your thoughts on improving this concept ?
############################################ Lasers are dangerous, this thing is a work in progress ! ############################################
v31_laserholder_biglaser_22mm_diameter__use_tape_or_glue_to_combine_.stl
10.1 KB
v1_holder_normal_laser_v1_repaired__.stl
68.6 KB
Slide_template_for_LASERBEAM_.stl
1.45 KB
Slide_dragon_body_r.stl
184 KB
Slide_dripping_laser_.stl
51.7 KB
Slide_monster_feet_.stl
416 KB
Laser_projection_tunnel_for_normal_and_big_laserpointer_housing_12cm___v2r____.stl
28.3 KB
v31____-_holder_big_laser_with_clamplegs_-not_yet_tested.stl
13.8 KB
slide_ironman_v2.stl
74.5 KB
Slide_1up_mushroom.stl
52.4 KB
Slide_dragon_head_.stl
60.4 KB