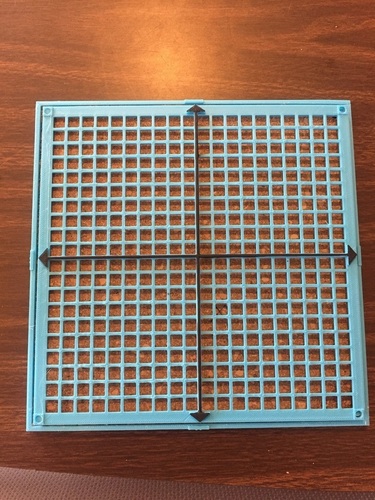 No Prints Yet

Be the first to upload a Print for this Design!
Summary I designed a 10x10 quadrant grid and base. The base requires a piece of cork board to be cut and glued in. Once cork board is glued in the 10x10 quadrant graph can be placed on top and a Blind person can graph plot point with total tactile response even having the "X" and "Y" sections marked out in Braille. Print Settings Printer Brand: LulzBot Printer: TAZ 5 Rafts: No Supports: No Notes: Sometimes the holes stick. Might need to scape out a little room but not much
Standards
NGSS
CCSS
Lesson Plan and Activity For graphing quadrants. Materials Needed Use with a sheet of cork board. Cut to size and glue onto the bottom of board. I used small sewing pins for plot points.
video: 
math_board_base.stl
75.6 KB
math_board_10x10.stl
489 KB