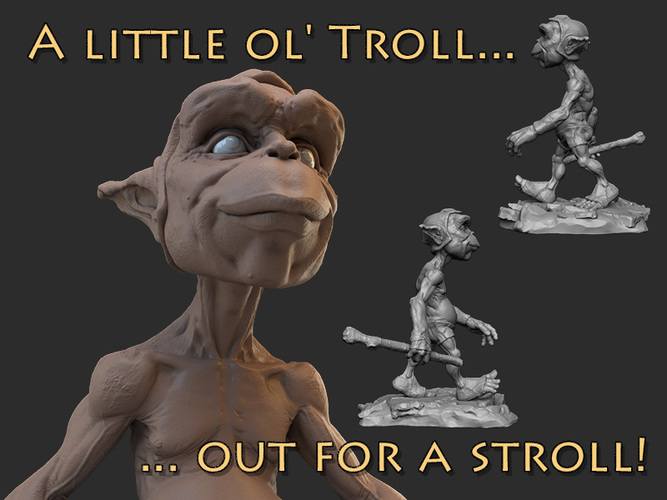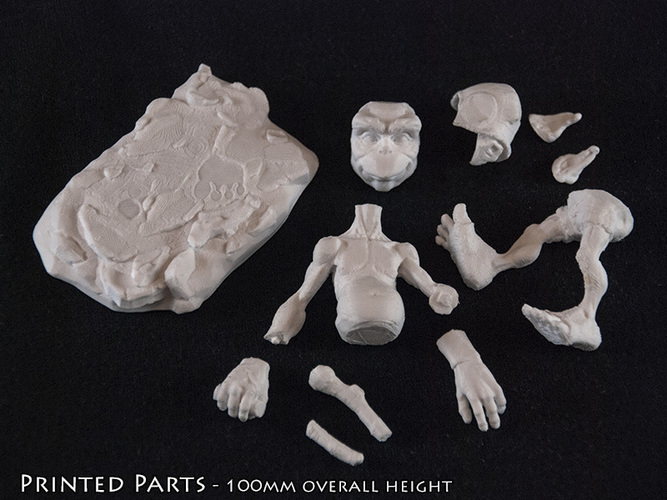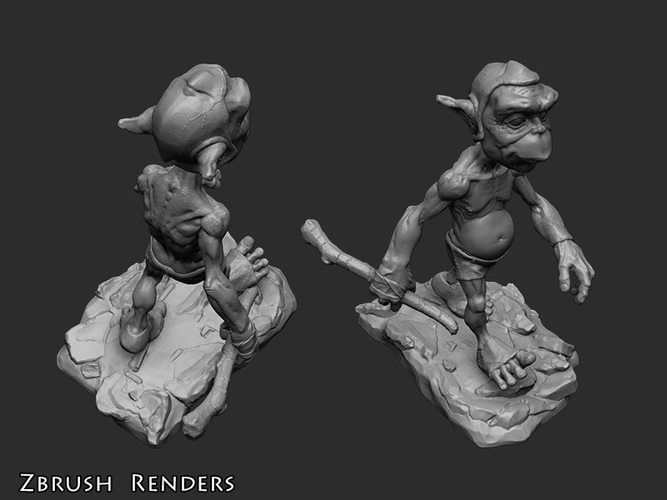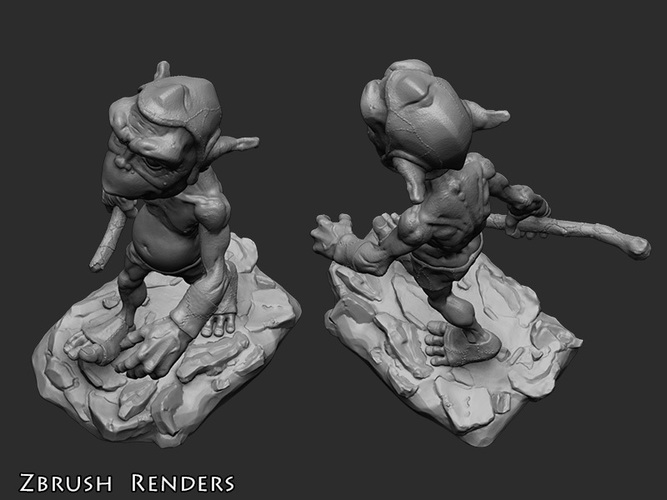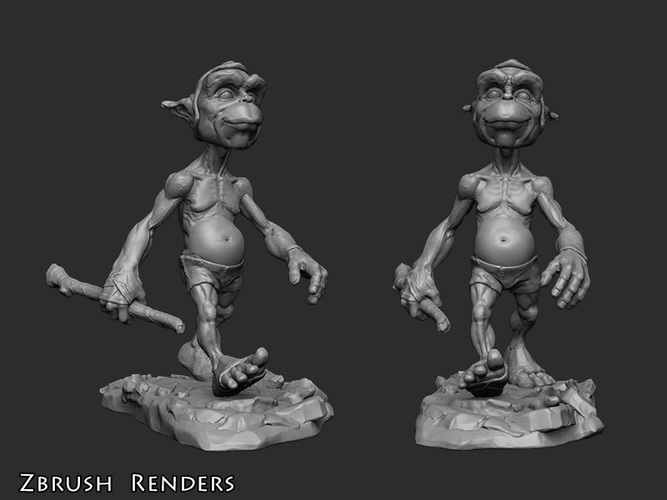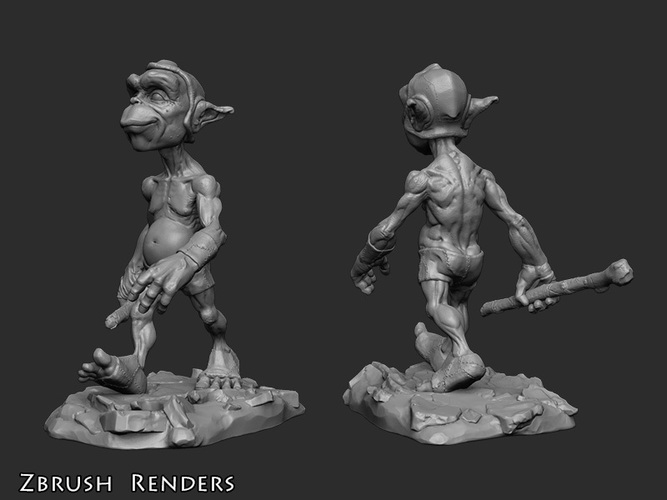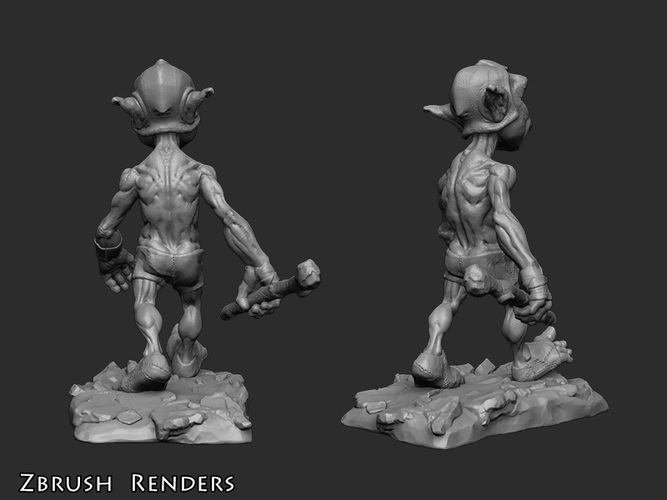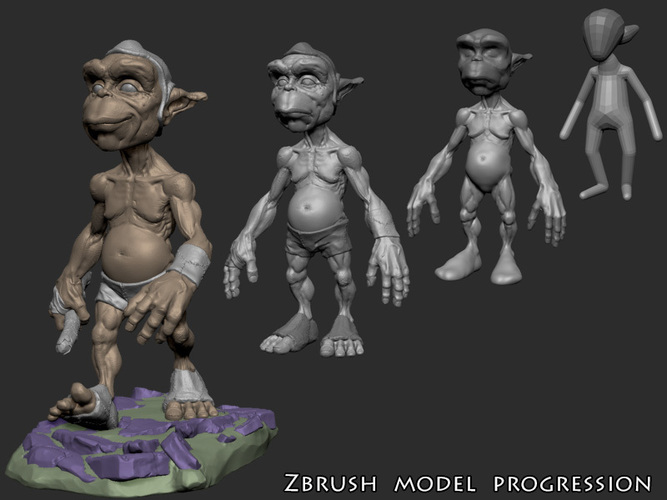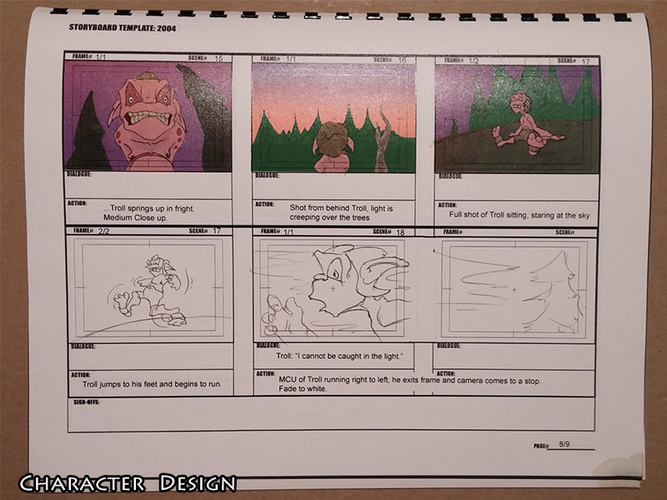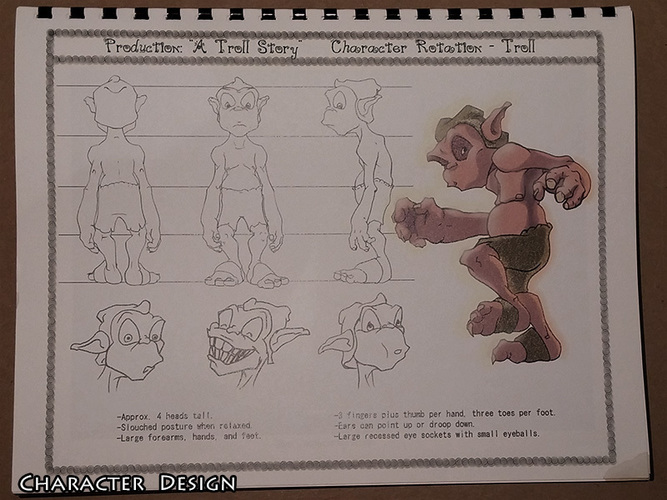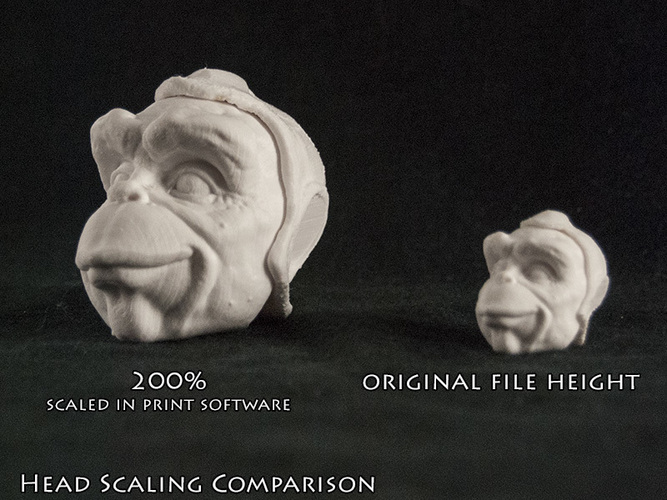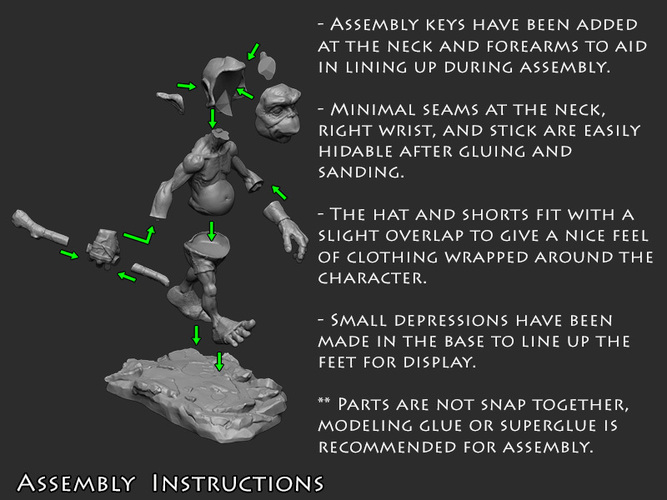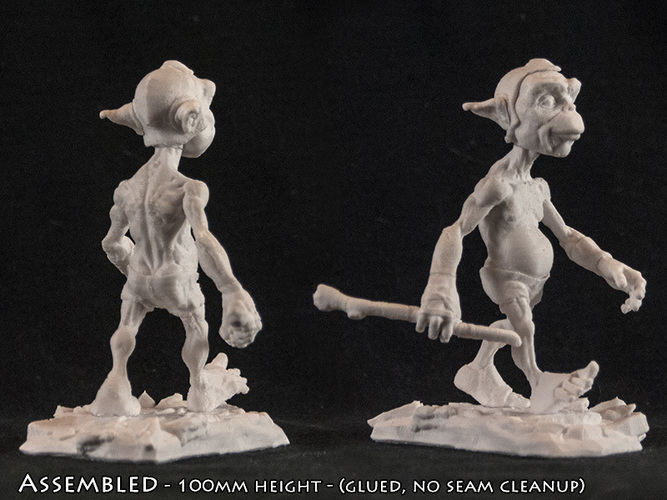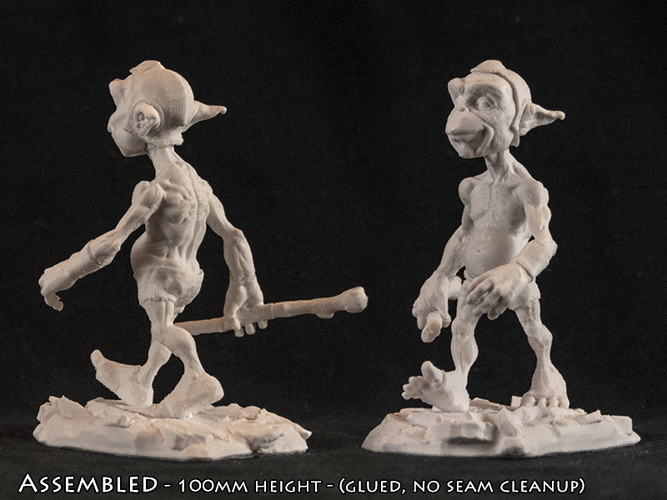 A little ol' Troll...
...Out for a stroll!
This this little guy was born way back in the spring of 2004.  He is a character I designed for a final project in college, a short animated piece about the story of an adolescent troll out gathering food.  While he didn't fare so well back then, this model is an updated take on what he might look like had he been smarter about his decisions.
The model was created and parted out entirely in Zbrush.  Exported as individual OBJ files using the 3D print exporter plugin.  Parts were then checked and readied for print using Autodesk Print Studio.  A Dremel 3D20 Idea Builder was used to print the first set of parts, with great results at a 100mm assembled height.  
Individual parts were sliced with FDM printing in mind, with flat initial surfaces and a vertical build direction/orientation.  Auto supports work well with minimal cleanup.  Assembly keys have been added at the neck and forearms to aid in lining up during assembly.  Minimal seams at the neck, right wrist, and stick are easy to hide after gluing and sanding.  The hat and shorts fit with a slight overlap to give a nice feel of clothing wrapped around the character.  Small depressions have been made in the base to line up the feet for display.  Parts are not snap together, modeling glue or superglue is recommended for assembly.  Acrylic modeling paste for seam filling prior to sanding/painting.
This set of parts was exported for an overall height of 100mm(~4inch) once assembled.  There is a high enough polycount on all pieces to print at 200mm(8inch), or more, by uniformly scaling the parts in your print software.  The larger test face printed shows more of the model detail at the 200mm overall height, having been scaled 200% in the slicer software.  A double sized hat was also printed and fit as expected, also showing much more detail.  Assembly is fairly straight forward as shown in the instructional image.
Print settings for the test run:  White PLA filament, 0.1mm layer height, 3 perimeter layers, 15% honeycomb infill, print raft enabled.  Approx 29cm3 of material was used for the 100mm sized build, with an overall print time of around 10hr 20min.
Feel free to contact me if you have any questions regarding this model.  Also, if you do print one of your own, I would love to see how it turns out!
Thanks for stopping by! -scotty_b
RackMultipart20170301-74-rprltb.zip/troll_100mm_base.obj
17.6 MB
RackMultipart20170301-74-ozh4tj.zip/troll_100mm_ears_sticks.obj
13.8 MB
RackMultipart20170301-74-juixd8.zip/troll_100mm_face.obj
13.8 MB
RackMultipart20170301-74-2zhr6q.zip/troll_100mm_hand_Lf.obj
6.87 MB
RackMultipart20170301-74-6h8ggz.zip/troll_100mm_hand_Rt.obj
6.87 MB
RackMultipart20170301-74-t2safy.zip/troll_100mm_hat.obj
6.87 MB
RackMultipart20170301-74-14ut7mr.zip/troll_100mm_legs.obj
17.6 MB
RackMultipart20170301-74-pub89f.zip/troll_100mm_torso.obj
17.6 MB