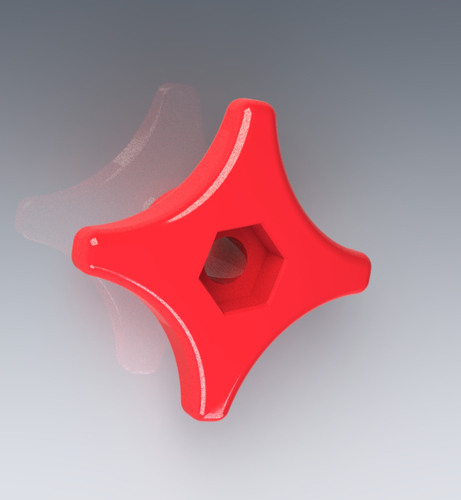 No Prints Yet

Be the first to upload a Print for this Design!
Star knob for metric bolt or nut. Can be used with a bolt to screw threaded parts or with a nut inside to screw on a threaded rod for example.
I printed many designs with 4 arms, 2 arms, 8 arms, differents diameters and nut sizes (I have to upload them right here :) ) and they work quite great with 100% infill for extra strenght, 50% infill if you want to save some material without loosing to much strenght, so tune your print the way you want to use it.
On mine, a M6 bolt was on a snug fit, but was fine because kept the bolt on the knob. A drill will get rid of the extra material to make it fit more loosely.
It works fine made of PLA, ABS should give extra strenght. Printed as it comes from the CAD model (the diameter on the build plate) with supports @ 10°. You will have to finish the underside face (but it's not the viewed one) and this guarantee a nice fit on the hexagonal shape.
Printed with a 0.4mm or 0.6mm nozzle, fast print make it quite nice and fast to print. A 0.1mm layer will increase the quality.
Add : a smaller outside diameter realease. Should fit better in smaller areas.
Star_Knob_4arms_M6.STL
20.8 MB
Star_Knob_4arms_M6_smaller.STL
1.21 MB