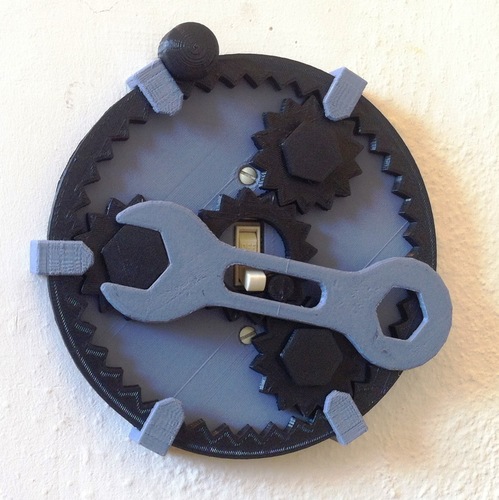 No Prints Yet

Be the first to upload a Print for this Design!
This 3D printed planetary gear light switch cover is a functional decorative item that any gearhead would love. Great for keeping at the entrance to a workshop, man-cave, or garage. Video Demo: https://youtu.be/52C0UFKODkg
The assembled device measures 6.25" in diameter.  The largest printed part is 5.875" diameter)
Print Instructions: 
The wrench file will need print supports. Print all parts minimum 3 perimeters all sides top & bottom, with 15% infill. I recommend 0.3mm layers maximum. Any material will work as long as you can print without warped parts.  
Assembly Instructions: (Read in full before starting)
1. Clean up the gear teeth so they will mesh smoothly then place them on the plate in the rotational same orientation they were when you printed them.  (The pin on the sun gear is to the right and the handle of the ring gear is top and center.)
2. Pin the planet gears in place by jamming the nuts into the holes. 
3. Apply a smidge of clear drying glue (glue stick works well) to the business end of the wrench then install it from the side and snaps on the nut. The glue is to keep the wrench attached to the nut. 
4. Soften the clips using a hard dryer, heat gun (what I use), or even by soaking in hot water. Then align the bump on the clip with the hole on the back of the plate and press over the ring gear. (The holes on the back of the plate may need cleaned up with a knife to aid this, depending on how good your printer is). Then squeeze the clip as it cools. This will ensure that everything is securely held together .
Assembled Version also for sale here: https://engineerdog.com/store/...
Awesome Technical Article on 3D Printing Gears here: https://engineerdog.com/2017/0...
nut_(3X_Color_A).stl
629 KB
plate(1X_Color_B).stl
1.73 MB
Wrench(1X_Color_B).stl
1.45 MB
clip(6X_Color_B).stl
116 KB
Gears(1X_Color_A).stl
281 KB