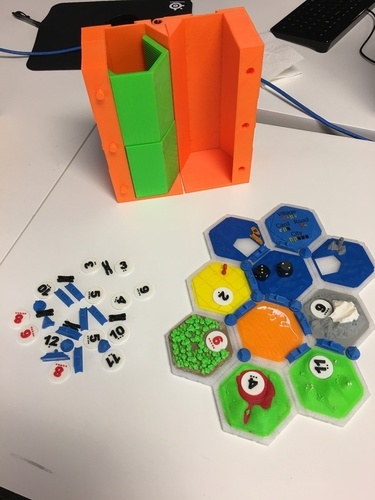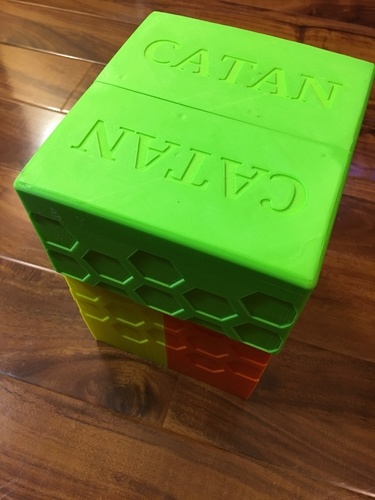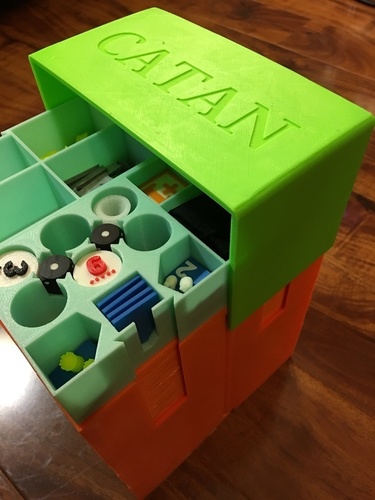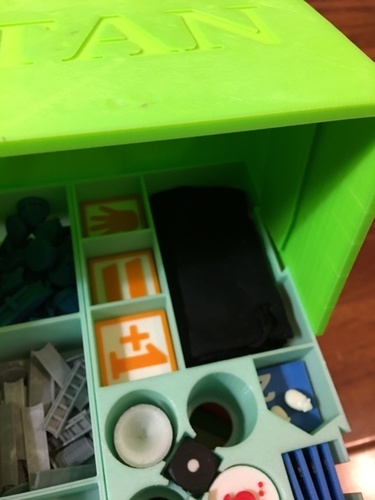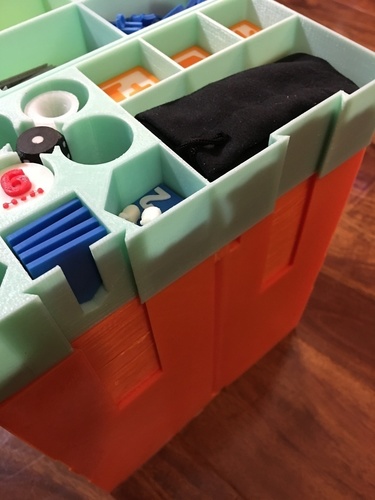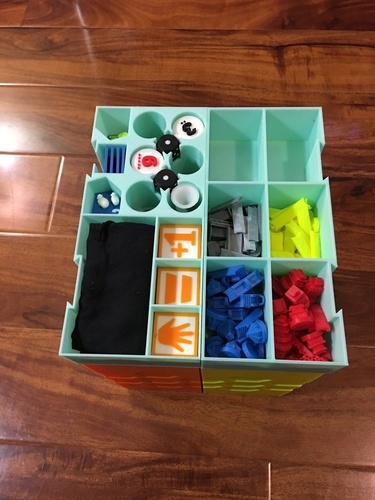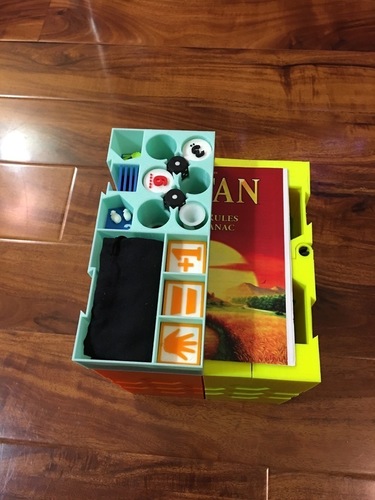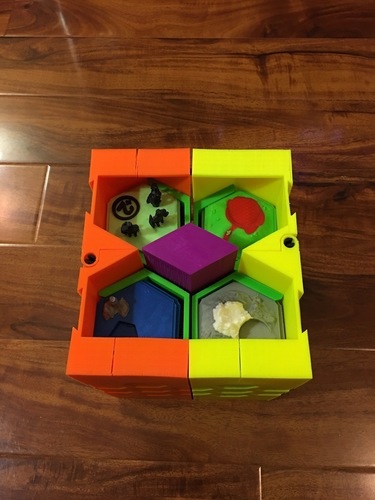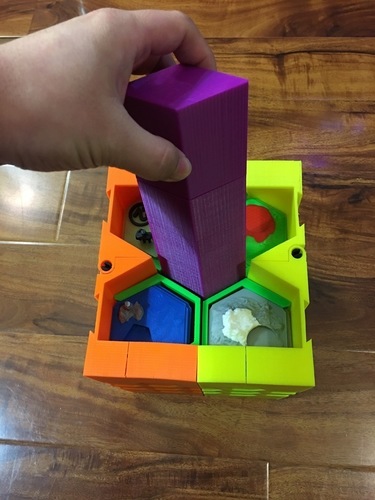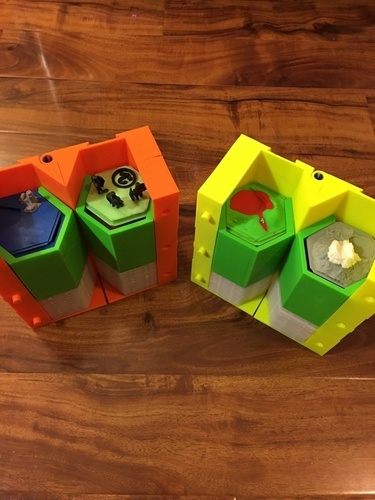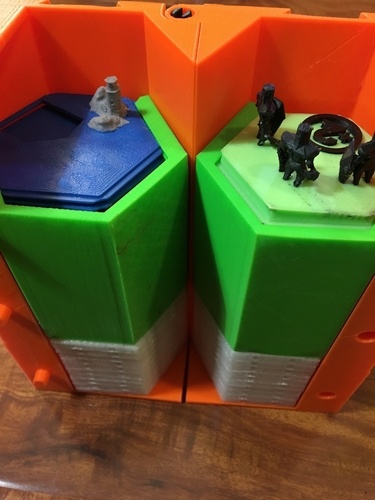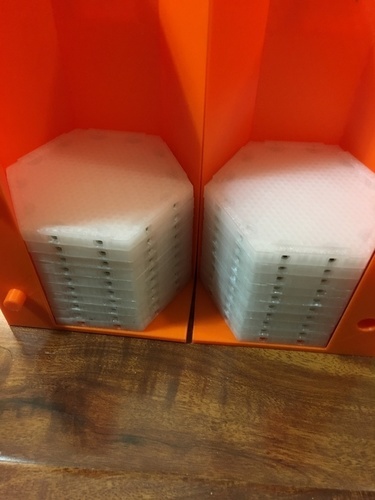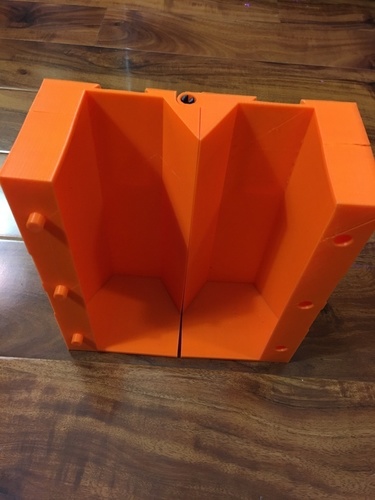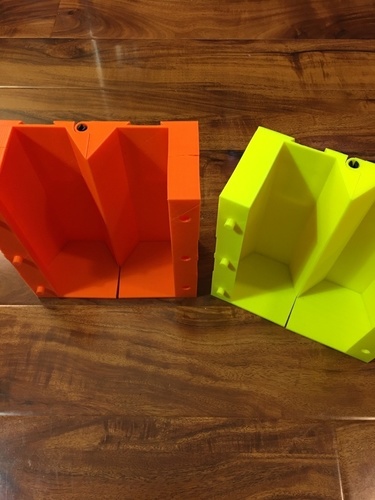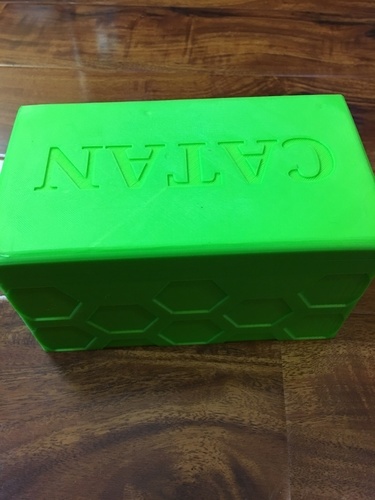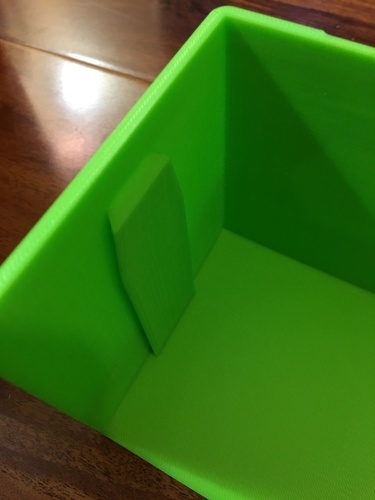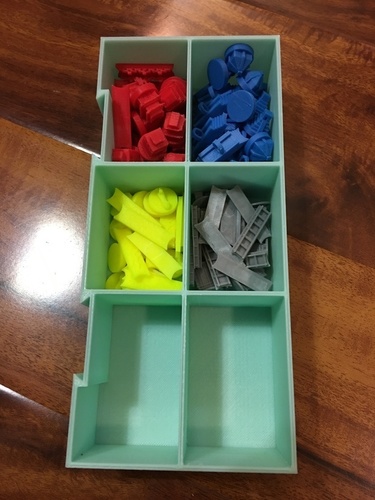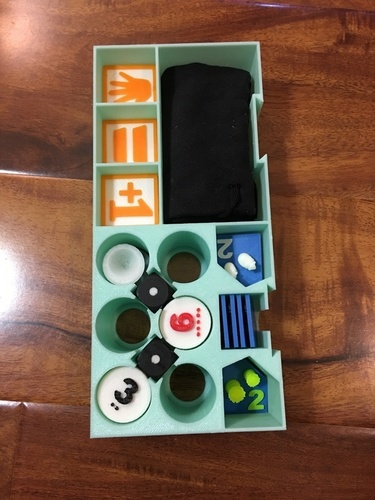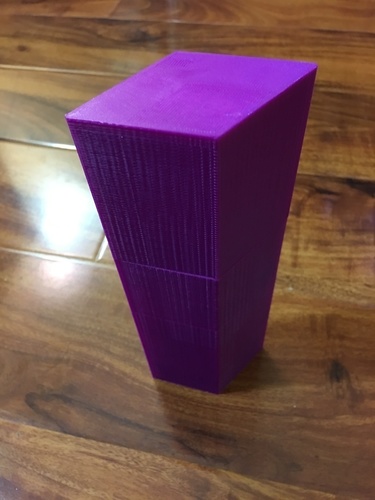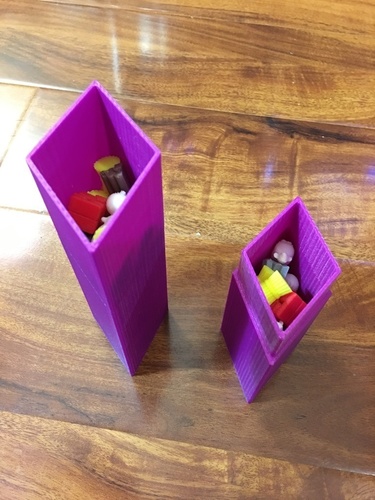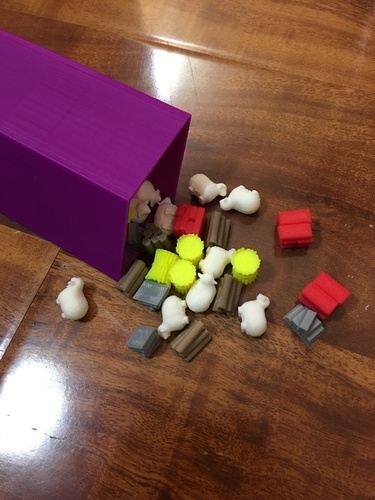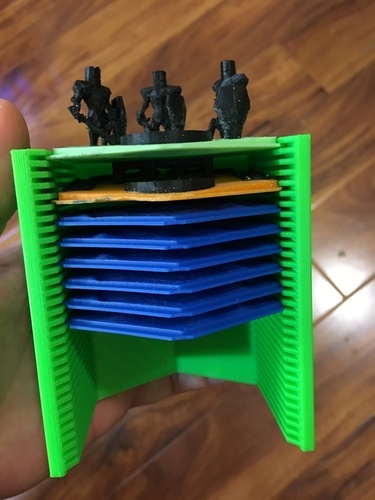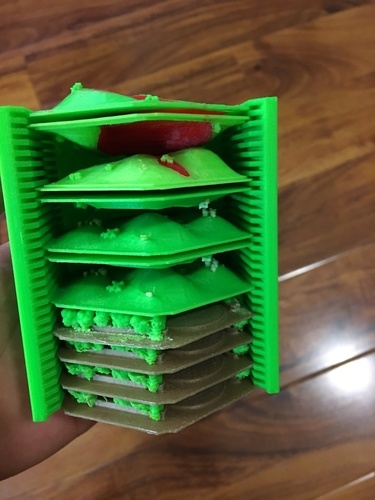 No Prints Yet

Be the first to upload a Print for this Design!
Unfortunately, I am unable to upload the full build here (limited to 150 files and 100mb), so if you want to download this, you will need to do so from my thingiverse post here: http://www.thingiverse.com/thi...
After spending nearly two months gathering, modifying, and printing parts, I have finally put together a satisfying set for Settlers of Catan that covers both the Original as well as the 5-6 player expansion. You can expect to find every model you will need to print for the game including the storage case, the only non-printable parts are the magnets (which can be considered optional, but highly recommended) and the dice bag for the development tiles (also optional).
The majority of the parts are designed for a dual extrusion printer or configured to have filament changes at specific layer heights. However, an alternative would of course be to ignore all of that and paint the parts yourself.
All of the prints were also designed to fit on my FlashForge Creator Pro, which has a limited build volume of X=225mm, Y=145mm, Z=150mm. This is mostly reflected by the rather large modifications I made to the storage case, which I've modeled from scratch based mostly on the original concept.
Enjoy!
Tile-Wheat-Barn.stl
7.02 KB
Trophy-LargestArmy.stl
1.76 MB
Development-RoadBuilding.stl
5.06 KB
Development-Monopoly.stl
15.6 KB
HarborPort-Wood-Token.stl
47.7 KB
HarborPort-Wood-Number.stl
8.09 KB
HarborPort-Wheat-Base.stl
142 KB
HarborPort-Ore-Base.stl
35.8 KB
HarborPort-Brick-Token.stl
146 KB
Number-Expansion-Bottom_12_R.stl
25.9 KB
Number-Expansion-Bottom_11_H.stl
9.46 KB
Number-Expansion-Bottom_10_J.stl
14.5 KB
Number-Expansion-Bottom_9_X.stl
10.4 KB
Number-Expansion-Bottom_8_M.stl
10.2 KB
Number-Expansion-Bottom_5_W.stl
10.3 KB
Number-Expansion-Bottom_5_T.stl
8.68 KB
Number-Expansion-Bottom_3_Za.stl
45.4 KB
Number-Expansion-Bottom_3_L.stl
7.89 KB
Number-Expansion-Top_11.stl
8.29 KB
Number-Expansion-Top_10.stl
15.3 KB
Number-Expansion-Top_4.stl
9.26 KB
Number-Expansion-Top_2.stl
7.5 KB
Number-Original-Bottom_11_I.stl
7.11 KB
Number-Original-Bottom_9_M.stl
10.2 KB
Number-Original-Bottom_8_E.stl
9.85 KB
Number-Original-Bottom_4_J.stl
14.5 KB
Number-Original-Bottom_3_Q.stl
32.9 KB
Number-Original-Top_11.stl
8.29 KB
Number-Original-Top_5.stl
15.3 KB
Player-Roman-Road-Connector.stl
6.23 KB
Player-Modern-Road.stl
31.7 KB
Player-Egypt-Road-Connector.stl
6.23 KB
Player-Egypt-Road.stl
399 KB
Player-Egypt-Village.stl
419 KB
Player-China-City.stl
460 KB
Player-Aztec-Road.stl
105 KB
Player-Dice-Body.stl
1.28 MB
Tile-Wood-Trees.stl
17.5 MB
Tile-Water-HarborLighthouse-Base.stl
193 KB
Tile-Water-HarborBoat1-Dock.stl
40 KB
Tile-Water-Blank-Cost-Top.stl
316 KB
Tile-Ore-Mountain.stl
152 KB
Tile-Brick-Clay.stl
275 KB
Tile-5mm-Magnet-Base.stl
305 KB
Tile-Desert-Base.stl
7.44 MB
Player-Medieval-Village.stl
198 KB
Player-Medieval-Road.stl
882 KB
Player-Modern-Village.stl
455 KB
Player-Modern-Road-Connector.stl
6.23 KB
Player-Roman-Road.stl
31.1 KB
Player-Building-Reference.stl
5.32 MB
Number-Original-Top_2.stl
7.5 KB
Number-Original-Top_4.stl
9.26 KB
Number-Original-Top_6.stl
20 KB
Number-Original-Top_10.stl
15.3 KB
Number-Original-Bottom_2_B.stl
28.6 KB
Number-Original-Bottom_4_N.stl
9.26 KB
Number-Original-Bottom_5_O.stl
27 KB
Number-Original-Bottom_8_K.stl
9.85 KB
Number-Original-Bottom_10_L.stl
7.89 KB
Number-Original-Bottom_11_R.stl
25.9 KB
Number-Expansion-Top_5.stl
15.3 KB
Number-Expansion-Top_8.stl
22.3 KB
Number-Expansion-Bottom_2_A.stl
9.85 KB
Number-Expansion-Bottom_3_E.stl
9.85 KB
Number-Expansion-Bottom_4_U.stl
22.3 KB
Number-Expansion-Bottom_5_B.stl
28.6 KB
Number-Expansion-Bottom_6_K.stl
9.85 KB
Number-Expansion-Bottom_8_G.stl
28 KB
Number-Expansion-Bottom_9_F.stl
9.07 KB
Number-Expansion-Bottom_10_P.stl
18.2 KB
Number-Expansion-Bottom_11_I.stl
7.11 KB
HarborPort-Brick-Base.stl
37.6 KB
HarborPort-Generic-Base.stl
22.1 KB
HarborPort-Ore-Token.stl
29.1 KB
HarborPort-Wheat-Number.stl
8.09 KB
HarborPort-Wool-Number.stl
8.09 KB
Development-Base.stl
684 Bytes
Development-VictoryPoint.stl
21.3 KB
Resource-Brick.stl
285 KB
Resource-Wheat.stl
443 KB
Trophy-LongestRoad.stl
1.32 MB
Resource-Wool.stl
4.26 MB
Resource-Wood.stl
67.8 KB
Development-YearOfPlenty.stl
404 KB
Development-Knight.stl
26.5 KB
HarborPort-Wool-Token.stl
8.56 MB
HarborPort-Wool-Base.stl
207 KB
HarborPort-Wood-Base.stl
1.35 KB
HarborPort-Wheat-Token.stl
271 KB
HarborPort-Ore-Number.stl
8.09 KB
HarborPort-Generic-Number.stl
19.1 KB
HarborPort-Brick-Number.stl
8.09 KB
Number-Expansion-Bottom_12_Y.stl
8.87 KB
Number-Expansion-Bottom_11_Q.stl
32.9 KB
Number-Expansion-Bottom_10_S.stl
31.3 KB
Number-Expansion-Bottom_9_V.stl
8.48 KB
Number-Expansion-Bottom_8_O.stl
27 KB
Number-Expansion-Bottom_6_Zc.stl
30.7 KB
Number-Expansion-Bottom_6_D.stl
18.2 KB
Number-Expansion-Bottom_4_N.stl
9.26 KB
Number-Expansion-Bottom_4_C.stl
27 KB
Number-Expansion-Bottom_2_Zb.stl
31.1 KB
Number-Expansion-Top_12.stl
9.46 KB
Number-Expansion-Top_9.stl
17.9 KB
Number-Expansion-Top_6.stl
20 KB
Number-Expansion-Top_3.stl
11.6 KB
Number-Original-Bottom_12_H.stl
9.46 KB
Number-Original-Bottom_10_F.stl
9.07 KB
Number-Original-Bottom_9_G.stl
28 KB
Number-Original-Bottom_6_P.stl
18.2 KB
Number-Original-Bottom_6_C.stl
27 KB
Number-Original-Bottom_5_A.stl
9.85 KB
Number-Original-Bottom_3_D.stl
18.2 KB
Number-Original-Top_12.stl
9.46 KB
Number-Original-Top_9.stl
17.9 KB
Number-Original-Top_8.stl
22.3 KB
Number-Original-Top_3.stl
11.6 KB
Player-Roman-City.stl
810 KB
Player-Roman-Village.stl
474 KB
Player-Modern-City.stl
522 KB
Player-Medieval-Road-Connector.stl
6.23 KB
Player-Medieval-City.stl
715 KB
Player-Egypt-City.stl
445 KB
Player-China-Road-Connector.stl
6.23 KB
Player-China-Road.stl
428 KB
Player-China-Village.stl
377 KB
Player-Aztec-Road-Connector.stl
6.23 KB
Player-Aztec-City.stl
91.3 KB
Player-Aztec-Village.stl
81 KB
Player-Dice-Pips.stl
843 KB
Tile-Wool-Sheep.stl
2.31 MB
Tile-Wool-Base.stl
3.12 MB
Tile-Wood-Base.stl
2.03 MB
Tile-Wheat-Base.stl
58.8 KB
Tile-Water-HarborLighthouse-Rock.stl
182 KB
Tile-Water-HarborLighthouse-Lighthouse.stl
147 KB
Tile-Water-HarborBoat2-Dock.stl
66 KB
Tile-Water-HarborBoat2-Boat.stl
81.5 KB
Tile-Water-HarborBoat2-Base.stl
188 KB
Tile-Water-HarborBoat1-Boat.stl
81.6 KB
Tile-Water-HarborBoat1-Base.stl
250 KB
Tile-Water-Blank-Cost-Base.stl
124 KB
Tile-Water-Blank.stl
209 KB
Tile-Desert-Bones.stl
6.01 MB
Tile-Brick-Base.stl
876 KB