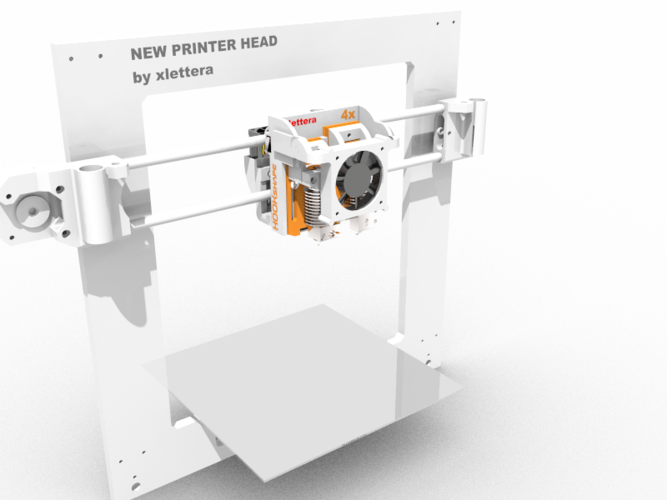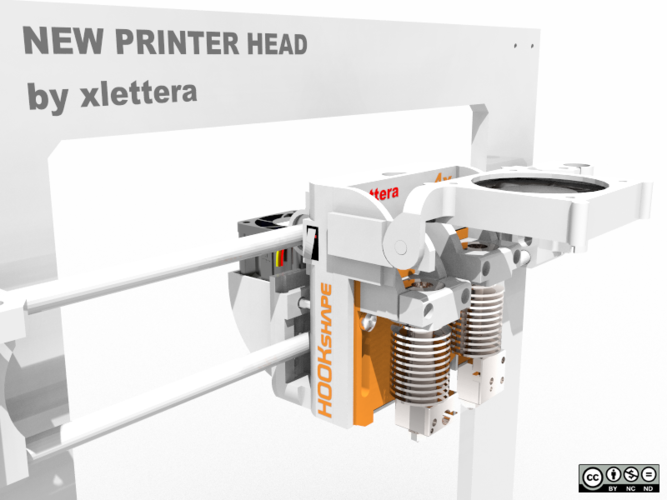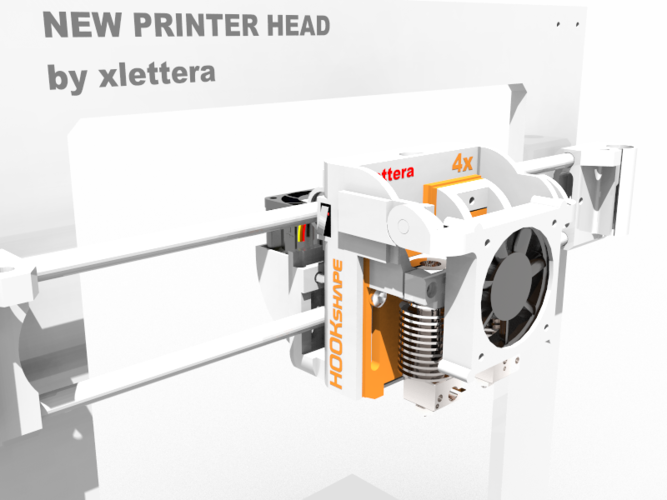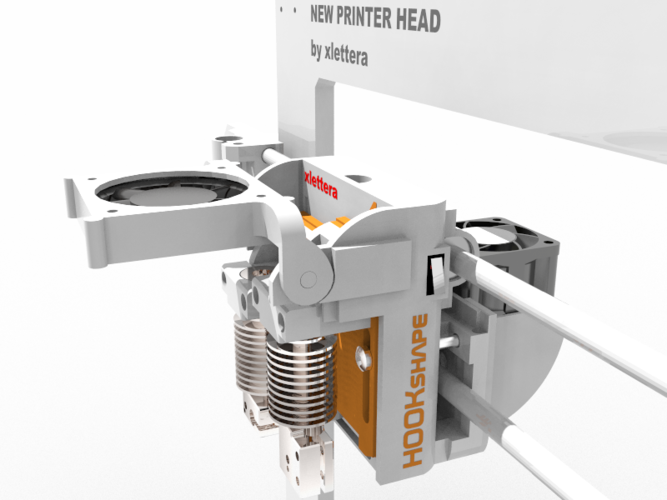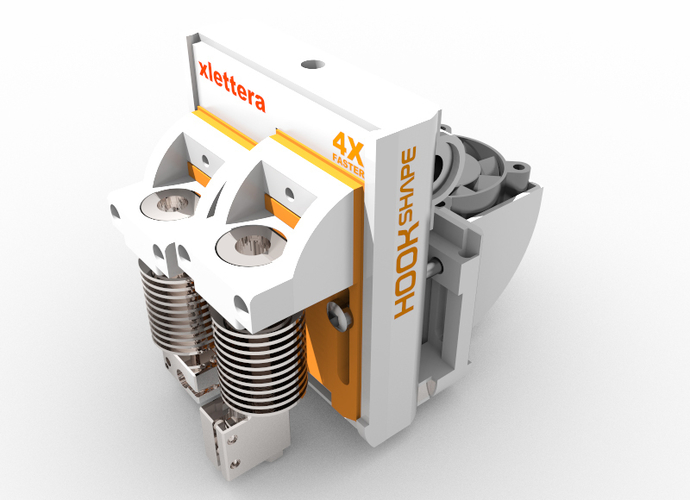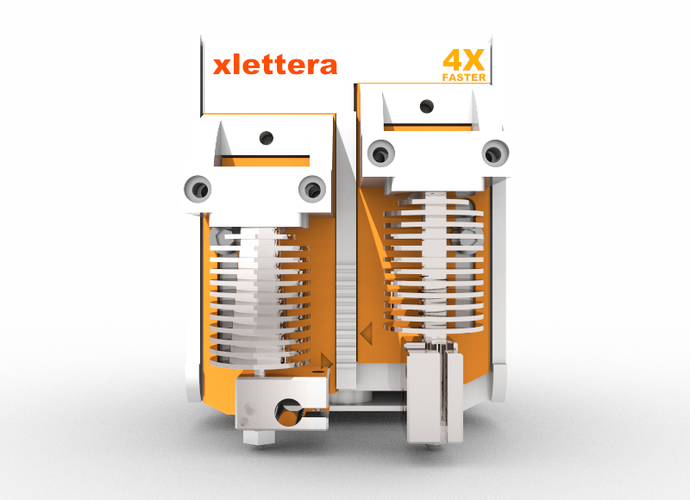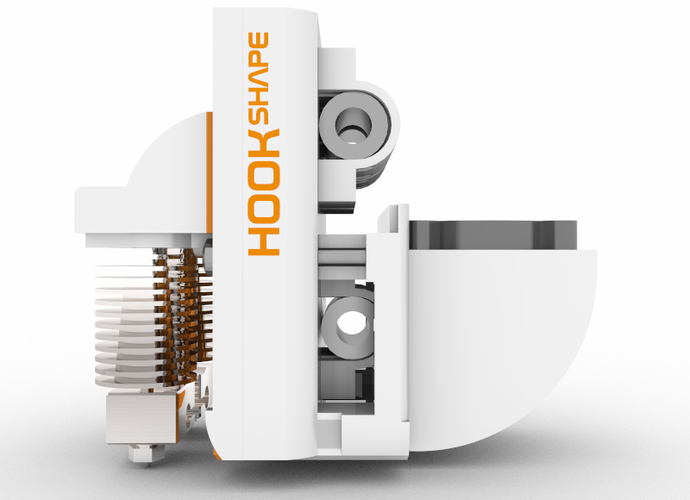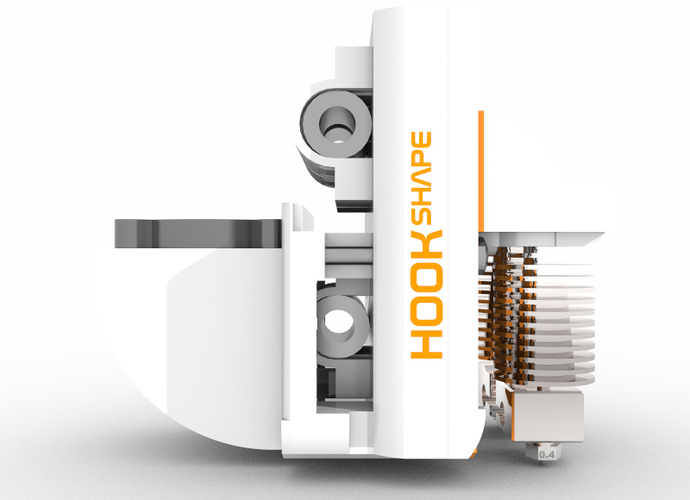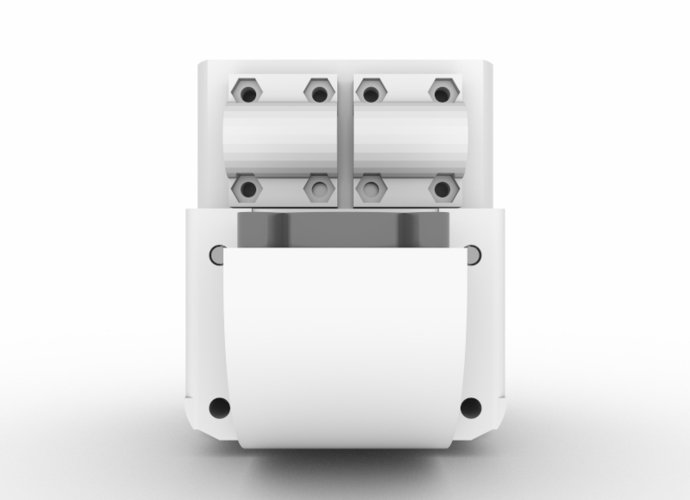 HOOKSHAPE - 4X FASTER 3D PRINTER HEAD new
RECENT CHANGES (click here) 
(The first and original 3D Printer Head with self Z-Axis calibration in a dual different HotEnds configuration)
I started this project with one thing in mind: simplicity.
Simplicity is necessary to release your creativity. Think of what you really want to do and concentrate on it without worrying about technical problems linked to your 3D Printer. Just 2 screws to remove an Hotend. A click to calibrate both.
Sometimes you need precision, sometimes you need speed(4X faster). HOOKSHAPE gives you both. Then, you can decide from your software which one you need first and start printing without changing the hardware.
I considered "simplicity" even during the printing process of the HOOKSHAPE in itself. The many parts are with no "hangover designs." This means that you do not need any "support material." No waste of time and plastic.
Simplicity – even for the price. You pay what you need. I decided to use only inexpensive and common available parts which are easy to replace, but this does not mean that they are not of good quality. You can start with just one Hotend and in a second time, you can add another one.
Putting many aspects into an organic solution was my aim: a product that is not only functional but has its own style and design.
FEATURES
self Z-Axis calibration procedure (Z-Calibration is easy)    
no Z-Axis height loss with different HotEnds
made with standard components (inexpensive, better quality and easy to find)
HotEnd software selection (no waste of time)
easy maintenance in every situation (accessible/user-friendly)
compact design (minimize the loss of the print area)
lightweight (reduced inertia)
simple and stable (HOOKSHAPE holds everything together, low vibrations)
adaptable and expandable (many configurations possible)
compatible with prusa/reprap i3 like 3D printer (~36,4mm internal distance between rods) 
no hangover design (ready to be printed)
SPECIFICATIONS
support dual different HotEnds
4X time faster with Volcano HotEnd (0.6mm nozzle)
precise with E3D-V6 HotEnd (0.4mm nozzle)                     
inductive proximity sensor 4mm (LJ12A3-4-Z/BX) for auto level print board
back auxiliary fan 40x40x10mm (12V)
3 linear ball bearing (LM8UU) for low friction motion
distance mounting rods (adjustable: ~4,8mm tolerance)
low weight ~430 g. (HotEnds and hardware included)
YouTube VIDEOS 
HOOKSHAPE - presentation (features and advantages)
HOOKSHAPE - self Z-Axis calibration procedure (proprietary method)
HOOKSHAPE - self Z-Axis calibration (double test)
HOOKSHAPE - self Z-Axis calibration procedure (real demo)
HOOKSHAPE - printing a cup with VOLCANO (4X faster, 16 minutes) - PART 1/2
HOOKSHAPE - printing a cup with E3D-V6        (precision, 1 hour)           - PART 2/2
PRINT SETTINGS  
Material: PLA 210°, Heated bed 60°  
Rafts: No   
Supports: No  
Resolution: 0.4  
Infill: 60%
REQUIRED HARDWARE  
Beside the PLA for printing the parts you will need the following items that are very easy to find:  
3x  LM8UU  
2x  M3 10mm screws   
4x  M3 30mm screws  
6x  M3 nut  
2x  M5 30mm screws (bigger head)  
2x  M5 50mm screws (bigger head)  
2x  M5 10mm spacer  
2x  M5 nut  
4x  M4 20mm screws (round head)  
6x  M4 14mm screws (round head) 
6x  M4 spacer  
10x  M4 nut  
4x  M3 parker (for the fan)
1x  Fan 40x40x10
SUGGESTED FOR DUAL HOTENDS CONFIGURATION  
1x  proximity sensor (LJ12A3-4-Z/BX)  
1x  E3D-V6 HotEnd 1.75mm 0.4mm nozzle (original or clone versions)  
1x  Volcano HotEnd 1.75mm 0.6mm nozzle (original or clone versions)  
1x  NEMA 17 stepper motor (cod. 17HS5425, 1.8°, 2.5A) 
1x  MK8 aluminum extruder Kit for NEMA 17 stepper motor 1.75mm
NOTE  
A file or a sandpaper to refine your prints can be useful.
HOTEND MOUNT SX.stl
112 KB
HOTEND MOUNT DX.stl
112 KB
HOTEND LOCK (print 2 copies).stl
114 KB
LM8UU CAGE (print 3 copies).stl
58 KB
SLED SX rev. 2.1.stl
110 KB
SLED DX rev. 2.1.stl
110 KB
HOTEND MOUNT SX rev. 2.1.stl
112 KB
FAN HOLDER rev 2.1.stl
324 KB
FRONT FAN HOLDER rev. 2.1.stl
82.1 KB
HOTEND LOCK rev. 2.1.stl
228 KB
MAIN BOX rev. 2.1.stl
547 KB
MAIN BOX COVER rev. 2.1.stl
94.2 KB
PROXIMITY SENSOR LOCK rev. 2.1.stl
28.2 KB
FAN BRIDGE REV. 2.0 AND 2.1.stl
192 KB