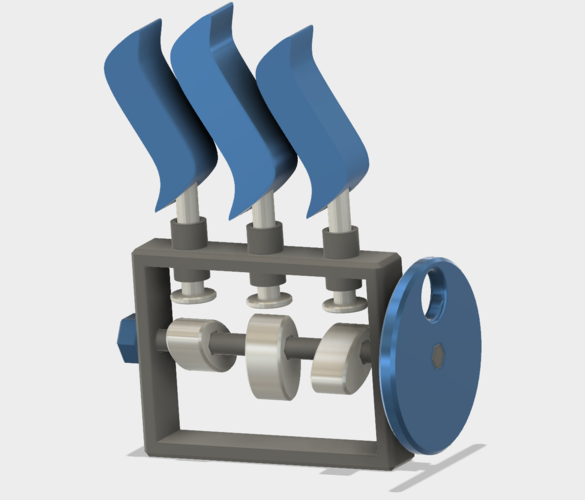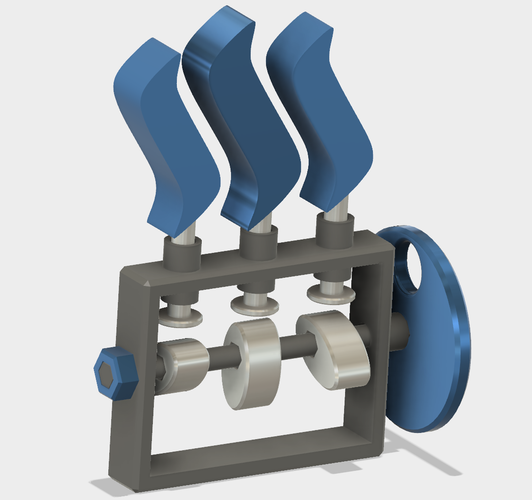 Welcome! I am very happy to share with you my Steem Automata model (inspired by steemit.com) that lifts the pins in a wave form up and down. 
I have tried to animate the model to show the functionality in the following gif but unfortunately I don't get the software to push the pins up once touched by the crank. I hope you get the idea anyway.
Not all parts are printed yet, that is why I marked the model as work in progress. 
Enjoy!
Steemit Automata v3 - Pin R.stl
84.5 KB
Steemit Automata v3 - Crank R.stl
81.2 KB
Steemit Automata v3 - Crank L.stl
80.4 KB
Steemit Automata v3 - Crank M.stl
81.7 KB
Steemit Automata v3 - End part.stl
3.01 KB
Steemit Automata v3 - Frame.stl
342 KB
Steemit Automata v3 - Pin L.stl
84.5 KB
Steemit Automata v3 - Pin M.stl
84.5 KB
Steemit Automata v3 - Stange.stl
119 KB
Steemit Automata v3 - Steem L.stl
87.2 KB
Steemit Automata v3 - Steem M.stl
88.8 KB
Steemit Automata v3 - Steem R.stl
87.3 KB
Steemit Automata v3 - Wheel.stl
1.09 MB