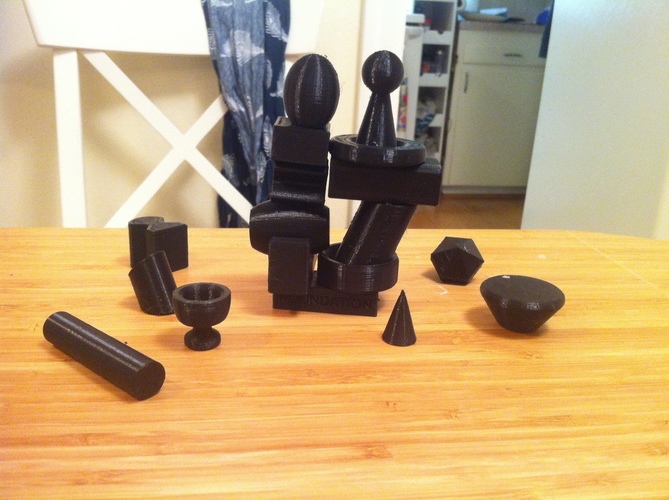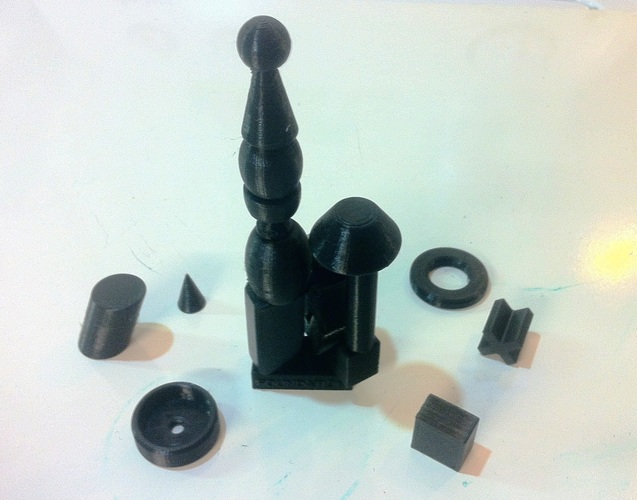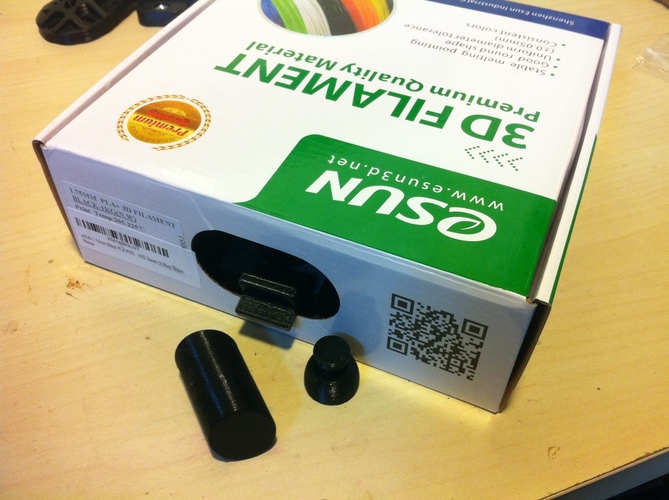 No Prints Yet

Be the first to upload a Print for this Design!
Bandu is a fun stacking dexterity & strategy game with many ways to play. The goal in all of them is to build a tower using this collection of 34 different models of varying degrees of difficulty to stack. 
Most variations of this game involve having beans (game money) and using them to bid other players into using hard parts and to bid for favorable pieces.
Be sure to print these parts with a fine resolution and high perimeter & infill. You want them to be smooth and heavy. (PETG is heavier than PLA which is heavier than ABS)
See custom section for detailed game rules. 
Links to the official games as seen on Amazon.com: Bandu: http://amzn.to/2fdO3Co Bausack: http://amzn.to/2fhlyXY
 eSUN Filament boxes come with a hole in the back, making them a perfect game box: http://amzn.to/2fLkQko
.
.
****GAME RULES:****
Game box has hole that dumps out one game piece unseen.
Players get 10 money to start. (Use Pennies)
Game start dumping out 3 blocks per player and setting them in a common pool visible in the center of the table. All other blocks remain hidden within the game box. 
Each player gets one "foundation" piece, set anywhere but not moved once set. (Make sure to use a sturdy table!)
Each player takes turns selecting blocks to build on their tower, each turn you can:
Either choose to draw blindly from the box OR from the visible common pool. 
    *If you choose the box and dont like your pick you can ditch the piece into the center pool for 1 gem and build nothing onto your tower.        *If you do this, other players can choose to bid war you into using that piece. (if you win then you dont use it)  
    *If you choose from the common pool you can have any block you want for free,         Once you choose the one you want anyone can choose to bid war you for that piece. Winner of the bid war must place the block immediately. 
>>>Last standing tower wins. If you have no gems the game gets difficult, but you only lose if your tower falls over.     If you lose you can still affect the game by playing as a ghost player. All you can do as a ghost is haunt people by using your remaining gems to take part in bidding wars. If a ghost player wins the bid war then they place the block back into the box.
Optional: Gem rewards for reaching specified tower heights before anyone else (6", 10", 14").
. .
..
Here are links for alternative ways to play:
* https://boardgamegeek.com/thre... 
*http://www.hasbro.com/common/i...
cylinder_parallogram.stl
459 KB
house_rounded_face.stl
206 KB
rectangular_solid.stl
382 KB
wedge_short_stout.stl
379 KB
rounded_bobble.stl
380 KB
pentagram_stout.stl
396 KB
cylinder_parallogram_2.stl
430 KB
cross_round_Top.stl
595 KB
cone_Stout_nipped.stl
374 KB