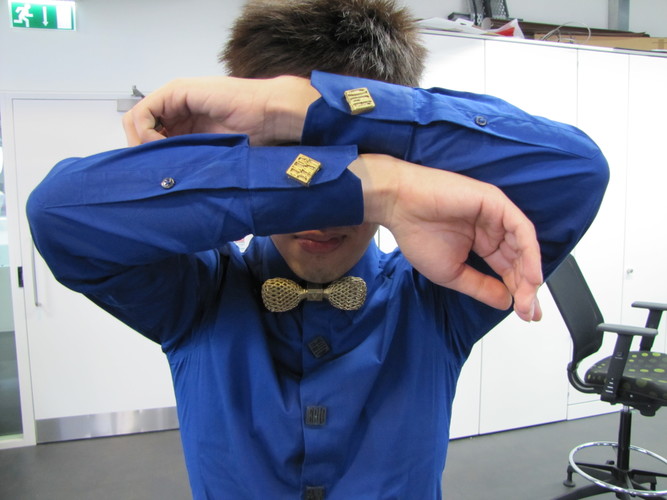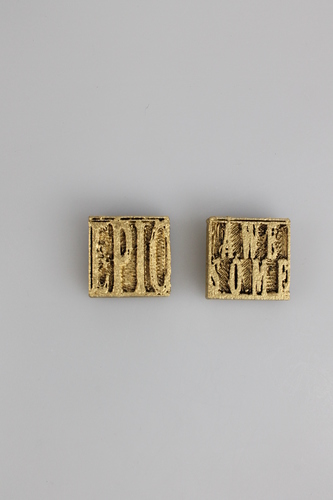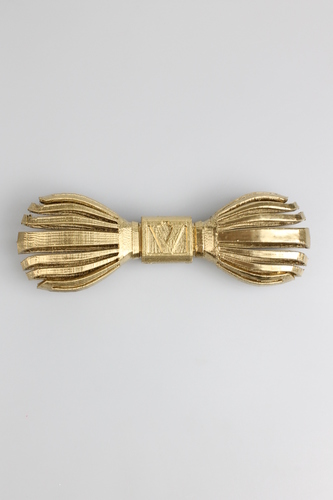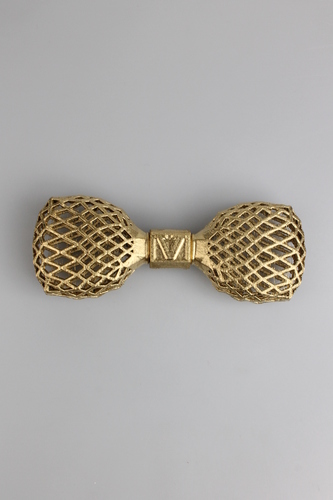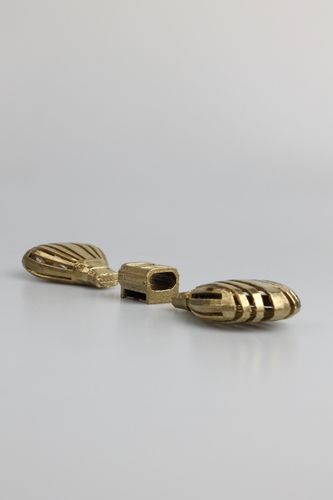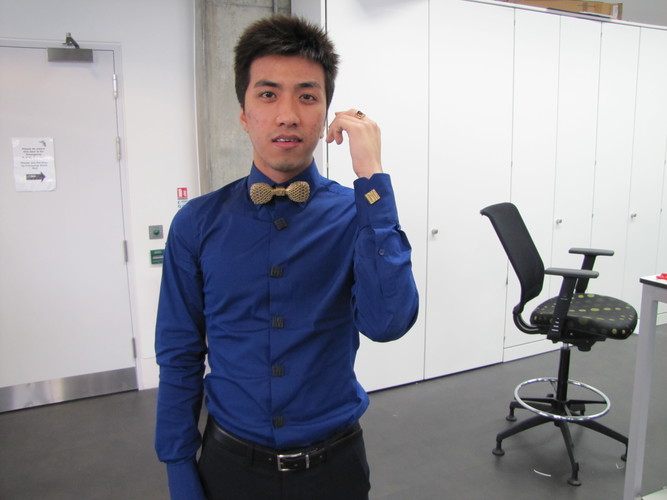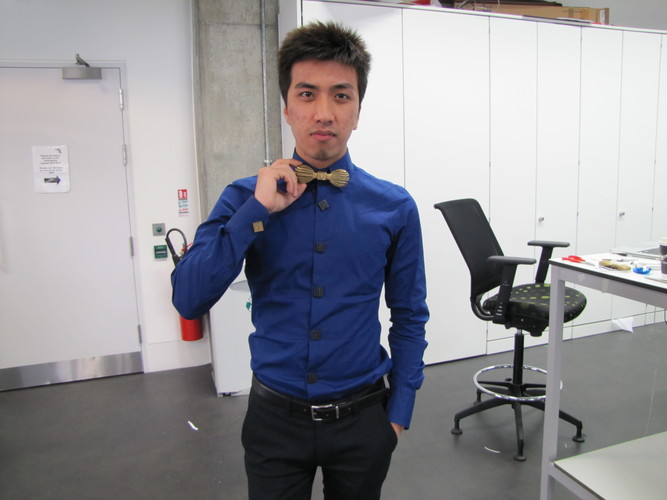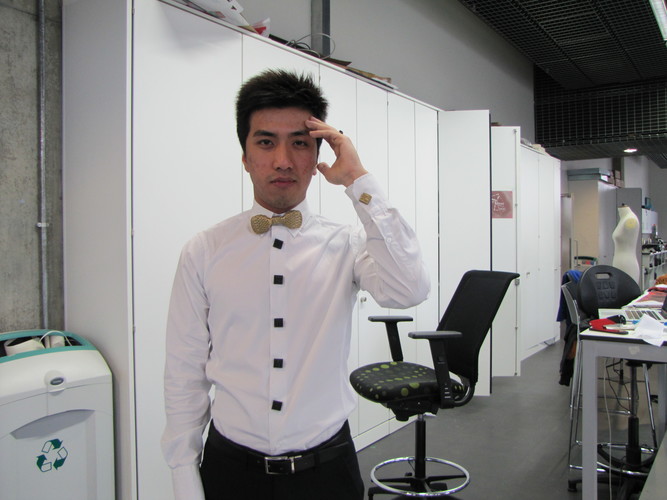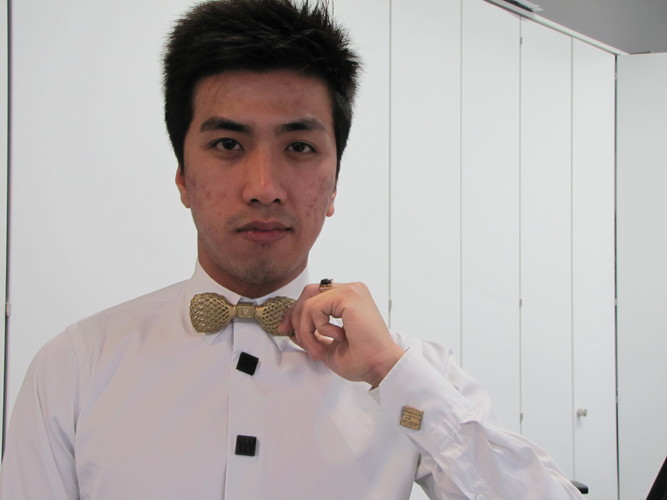 No Prints Yet

Be the first to upload a Print for this Design!
3D Printed Bow Tie and Button Cover. (Support Free)
Software used: 3D Studio Max, Netfabb, Rhinoceros 5. - 
 - 3D Printed Bow Tie: letter "V" stands for Victory that shows creativity, confidence and success. This unique Bow tie  replaces the traditional ones from various functional shapes to different materials. The making process is a combine of the use of 3D printers such as PLA, ABS with desktop printer like Makerbot, Ultimaker. Clients can even print them out by using industrial printer (SLS) to complete a perfect finished product.
I have used 3D printer Makerbot Replicator 2 to print out this product. It was printed out separate in 3 different parts, then joint them together. Setting up: Makerbot Replicator 2 Materials: PLA (Spraying with Gold Colour) Infill: 30%
Layer height: 0.15mm; Temperature and Speed: Default.  The products are printed with Raft and "no support". Printing time frame is approximately 1 hour. If using desktop printer (FDM) such as Makerbot or Ultimaker, highly recommend that should print each part of products separately to have a nice finishing touch. If products are made all in one file, it is still printable but the travel move might not bring a nice result. 
 - 3D Printed Button Cover: the idea of this product comes from 'something for everyday wear that is functional, fashionable and practical'. This is a 'must-have' items because most shirt nowadays are button shirt, even in the cuff link part. The 3D printed button cover is at first made for 'replacing cuff link' purposes. But because of the art design and flexible function, designer start using it as button covers, give the shirt an ultimate refreshing fashionable look. It is easy to wear by sliding it into your button wherever people want on their shirts- an extraordinary creative and luxurious feel. 
I show on here two Button Cover design which are "EPIC" and "AWESOME", and wear it on the arm buttons of my shirts. They look stunning and amazing. Same with 3D Printed Bow Tie, this product can also print out in numerous different materials and 3D printers. You can choose to print out in desktop printer (FDM) or industrial printer as SLS.
In this product, I have used Makerbot Replicator 2 to print out.
Setting up: Makerbot Replicator 2
The Face is lay down on the bed
Materials: PLA (Spraying with Gold Colour)
Infill: 80%
Speed while Travelling: 30mm/s
Speed while Extruding: 30mm/s
Printing in 12 minutes. It also works with many different size of buttons. You just need to scale the model before printing out to fit with the buttons of your shirts, jackets. This file was design to fit with the normal shirt of men's wear.
BOW_TIE (Diamond Style).zip/Style1(Diamond)/Bow_Tie_Side2_Style1 (Diamond).stl
247 KB
BOW_TIE (Diamond Style).zip/Style1(Diamond)/Bow_Tie_Side_Style1 (Diamond).stl
247 KB
BOW_TIE (Diamond Style).zip/Style1(Diamond)/Bow_Tie_Connect_Style1 (Diamond).stl
72.5 KB
BOW_TIE (Crossing Style).zip/Style2(Cross)/bow_Tie_Connect_Style_2 (Cross).stl
72.5 KB
BOW_TIE (Crossing Style).zip/Style2(Cross)/bow_Tie_Side_Style_2 (Cross).stl
104 KB
BOW_TIE (Crossing Style).zip/Style2(Cross)/bow_Tie_Side2_Style_2 (Cross).stl
104 KB
Button Cover.zip/Button Cover/AWESOME.stl
255 KB
Button Cover.zip/Button Cover/EPIC.stl
150 KB